Face-to-Face Foundation for China-India Cooperation
The true arrival of an Asian Century requires the joint efforts and simultaneous rise of both China and India; similarly, their cooperation is vital to controlling rising protectionism and promoting global common prosperity.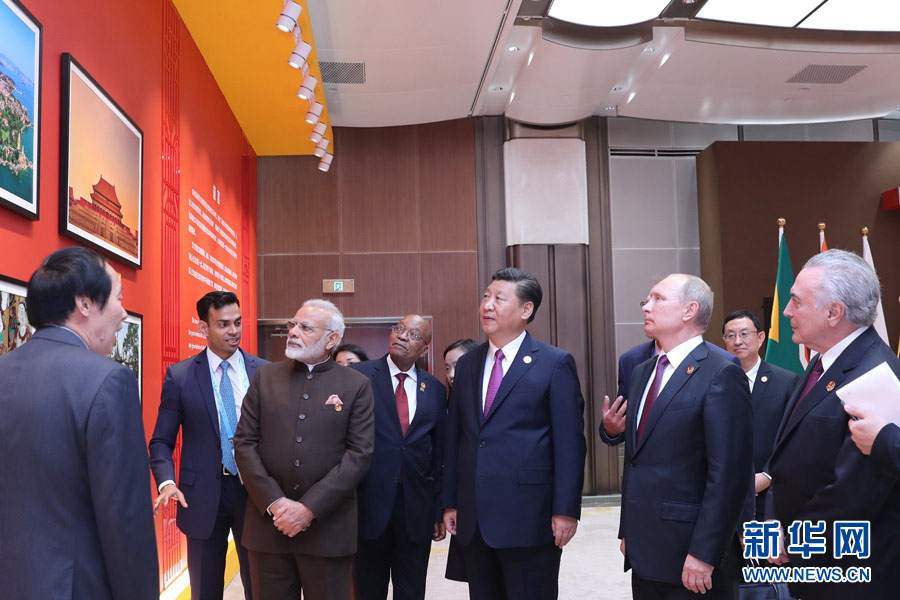 From April 27 to 28, 2018, Chinese President Xi Jinping and Indian Prime Minister Narendra Modi will hold an informal meeting in Wuhan, capital of central China's Hubei Province, at which the two leaders will "exchange views on issues of overall and strategic importance in China-India relations for the long run." A significant diplomatic arrangement since the two countries set up diplomatic relations, the meeting evidences how much both countries value bilateral exchange. And it is expected to lay a foundation, pave a road and determine a new agenda for the future development of bilateral relations.
For a long time, China-India relations have been characterized by top-level diplomacy. After the founding of the People's Republic of China in 1949 and the independence of India in 1950, the first generations of leadership of the two countries jointly proposed the Five Principles of Peaceful Coexistence and launched a new chapter of bilateral relations. At the end of 1988, former Indian Prime Minister Rajiv Gandhi visited China and broke the ice between two countries caused by the 1962 border war, which led bilateral relations in the right direction. In the early years of this century, leaders of the two countries became determined to engage in strategic cooperation. High-level guidance has always served as the anchor of China-India relations. Especially last year when the Dong Lang (Doklam) standoff occurred, the two leaders adopted a broad and long-term view to solve the biggest conflict between the two countries over the last thirty years, preventing the dispute from disrupting their joint development.
The Dong Lang incident helped leaders of both countries understand the full importance of high-level exchange. Since last September when the BRICS summit was held in Xiamen, high-level officials of two countries have maintained frequent contact, conducted extensive dialogue and fully utilized cooperation mechanisms and exchange opportunities in diverse fields. Embracing unusually close interactions, representatives of the two countries have controlled divergences effectively and strengthened mutual trust and cooperation.
The upcoming meeting between the two leaders marks the climax of these waves of interaction.
Currently, international situations change dramatically. Against the backdrop of increasing unpredictability of the relations between major countries, China-India ties has exerted greater influence on regional and global politics and become more independent, evolving into a typical major-country relationship. The rise of strongman politics requires leaders of the two countries to look at the big picture, enhance strategic communication and seek truth in a blurry situation. High-level diplomacy has not only greatly stabilized bilateral relations, but also fostered new strength to overcome challenges resulting from the changes in the international landscape and jointly promote the development of the region and the world.
As for bilateral relations, while strengthening control over conflicts and building capabilities to manage differences, China and India need to strive for newer, wider and higher-level cooperation to hedge against possible conflicts, create a favorable environment and lay a solid foundation for bridging divergences. Especially in fields of development, as the world's two biggest emerging populous countries, China and India should constantly inject new energy into cooperation, and fuel a powerful engine for lasting development that benefits not only their own peoples, but also people in the region and even around the world.
Both known for time-honored civilizations and poised to seize breathtaking development, China and India must learn from each other and find their own ways to develop while providing feasible experience and motivation for other developing countries. So the two countries need to expand their "high-level leading" diplomacy to give direction, set new goals and break new ground for bilateral relations, which will keep the two countries' strategic focus on economic growth, social management and win-win cooperation. As for governance of the countries, the two nations have much to learn from each other considering that both have strong political enthusiasm and the boldness to explore a third path or new model of development—a way to lead billions of people to common prosperity.
As two countries share more common interests and concerns, it is more necessary to strengthen cooperation in joint governance on the region, a development that has been heralded by the high-level meetings. Both countries want to realize national rejuvenation, which means they cannot escape competition in the common neighborhood. So without strategic exchange, the two countries could easily fall victim to a destructive rivalry and geographical crashes. This has become an unfortunate trend in recent years, consuming both countries' resources and increasing the cost of their rises.
An important issue for both governments to think about is how to realize their national interests in common neighboring communities while preventing geopolitical clashes. Only by enhancing strategic dialogue, expanding regional cooperation and aligning their respective functions as major countries can the two countries and the region realize win-win cooperation. So high-level exchanges play a critical role, through which the two countries can overcome specific disagreements to develop a "closer partnership of development and cooperation" and realize regional win-win cooperation according to a "shared order" jointly set by the two countries in areas of converging interests. Presently, both China and India promote various sub-regional cooperation projects and plans involving their common neighbors. The high-level exchange can guide the final alignment of these programs, allowing the two countries as well as the region to enjoy the dividends of development and helping them become the engine of regional development and integration.
In the international context of the U.S. successively retreating from multilateral mechanisms and global governance and triggering the rise of protectionism, China and India, as two major emerging countries, are playing a more important strategic role in the geopolitical economy, which requires them to forge ahead jointly to improve the international order.
China and India have conducted successful cooperation in promoting economic globalization, free trade, Doha Round of WTO negotiations and climate change. To a great degree, the rapid growth of the two massive emerging economies played a role in triggering trade protectionism and unilateralism. This development requires the two countries to stand up to the challenge and play the role of "responsible major countries" to healthily fill the vacuum in global governance caused by the withdrawal of Western countries. Development of the two countries depends on a more open, inclusive, benefit-sharing, balanced and win-win globalization, so they have plenty of motivation to promote this kind of global order. The times call for China and India to overcome their differences to play a more active role as major countries by strengthening communication and addressing global issues through efforts to contribute "Chinese and Indian wisdom" as well as alternative models of growth for the development of mankind.
The true arrival of an Asian Century requires joint efforts and the simultaneous rise of both countries; similarly, their cooperation is vital to controlling rising protectionism and promoting global common prosperity. From this perspective, the upcoming meeting between Chinese and Indian leaders is greatly meaningful.
The author is director and researcher of the Institute of South and Southeast Asian and Oceanian Studies at the China Institutes of Contemporary International Relations.