Fast Train to Spring
China's Spring Festival travel rush has not only become symbolic for the Chinese people, but also drawn attention from around the world.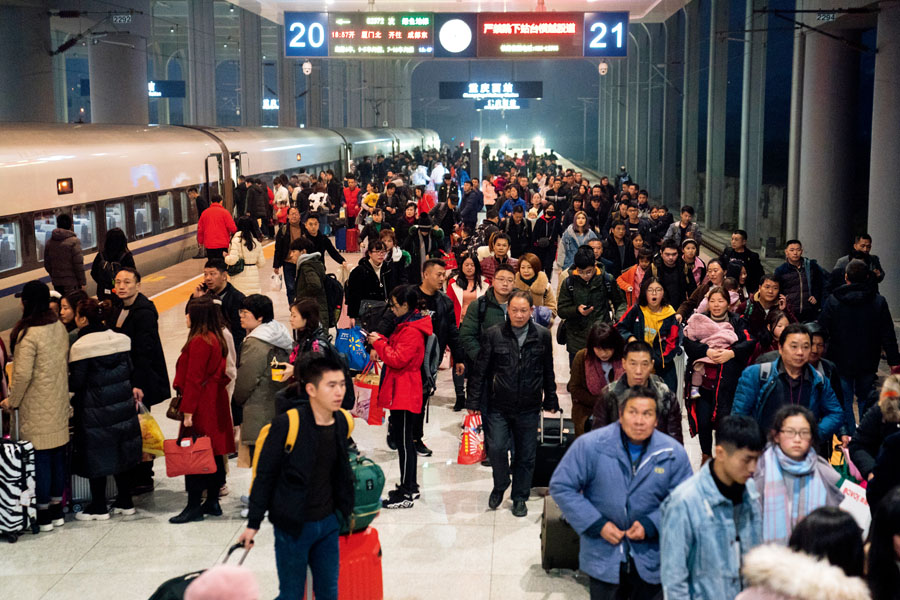 China's Spring Festival travel rush will last 40 days this year. Nearly three billion trips are expected to be made across China during this period, a number equal to the combined population of Europe, America, Africa and Oceania. The "world's biggest human migration" has not only become symbolic for the Chinese people, but also drawn attention from around the world. Recently, CNN published an article on China's Spring Festival travel rush that declared, "In any other nation, this many travelers would grind local infrastructure to a halt. But China is unlike any other nation and well-equipped to handle the masses."
January 21 marked the first day of China's Spring Festival travel rush in 2019. At 6:50 in the morning, bullet train G2372 set out from Xiamen, bound for Chengdu, capital of southwestern China's Sichuan Province.
The G2372 high-speed train is among the 50 pairs of trains that have recently joined the network of China Railway Chengdu Group Co., Ltd. It began operation on January 5. Since then, Xiamen and Chengdu have been directly linked with a high-speed railway line. The high-speed railway strengthens the connection between coastal cities in southeastern China and major cities in landlocked areas.
This train crosses 2,540 kilometers in 13 hours and 39 minutes. It passes through Fujian, Hunan and Guizhou provinces and Chongqing Municipality before reaching Sichuan Province, connecting the coastal areas of southeastern China to landlocked mountainous areas in the southwest. The line connects cities such as Chengdu, Chongqing, Guiyang and Xiamen, which are all popular tourist destinations. At one end of the rail line are southwestern regions with surpluses of labor, and the other end are southeastern coastal areas in urgent need of workers. The trend of Chongqing natives working in Xiamen presents an example. According to Li Jihua, general secretary of the Chongqing Chamber of Commerce in Fujian, over the past four decades since the beginning of China's reform and opening up in the late 1970s, many Chongqingers have moved to Xiamen. Today, about 200,000 Chongqingers work and live in Xiamen.
"Many passengers go home for the Spring Festival with piles of luggage and many children," proclaimed Yuan Xiangyi, a conductor of the G2372 bullet train.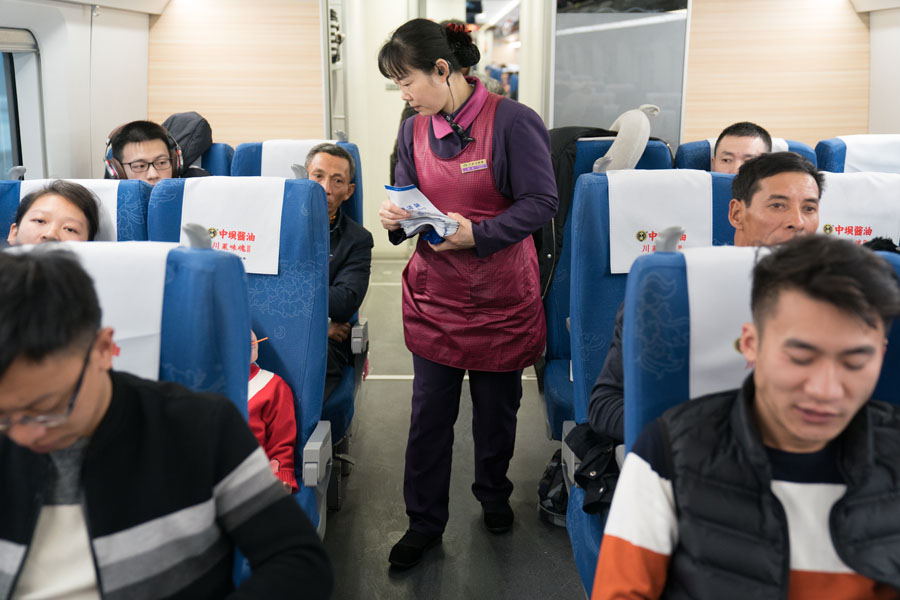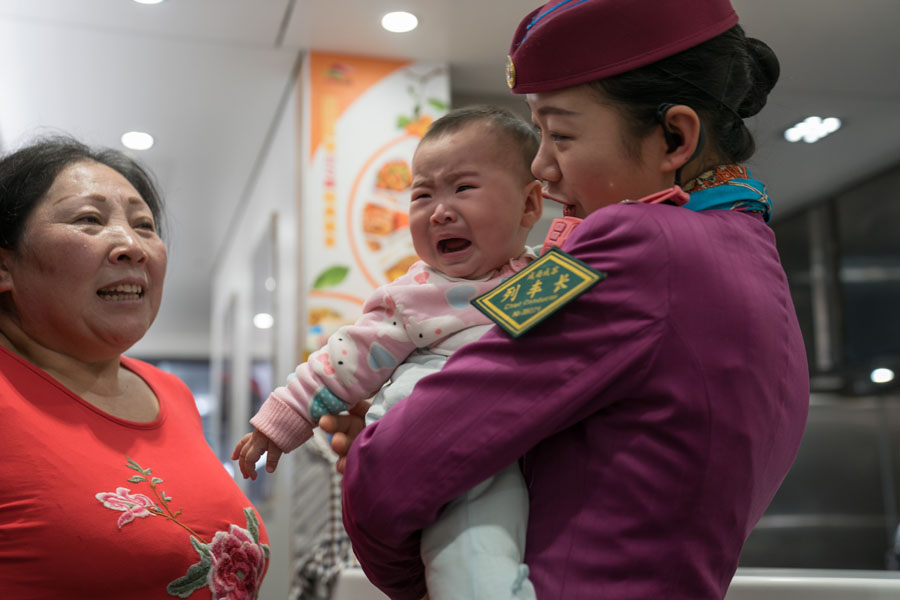 Liang Feng and her husband Chang Liyuan, both in their 50s, were bound for their home in Suining City, Sichuan Province. They boarded the train in Longyan City, Fujian Province and planned to get off in Chongqing. "Our son will pick us up, and then it will take two more hours to Suining," said Liang Feng. The couple had been working far from home for over 10 years, and it was their first trip home by bullet train. In the past, they were regular passengers on "green trains" that were much slower than bullet trains. Over a decade ago, carrying lots of luggage, the trip used to take two days and two nights and several transfers. Years later, they took a long-distance bus that offered direct service, but that trip still took 30 hours. This year, their son hoped to avoid another tired trip and ordered the bullet train tickets for them. "Second-class seats cost 840 yuan (US$125) each," she gasped. "The trip is fast, but it's expensive."
Liang and Chang earn about 200 yuan (US$30) a day. They can save some 50,000 yuan (US$7,415) every year. They are concerned about buying a house and car for their son's marriage. "I'll quit my job when our son gets married," she vowed. "I'll stay at home and take care of their child. My wish this year is that our son gets married and that everyone in our family stays well."
Mr. Ye, 57, hails from Chengdu. He was traveling back home with five colleagues who are also from the city. He had been working for more than seven years in cities such as Qingdao, Guiyang and Kunming. He relocated to Xiamen in August 2018 to become a subway construction worker. As the Spring Festival drew near, their company bought the tickets home for them. His ticket was priced at 1,030 yuan (US$153). According to Ye, he isn't yet sure where he will work after the festival. It depends on where demand for labor is the highest. When asked whether he misses home while working outside, he answered quickly: "How can I not miss home?"
From January 21 to March 1, 2019, China's railway network is expected to transport 413 million passengers. During the period, Chinese trains will perform yet another "symphony on the rails" as they whisk people home and back to work with good wishes for the new year.