Indian Sarod Serenading China
A Sarod concert had never before been held in China. The word "Sarod" roughly translates to "beautiful sound" or "melody" in Persian. It is a stringed instrument from northern India used mainly in classical Indian classical music.
by
Wen Zhihong & Xu Shuyuan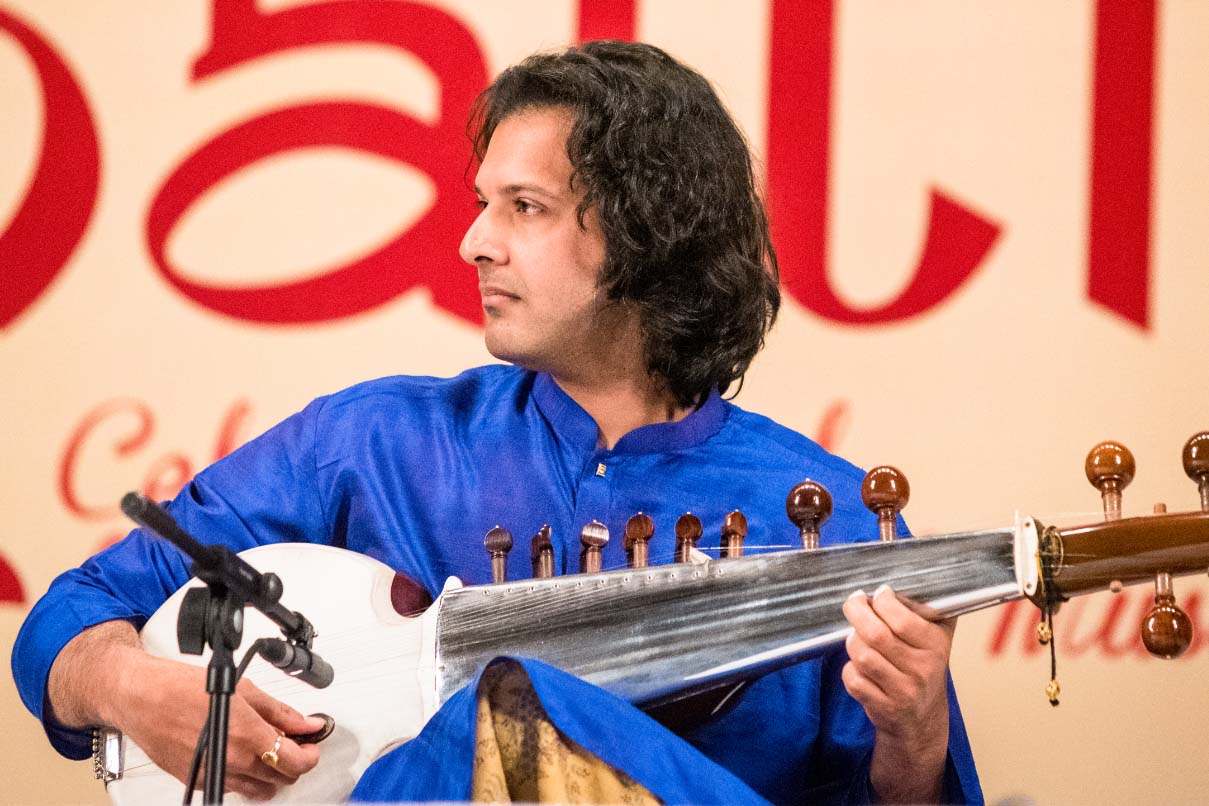 The song "Awaara Hoon" from the 1951 Indian film Awaara was so popular in China, it was believed to be one of Chairman Mao's favorites. The 1971 Bollywood thriller Caravan was one of the most popular films in China during the decade. China fondness for its largest neighbor's film and music has seldom waned over the past century, but the vast majority of it has hailed from Mumbai on the West Coast. This May, however, China's Central Conservatory of Music welcomed the rare chance to experience northern Indian classical music first-hand.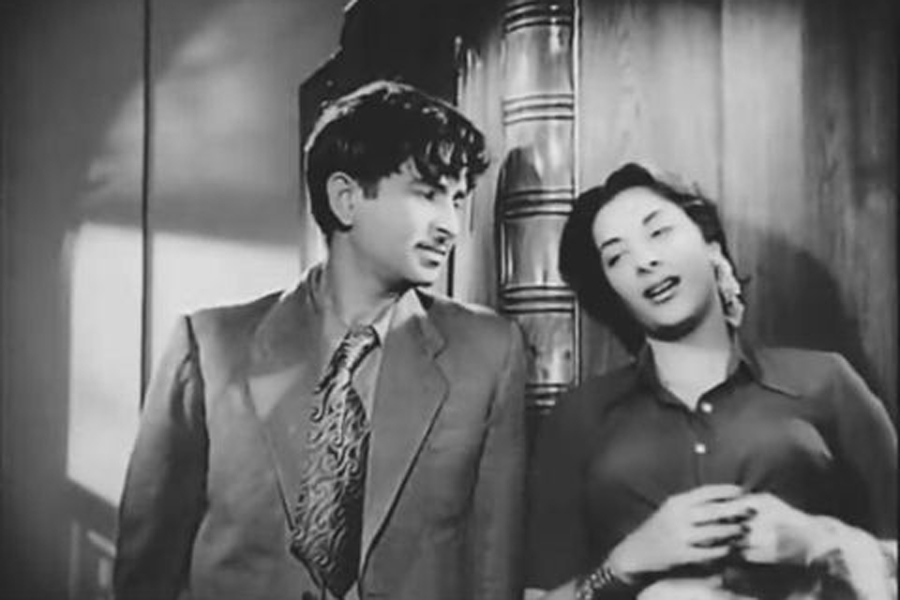 A Sarod concert had never before been held in China. The word "Sarod" roughly translates to "beautiful sound" or "melody" in Persian. It is a stringed instrument from northern India used mainly in classical Indian classical music. Unlike the guitar, the player slides the tips of his or her fingernails across the strings, emitting a deep, weighty, introspective sound. The instrument was introduced to China via the concert featuring renowned Sarod-player Amaan Ali Khan Ayan and his younger brother Ali Khan. The brothers represent the seventh generation in an unbroken chain of the Senia Bangash School. Today they are both icons of young Indian traditional musicians.
Their father, Amjad Ali Khan, is considered India's Sarod King and has toured the globe several times round. His ancestors are credited with transforming the Rabab, a folk instrument from Central Asia, into the Sarod, over centuries. Senior India music research scholar Zhang Yuzhen believes that Amjad and his family have made a tremendous contribution to global music marked by the inheritance, improvement, dissemination and innovation of Indian classical music.
Inspired by their family heritage, the brothers have been devoted to music since childhood. After learning to play the Sarod from their father, they even performed with him as kids. Their skilled performances attracted nationwide attention early on, and they are now considered the most authoritative Sarod players in the world.
During their performance in China, the brothers played many traditional Indian raga and folk music ranging from soulful ballads to lively jugalbandi. Zhang Yuzhen shared her thoughts after hearing the recording: "The brothers inherited classical Indian music, but added their own understanding of contemporary and classical work. Their music is lively and flawlessly executed. Amaan's style is bold and unrestrained while Ayaan has a more introverted touch.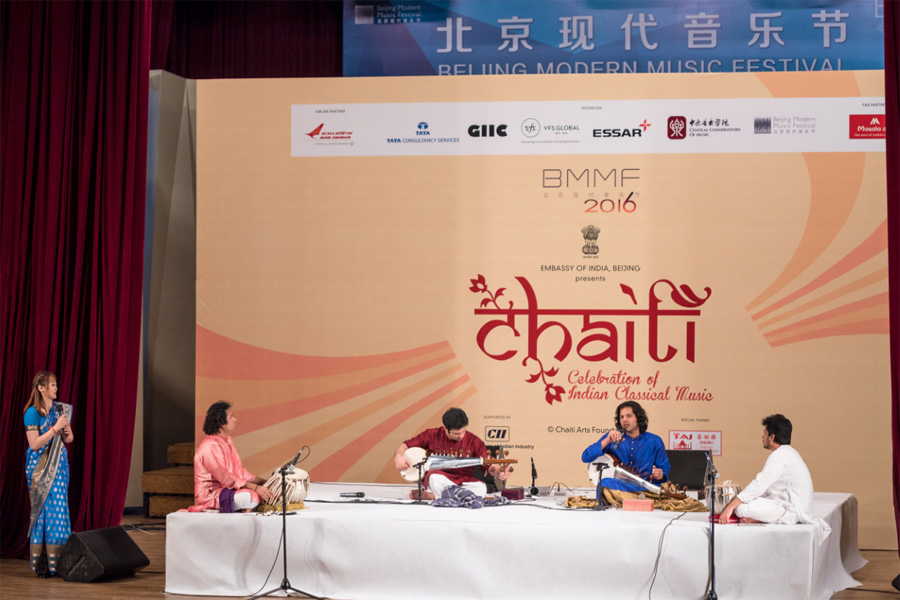 "This show is more committed to Sarod performance techniques than traditional Indian music. Classical Indian music gets less attention outside the country because it's so closely tied to religion. If one does not understand a certain religion, they will have a hard time understanding the music on a deep level. The performers probably took Chinese and Indian cultural differences into account and chose a program that demonstrates more skills and fewer traditional elements."
Zhang Yuzhen noted that this style of performance resembles a competition between the Sarod and the Tabla (a percussion instrument). "The Sarod plays a line and the Tabla imitates it," she explains. "The two ensembles and the show reach a climax when the melody aligns with the drumbeats."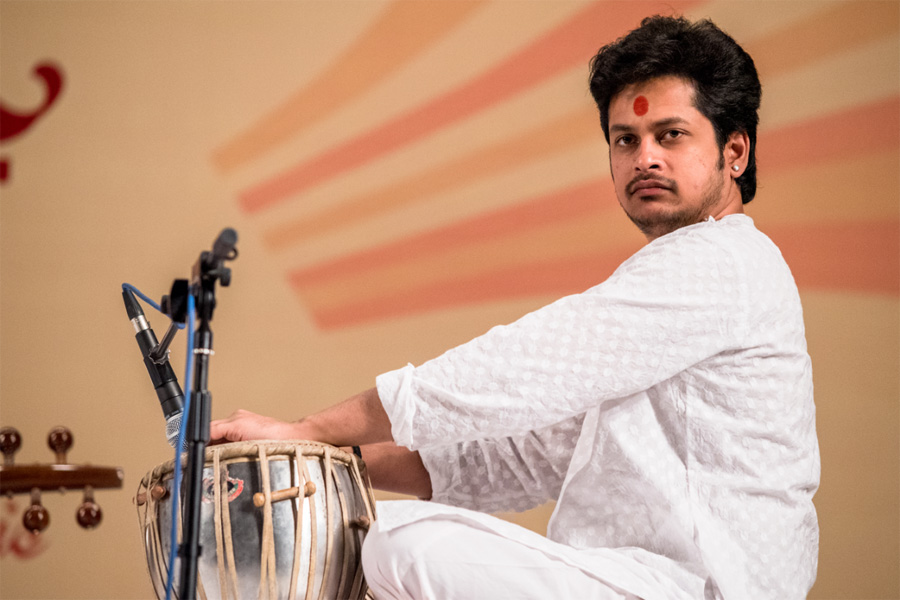 The event at the Central Conservatory of Music in Beijing marked the end of the 2016 Chaiti music festival. In the event's fourth year, it has already become an important item on China's musical calendar. The festival was founded by two Indian families: Siddharth Sinha and his wife Madhumita Bhuyan as well as Ravi Shankar Bose and his wife Soudamini Bose have spent many years in China working. Indian music's glaring lack of exposure in China inspired the couples to come up with the idea of creating a platform to spread such music in China. The initiative started small by bringing young artists from India to give solo performances in Shanghai. As the event grew in popularity and visibility among Chinese audiences, a non-profit entity was formed and the event was made an annual affair.
China-India Dialogue (CID): How has your trip to China been?
Ayaan: This is my first visit to China. It is a beautiful country with lovely people. They are very passionate about music. Along with their modernity, Chinese people value tradition, which is something that I highly value. They have respect for their tradition and are preserving it, even the younger generation. There is so much history in China and so many talented artists here. I hope to see more extensive interaction between musicians of India and Beijing. My brother and I would love to perform with some Chinese musicians next time.
CID: Sarod music is frequently improvised and expresses certain emotions. What feelings were you trying to express during your performance in Beijing?
Ayaan: We were expressing love, joy and happiness. Everything that happened on stage was especially for the people of Beijing.
CID: How central is the Sarod to Indian music?
Ayaan: The Sarod is one of the most popular instruments in India. A lot of young musicians and students are learning it. My father has a lot of students, and they are all progressing very well. The concept of Indian classical music is basically improvising within the discipline. And a unique feature is that we can glide and slide from the second note to the fourth note. It is almost like vocal music. Inside, we are singing whatever we are playing.
CID: How is the 7th Generation's music different from the 6th?
Amaan: Every musician adapts to his or her environment. You might learn cooking from your mother, but you will develop your own twist on the same dishes. You will have more ingredients at your disposal than your mother. The era in which you are born is obviously a major influence on your music. We play Indian classical music but have a slightly more modern approach to it. It's not something we naturally aspired to – either fortunately or unfortunately, that's the way it went.
Ayaan: A very important thing is your nature, and how it comes out in your music. Every human being is different. Whatever happens in your life, your experiences, happiness, heartbreaks, everything flavors your music. That is why even if two people learn from the same guru, their styles can still be drastically different.
CID: How does your skill and creativity come out in your music?
Amaan: When we go on stage, we have no idea what we are going to play. We are not aware of our styles or best techniques. We are only our guru's students. So when we are on stage we want to be like our guru. One should never be aware of who he is or what he plays. When I'm on stage I only think of my guru and all the veteran musicians who inspired me, and I want to play their music. Automatically, you end up with your music.
Ayaan: It's a very long process because your music changes as you get older. It is a never-ending journey. The sky is the limit. A lot of spirituality is associated with classical Indian music. When we are playing, we are paying tribute to some cosmic powers.
CID: What are your sources of inspiration? Does religion inspire your work?
Ayaan: Not religion, specifically, but spirituality. Religion is also a limitation. Spirituality has no limitations. Classical music is spiritual. Inspiration is a very personal choice. What inspires me are life, people, nature, romance, and so many other things.
CID: What is the environment for the Sarod in India like?
Ayaan: Classical Indian music is refined, but many young people are learning it today. There is a huge audience for it all over the world. Classical music is like wine while pop music is like whiskey and vodka.
CID: What made the greatest impact on your music career?
Ayaan: I think my father's belief in hard work, practice, respect for seniors and blessings are very important. Along with practice, we believe you need blessings. We need support from parents, teachers and senior people.
CID: Bollywood is known for films featuring singing and dancing. Today Bollywood mainly uses modern Indian music, but sometimes turns to classical. What are your thoughts on classical music in movies?
Ayaan: It's fine with me. The sky is the limit. My brother and I have worked on a lot of experimental music. We have collaborated with violinists from New York, and we are collaborating with a guitarist. It's like a bouquet of flowers. But it is very important to be clear your intentions. It's okay to make cocktail, but making a cocktail doesn't mean you throw out all your wine. Experimentation is the opposite of tradition. You can produce new work without murdering tradition. Always respect tradition.
CID: In your opinion, what is the relationship between traditional and modern music?
Ayaan: Traditional music is the seed. The more you water it, the bigger the tree will grow, and the more fruit it will produce. Everything comes from the seed, so you have to take care of it.
This article is exclusive to China-India Dialogue. Feel free to share this article. To reprint this article, please contact us for permission.