Major country diplomacy with Chinese characteristic
China has become a leading nation in the world both in terms of its booming economy and burgeoning global influence.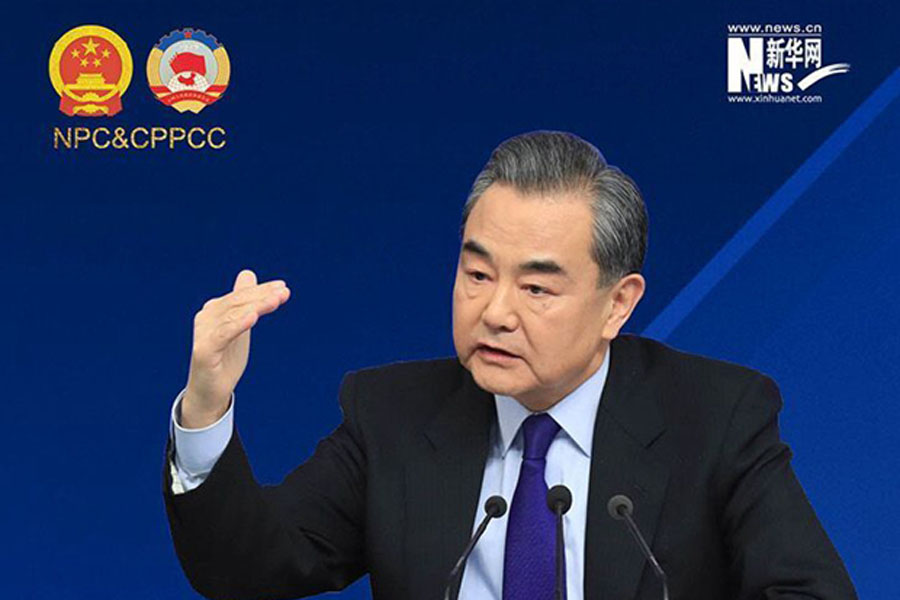 China has become a leading nation in the world both in terms of its booming economy and burgeoning global influence. It achieved this status through a combination of soft and hard power. The rise of China's stature in the world has led to the coinage of "sharp power" by Western scholars.
Chinese policymakers reject Western fears regarding a hidden agenda attached to the steady increases in prestige and always put forward their preference for a just global order that can work to enhance maximum prosperity through mutual win-win cooperation at various levels.
The ongoing 13th National People's Congress (NPC) session in Beijing provided an occasion to talk about the economic and diplomatic prowess of China and its direct and indirect impact on the global economy and politics. It is also timed to dispel impression in the West over the so-called threat of sharp power.
Foreign Minister Wang Yi on the sidelines of the first session of the 13th NPC interacted with media on China's foreign policies and foreign relations. He also answered different questions from media persons, which provided an insight into the finer parts of policy in the years to come.
What he said means that China's foreign policy is based on the concept of democratic centralism and has been led by the vision and thoughts of President Xi Jinping, who not only directly deals with the policy towards major countries but also actively pursues the objectives through head-of-state diplomacy at bilateral and multilateral levels.
It has been proved by Xi's visits to 57 countries since he rose to power after the 18th National Congress of the Communist Party of China in 2012. He has also received 110 foreign heads of state during this period. The personal involvement helped to uplift the softer face of China.
"President Xi's leadership and charisma has earned him and his country many good friends, among foreign leaders who represent a diverse range of cultures and social systems," Foreign Minister Wang said.
Continuing the tradition of steering the country's foreign policy, Xi will host four major events in China this year. They include the Boao Forum for Asia, the Shanghai Cooperation Organization (SCO) summit, a Forum on China-Africa Cooperation and the first China International Import Expo.
To increase personal outreach, Xi will also attend the BRICS Summit in South Africa, APEC Economic Leaders' Meeting in Papua New Guinea and G20 Summit in Argentina this year. Thus, Xi's imprint on the contours of relations with other nations will be more pronounced.
China is trying to break the myths linked with the traditional rise of a great power that it is often embroiled in controversies and conflicts. It is trying to rise peacefully and play a positive role in international politics. That is what is called "Chinese characteristics."
China's policy is to play constructive role in settling the disputes that pose a threat to peace and stability. China is also better poised to help resolve regional and international issues as it is free of the baggage of Cold War era rivalries.
Wang said that China, as per policy, prefers political settlements through dialogue and negotiation and firmly rejects the use of force. This is possible by respecting the sovereignty of other nations and restraining from imposing the will and views onto the weaker nations.
The Belt and Road Initiative (BRI) is another plank which distinguishes China's role in the global political domain. It is the pet project of President Xi and aims to share greater economic benefits with the maximum amount of people in the world. It is an example of sharing the toils and resources for the welfare of all those who are involved in the BRI.
The participation of more than 140 countries in the first Belt and Road Forum last May exemplifies the confidence of the international community in the grand project. China is committed to keeping BRI as a transparent initiative which will continue to move forward with mutual consultation.
In the words of Wang, China's foreign policy means a positive and responsible contribution to the welfare of Chinese people, interests of China, and wellbeing of the world. Thus, China "will write a whole new chapter of major-country diplomacy with Chinese characteristics in the new era."
Sajjad Malik is a columnist with China.org.cn.