Xi-Modi Informal Meeting: Milestone in China-India Relations
A meeting between top Chinese and Indian leaders in this form will open a window for more opportunities, untangle complex strings and inject more vitality into the drive for peace and development of Asia with foresight and vision not confined to relations between the two countries.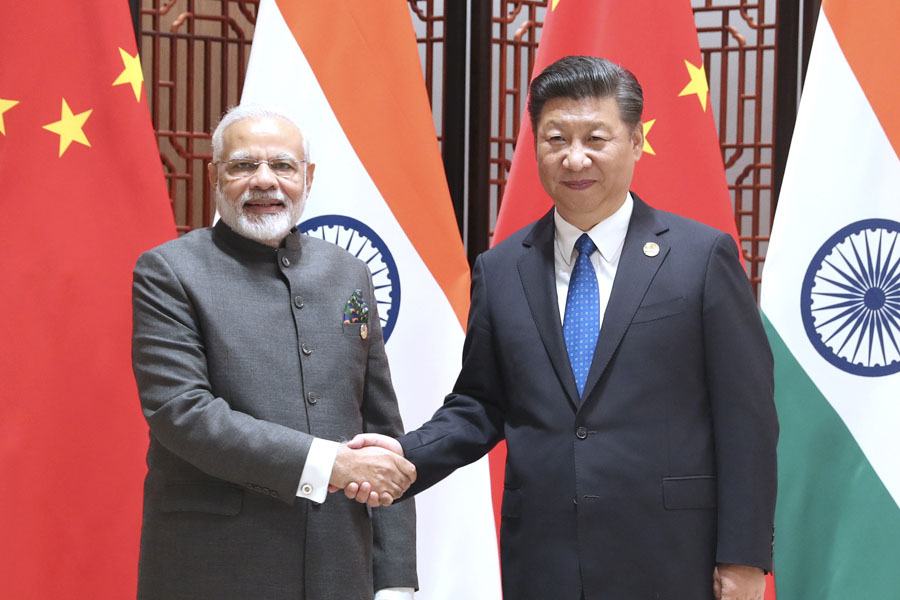 At a joint press conference on April 22, Chinese State Councilor and Foreign Minister Wang Yi and his Indian counterpart Sushma Swaraj announced that Chinese President Xi Jinping would hold an informal meeting with Indian Prime Minister Narendra Modi on April 27 and 28 in Wuhan, Hubei Province. Xi and Modi will exchange views on overall, long-term and strategic issues regarding China-India relations. The pending informal meeting is already being regarded as a milestone event marking a new chapter of China-India relations.
Present challenges hindering cooperation between India and China include a lack of mutual trust and cognitive bias. In terms of China's responsibilities to the international community, the country emphasizes its dedication to a peaceful international community, its history as a responsible partner in cooperation and its commitment to playing a constructive role. China's self-image is based on such peace-oriented roles. However, due to China's fast economic and military growth and unsettled boundary issues, India has tended to regard China as a competitor and threat. India's understanding of China's development starkly contrasts how China sees it. India maintains a vigilant watch over China's behavior in this region from a security angle. It is dangerous for India to continually treat China as an opponent and threat because it could become a self-fulfilling prophecy if interactions are flavored by the "threatened" party. And as a result, China's policies in regard to India would begin taking into account the Indian feelings about the relationship and tend towards regarding India as an opponent and threat too.
Fortunately, the leaders of China and India know that confrontation is not an option. The rise of China and India, the two biggest developing countries, was inevitable. The development of Asia as a whole would not be possible without the development of China and India. Although China-India relations face many challenges, the two countries' common interests far outnumber points of contention. In these circumstances, only mutual respect and dialogues at various levels can minimize cognitive biases and divergences. We sincerely hope that the two countries can put these ideas into action, expand cooperation at all levels, manage and control crises and better understand each other.
China and India have established over 20 mechanisms for dialogue. Mutual visits of high-level officials have become increasingly frequent. Occasionally, challenges still emerge even though China-India relations are generally on the right track. The peaceful resolution of the Dong Lang (Doklam) standoff manifested the wisdom of two countries' leaders. The upcoming informal meeting will open up more space and create possibilities. The relatively private setting will be conducive to an in-depth exchange of views on sensitive and important issues and will promote greater mutual trust.
China respects and understands India's influence in South Asia. A turbulent South Asia runs contrary to China's interests. In the long term, if connectivity, stability and common development in South Asia become central consensus and the foundation for cooperation between China and India, tremendous opportunities will be created to enhance the peace and prosperity of this region.
China and India share similar philosophies and goals on many international issues. As uncertainty in the international political area increases, it becomes clear that now is the time for China and India to work together more closely, take on more responsibility, engage in strategic communication and play bigger roles in promoting a fairer and more just world order.
Disputes are only one side of the coin. The other side of China-India relations has remained busy with active historical and ongoing exchange and interactions. The informal meeting of Chinese and Indian leaders will open a window for more opportunities, untangle complex strings and inject more vitality into the peace and development of the two countries and Asia, with foresight and vision beyond that of a simple bilateral relationship.
The author is a postdoctoral researcher at the One Belt-One Road Strategy Institute of Tsinghua University.