A Time for Trust
The Modi-Xi meeting in Wuhan represents the most promising development in India-China ties in the past four years.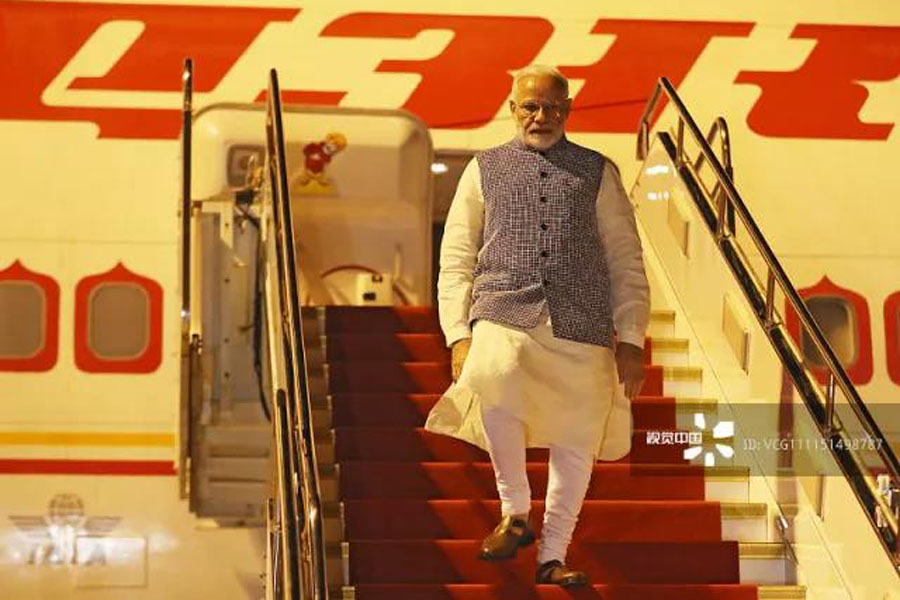 The "informal" summit meeting between Indian Prime Minister Narendra Modi and Chinese President Xi Jinping in Wuhan, a beautiful riverfront city in Hubei Province, from April 27 to 28, is considered the most promising development in India-China bilateral relations in the past four years. Something that has been missing in this relationship and preventing it from maturing to its full potential is strategic mutual trust at the political and governmental level. I hope that the Wuhan Summit will help in creating this scarce but precious element.
When two top leaders meet, they should not, and they surely will not, discuss nitty gritty issues of our bilateral ties. Rather, they should have a frank, heart-to-heart and mind-to-mind discussion on fundamental questions. What are the root causes of inadequacies in mutual trust? How can we to resolve contentious and long-pending problems? What are the most attractive win-win opportunities before India and China? And how can both countries move forward swiftly in an agreed-upon direction of cooperation on both bilateral and multilateral issues? Finding good answers to these questions requires honest recognition of each other's core concerns and interests.
The international background against which the Wuhan Summit is taking place is very important. The dominance of the United States, once deemed the world's sole superpower, is rapidly declining. The current U.S. administration is also resorting to protectionist measures and fighting the tide of globalization. Some influential players in the U.S. are even warning of pulling China into a "trade war." On global trade and anti-protectionism, India and China are on the same page. The Wuhan Summit can bring India and China closer on many important global issues.
With strategic mutual trust and comprehensive strategic cooperation, India and China can positively foster peace, stability and progress in Asia and around the world.
An important breakthrough at Wuhan that I would like to see is India joining the Belt and Road Initiative (BRI) as an equal partner. India and China should work together in the expanded China-Pakistan Economic Corridor (CPEC), which will pave the way for India-China-Pakistan cooperation. Our two countries should also come to an agreement on implementing the India-Nepal-China Economic Corridor and Bangladesh-China-India-Myanmar Economic Corridor. In short, comprehensive connectivity in South Asia should be a big realm in which Prime Minister Modi and President Xi Jinping can enthusiastically agree in Wuhan.
I am one of those in India to strongly and consistently argue, right from the beginning, that India should join the BRI. Comprehensive connectivity and economic integration will benefit India, China and all of South Asia.
The primary reason for India's opposition to the BRI is the contention that the CPEC violates India's sovereignty since it passes through the Pakistan-controlled Kashmir region, a territory claimed by India. This concern of India should be properly recognized by Beijing. I believe that India, China and Pakistan can reach an innovative and practical consensus on this matter that will pave the way for India to join the BRI. Beijing should also address India's concerns on China's reluctance to condemn Pakistani support for terrorist groups targeting India.
Mutual trust can quickly broaden and deepen bilateral and multilateral cooperation on many fronts. We have seen welcome progress in India-China trade and commerce. In 2017, bilateral trade reached an all-time high of US$84 billion. Moreover, India's exports to China increased, which helped bring more balance to mutual trade. A recent visit to India by Chinese Commerce Minister Zhong Shan and a large delegation was highly successful.
Nevertheless, for two large and rapidly growing economies like India and China, US$84 billion in trade is a very low figure. The number should jump to at least US$300 billion over the next three to four years. China should import more high-value consumer products from India, which will generate employment opportunities in India. India should import more capital goods and sophisticated industrial intermediaries from China that will help the Chinese economy as well as assisting India's industrialization.
No less important, India should open up many sectors, especially infrastructure, for large-scale Chinese investment. Similarly, China should invite Indian big business and Indian IT companies to expand their activities in China.
Finally, we should not underestimate the need to enhance people-to-people contact through tourism, arts, culture, cinema, music, literature, student exchanges, think tank cooperation and other sectors.
In short, the Wuhan Summit provides an opportunity for Narendra Modi and Xi Jinping to commit to ensuring that India-China relations are ambitiously expanded and deepened in the coming years to turn a new page on Asian history.
The author is chairman of the Observer Research Foundation in Mumbai and a political and social commentator.