"Beautiful India Beautiful China" Online Photo Exhibition Unveiled in Beijing
The "Beautiful India Beautiful China" online photo exhibition, themed "Dragon and Elephant Dance Together for Win-win Outcomes," was launched in Beijing on Tuesday.
by
China India Dialogue Photographs by Xu Xun and Duan Wei
The "Beautiful India Beautiful China" online photo exhibition, themed "Dragon and Elephant Dance Together for Win-win Outcomes," was launched in Beijing on Tuesday. It was held to celebrate the 70th anniversary of the establishment of China-India diplomatic ties. The launching ceremony was joined by guests including Du Zhanyuan, President of China International Publishing Group (CIPG), Lin Songtian, President of the Chinese People's Association for Friendship with Foreign Countries (CPAFFC), Yu Tao, Vice President of CIPG, Li Xia, Editor-in-chief of China Pictorial, Wang Bangwei, Director of the Centre for India Studies of Peking University, and Atul Dalakoti, Executive Director of the Federation of Indian Chambers of Commerce and Industry (FICCI). Guests including Sun Weidong, Chinese Ambassador to India, Sudheendra Kulkarni, Founder of the Forum for New South Asia, B. R. Deepak, Professor at the Center for Chinese and Southeast Asian Studies of Jawaharlal Nehru University, and Srikanth Kondapalli, Professor and Chairman of the Centre for East Asian Studies of Jawaharlal Nehru University attended the ceremony online.
The online photo exhibition is directed by the Embassy of China in India, the Consulate-General of China in Mumbai, and CIPG. Supporting partners include the Pondicherry India-China Friendship Association, India China Academy, and Science and Technology Daily. The exhibition is supported by China-India Friendship Association and Shenzhen University. The exhibition focuses on topics including natural scenery, bilateral friendship, people-to-people exchanges and economic cooperation between the two countries. It is divided into four parts: "Historical Wonders of Two Ancient Civilizations," "Ancient Civilizations, Diverse Beauty," "Extensive Exchanges, Shared Future," and "Sharing Development Opportunities, Creating the Asian Century." Over 120 photos are displayed. The online photo exhibition will last till March 8, 2021.
Du Zhanyuan said in his speech at the launching ceremony that China and India have witnessed prolonged and rich exchanges which have lasted for over 2,000 years. Benefitting from the constant cultural exchanges and mutual learning, China and India have been coexisting peacefully and influencing each other in a positive manner, which has resulted in friendship for thousands of years. Since the two countries established diplomatic ties 70 years ago, their relations have gone through an extraordinary path. In the future, China and India should eye challenges facing both countries, such as epidemic prevention and control, economic downturns, climate change, ecological destruction, and terrorism. By dealing with these challenges, the two countries can seek common ground while shelving differences and cooperate with each other. The two countries should strike the same tone, jointly safeguard the peace and stability of Asia and forge ahead for the prosperity of this continent.
Lin Songtian stressed that as ancient civilizations in the world, both China and India have made historic contributions to the progress of human civilization. The people of our two countries advocate the philosophy of harmony and love peace, he said. We both have similar cultural genes of seeking common ground while shelving differences. Lin pointed out that at present, the world is undergoing profound changes unseen in a century. The friendly and mutually beneficial cooperation between China and India will be conducive to the unity and cooperation among emerging markets and developing countries to jointly defeat the COVID-19 pandemic at an early date and revitalize the economy. It can also serve as a stabilizer and inject positive energy into the world full of uncertainty.
Chinese Ambassador to India Sun Weidong noted that the photo exhibition presents us with a beautiful landscape of the splendid symbiosis of the two civilizations. It also allows us to look at China-India relations from a broader historical perspective, and draw inspirations from it, he said. First, friendly cooperation is the mainstream; Second, cultural and people-to-people exchanges are the foundation; Third, mutual learning is the driving force; Fourth, beautiful ecology is the wealth. He called on the two peoples to follow the guidance of their leaders, redouble their efforts to meet each other halfway, strengthen dialogue and exchanges, and overcome difficulties and challenges, in order to put China-India relations on the track of healthy and stable development.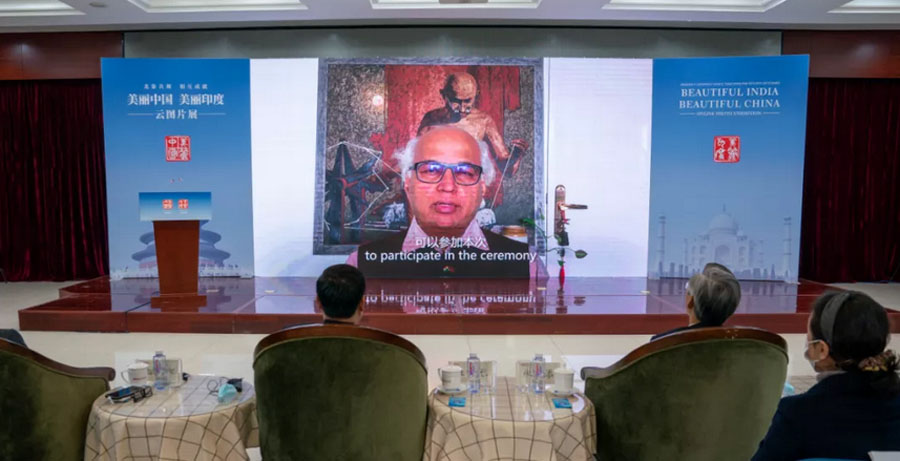 Sudheendra Kulkarni emphasized preserving and strengthening India-China friendship and cooperation under all circumstances. We need constant dialogue between India and China at multiple levels, he said. Through dialogue comes understanding; through understanding comes win-win cooperation. Win-win cooperation builds mutual trust, and mutual trust builds stronger bonds of peace and friendship, Kulkarni said. There is immense need and immeasurable scope for India and China to work together, for mutual development and for peace and progress in the world.
R. Deepak stated in his video speech that China and India have had an uninterrupted flow of cross-cultural connections for two millennia. He believes during the contemporary period China and India have forged an understanding that the relationship is extremely important and it is capable of deciding the future of the global order. He noted that the two countries should cherish the India-China relationship and take it further.
Srikanth Kondapalli said that he started his journey in Chinese studies in 1983 when one of his teachers suggested he look at China because China had gone through social engineering projects in the last seven decades. He added that in the seven decades since the establishment of diplomatic relations between India and China, both countries have signed a number of institutional arrangements and some foundational agreements. These foundational agreements have provided stability to bilateral relations.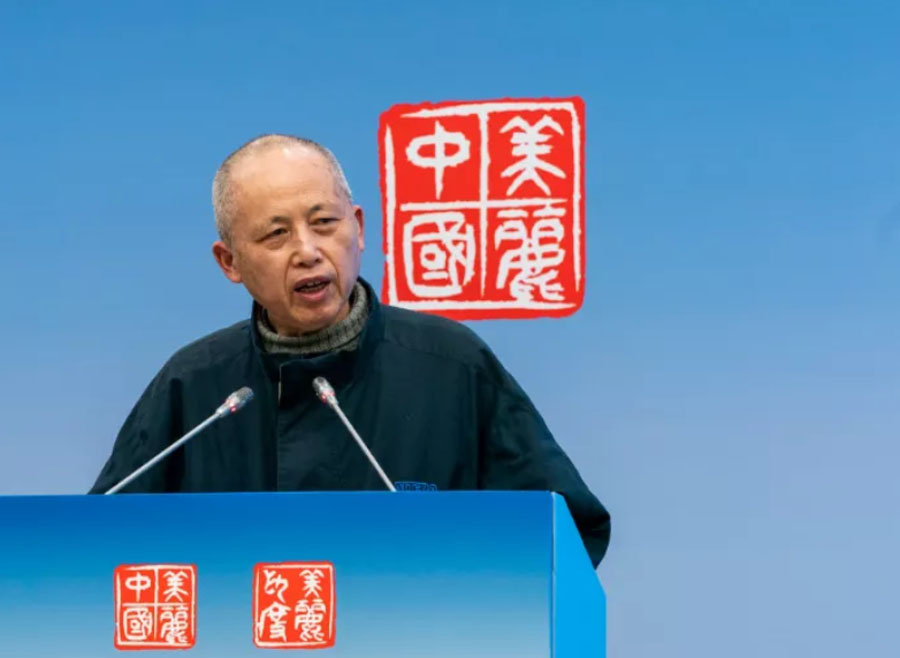 Wang Bangwei said that China and India appreciated each other in history. Since modern times, the two countries have evolved too fast to learn from each other. Today, China and India need to understand and appreciate each other on a deeper level. The two peoples should work together to enhance mutual understanding and trust.
The online photo exhibition is part of the serial event of "Beautiful China Beautiful World." The event, organized by China Pictorial Publications of CIPG, has been held a dozen times around the world.