Chennai Connect: The Second Xi-Modi Summit Meeting
The discussions at Chennai were forward looking and "developmental partnership" oriented.
Chinese President Xi Jinping and Indian Prime Minister Narendra Modi met at Mahabalipuram, close to Chennai, in the southern part of India on October 11-12, 2019 for a second informal summit meeting. The first one was held at Wuhan in April 2018 and since then it was called as "Wuhan Spirit" for its significance in reordering bilateral relations between the two rising Asian countries.
The meeting went down well in terms of optics, frank discussion on issues of concern and overall outcome. This is expected to further stabilize and expand bilateral relations in the light of turbulence in the global and regional orders.
The first day was dedicated to larger strategic issues, civilizational connection, national developmental trajectories, trade and national security concerns on terrorism. The second day had more substantial discussions related to bilateral issues and focused more on bilateral relations such as on how to maintain border stability, address issues of terrorism, and expand trade, investments and people-to-people contacts.
Firstly, on the optics, the visit to the Mahabalipuram temple complex and Prime Minister Modi's explanation of its civilizational importance since the Pallava Dynasty went well with China's leader. Beijing recently organized the Conference on Dialogue of Asian Civilizations. While India did not participate in this meeting – nor the Belt and Road Imitative summits in 2017 and 2019 – there is some positive outcome in this regard. As civilizations with long continuity, China and India are drawing lessons from history and trying to reorient their societies in the light of ancient wisdom and culture.
Secondly, there was frank discussion of each other's positions on a number of issues of concern. In the light of the global uncertainties in trade value chain, weakening economic growth rates and investment flows, both suggested collaboration on these issues for mutual benefit. Traditionally, India and China have come forward on issues of multilateralism and recently on promoting globalization. Both coordinate in the G20 process and also welcome the changes in voting rights in favor of developing countries in the International Monetary Fund.
Thirdly, the overall agenda at the Chennai meeting was influenced by the previous meeting. At the Wuhan meeting, five issues came up for discussion including "strategic communication", maintaining border stability by introducing new confidence building measures, bridging trade deficits, undertaking joint projects in Afghanistan and expanding people-to-people contacts.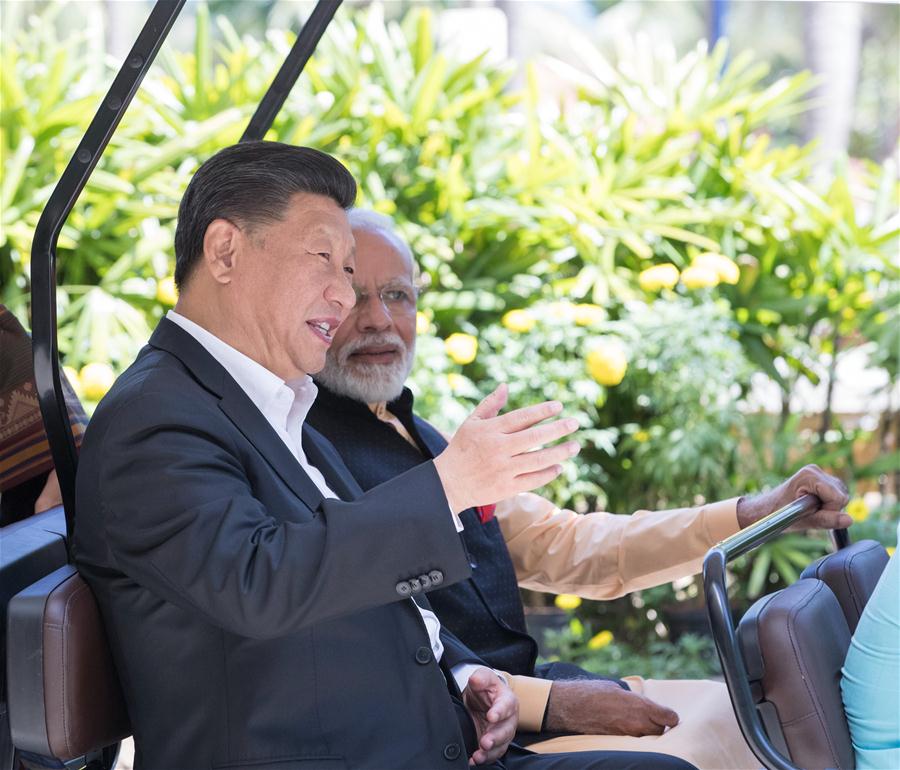 Many of these five points were reiterated at the Chennai meeting except on Afghanistan. In the light of recent developments of the United States foregoing any deal with the Taliban, omitting the Afghan issue is interesting for regional security situation. As countries neighboring Afghanistan, China and India are carefully watching the emerging situation within Afghanistan.
Of the other issues, marked progress was made in terms of setting up a high-level committee with Indian Finance Minister Nirmala Sitaraman and Chinese Vice Premier Hu Chunhua to address issues of trade and investment.
Both also emphasized expanding people-to-people contacts. Last December during the visit of Chinese Foreign Minister Wang Yi's visit to Delhi a "ten pillar" agreement was signed, including promotion of tourism, youth exchanges, media and think-tank forums, museum management, Chinese language teachers, and more. Indian External Affairs Minister S. Jaishankar visited Beijing in August this year to promote the same. A few days ago, India further liberalized e-visas to Chinese to boost tourism.
In addition, the Chennai meeting proposed sister-state/province relations between Tamil Nadu and Fujian Province as with expansion of maritime contacts. An academy is also to be instituted for the purpose of exploring the historical maritime connections between India and China.
Fourthly, both decided that terrorism is a "common threat" and that they intend to make "joint efforts" on a "non-discriminatory basis". Over the years, the national security strategies of both China and India are concerned with the spread of terrorism and the loss of innocent lives that entails. As developing countries, both have been emphasizing measures to tackle such issues and actively participate in the United Nations Security Council resolutions on counter-terrorism.
Fifthly, both reiterated the need to implement the Millennial Development Goals set by the UN on sustainable development and also emphasized climate change issues. They also marked the early resolution of the Regional Comprehensive Economic Partnership (RCEP) agreement with Southeast Asian and East Asian economies. This would serve for easing trade restrictions and resurrect economic growth rates in the future.
Overall, the discussions at Chennai were forward looking and "developmental partnership" oriented. With further exploration of the maritime dimensions, the second informal summit meeting is nicknamed "Chennai Connect". The deliberations are expected to further cement ties of these two large Asian countries in the future.
The author is a professor in Chinese Studies and chairman of the Centre for East Asian Studies at Jawaharlal Nehru University, New Delhi.