[Crossing Cultures: Chinese in India] Settling in Mumbai: A Call from Deep Within
Wen has developed a strong sense of belonging in Mumbai, and feels at home every time she arrives at the Chhatrapati Shivaji International Airport.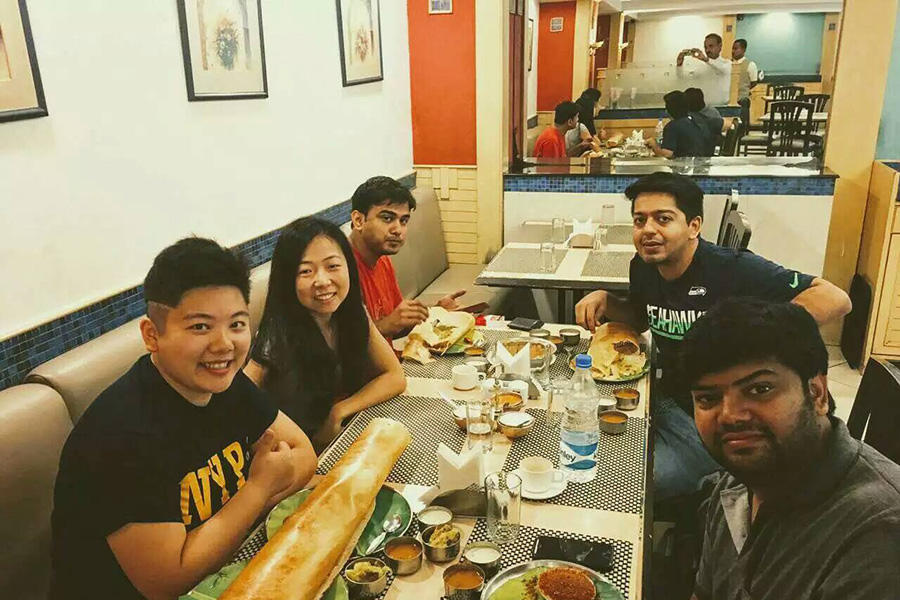 Tiki Wen, born 25 years ago in the 'Land of Abundance,' Sichuan Province in southwestern China, has been living in Mumbai for three years. She headed to the Indian metropolis alone upon graduation from Xiamen University on the southeastern coast of China. Wen has developed a strong sense of belonging in Mumbai, and feels at home every time she arrives at the Chhatrapati Shivaji International Airport.
Another Life
When she first arrived in Mumbai, Wen worked with the Indian branch of the Association Internationale des Etudiants en Sciences Economiques et Commerciales (AIESEC), a non-profit organization that cultivates youth leadership via overseas business internships, public welfare practices and cultural exchanges. She joined the association early in college, and saw that very few Chinese members were applying for posts in India.
"I was depressed. I didn't like my major—electrical engineering. I had no idea what I wanted." Wen was tormented by severe panic attacks, desperate for change. "India is a spiritual country. My intuition told me that India would transform my life."
Her team in Mumbai totaled 18 members, 15 of whom were Indians. Wen was shocked by her Indian colleagues, who spoke English rather quickly and aggressively. "Indians will interrupt at times that Chinese usually wouldn't—not on purpose, it's just the way they are used to speaking."
Wen also found out that Chinese and Indians think differently. "Chinese people stick to rules. When solving a problem, they come up with a thorough plan and enact it step by step. In contrast, Indians live for the moment, so they only plan one step ahead," she said. "They work at will, sometimes arriving late or lagging behind schedule, but they can also amaze you with their enormous potential."
Wen's work began to show results as she adapted to the local culture. In a single year, around 3,000 young Indians succeeded in heading abroad for internships and exchanges, with training and support from her team.
"I was told, more often than not, to be logical and self-disciplined, but it's not me." Wen said, "I love it more when I act the Indian way."
Outside work, Wen also lived with her AIESEC colleagues. Six of them shared a flat of two bedrooms and a guestroom, with one bunk bed in each. "It was impossible not to get to know each other well, as we were together 24/7," Wen said with a big smile. "Now I even speak English with a noticeable local accent."
"'Jugaad' is the key to understanding the essence of Indian culture," Wen said. It means solving problems quickly and smartly. "Once, the gas supply in the kitchen was cut, and everyone was starving. Guess what? They simply turned over an electric iron and cooked instant noodles with a pot placed on it. It's just awesome!"
"My friends in Mumbai are the people who know me best. We have good chats on topics that I can't even talk about with my pals in China," Wen said. "Indians are pretty good at self-mockery. They make jokes about their own mistakes."
Mumbai boasts India's best financial and commercial resources, and Bollywood makes it the entertainment center of the country. Wen has heard many colorful life stories in this city, which contains abundant opportunities for ambitious young people. Her friend Sani, a designer of costumes and props, was sent there by his parents at the age of 17 to study engineering, a subject in which he wasn't interested. Failing to persuade his family to let him change his major, Sani earned his own tuition to switch to applied arts studies in college, and also started a business. The toughest week saw him take a street for his bed, surviving on nothing but potatoes and water.
"Sani is in good company in Mumbai. Indians are eager to prove themselves," Wen said. "Entrepreneurial spirit is booming here and young Indians are willing to join start-ups. In China, however, many prefer a job in big companies as they are reluctant to take the risk of building a business."
After leaving AIESEC, Wen worked for Sutherland Global Service, a multinational consultancy corporation, but she felt trapped by the job. Now she helps others, as a life coach, understand themselves, realize their potential and achieve their targets. She spends her spare time on meditation, hoping to learn the wisdom of the body and to share it with more people.
"I've experienced many different sides of India. The land has changed me, and blessed me with unprecedented growth."
Multifaceted Mumbai
"In Mumbai, you can feast on a 10,000-rupee dinner, but 10 rupees can also get you a good meal." The city, home to over 20 million residents, impressed Wen with its inclusiveness. "Whether you're rich or poor, you can always find your place here. Indians always say 'If you want do something, go to Mumbai.'"
In her eyes, Mumbai is also a city of goodwill, with friendly citizens. "A friend of mine lost and found his laptop twice, once returned by a taxi driver and the other time by a bus passenger."
Security is always the top concern for women visitors to India. In many regions of the country, it is far from safe for women to walk outside late at night. Mumbai, however, is an exception. "I think Mumbai is one of the safest cities in India. Security checks have been rolled out, even in shopping malls," Wen said. "It's alright to take a walk at night in Mumbai, but definitely not in Delhi."
The urban railway connecting the south and north of Mumbai operates till about two o'clock in the morning. Many nights, Wen takes the train back home. She uses the mobile app 'M-Indicator' to check real-time updates of the bus, railway and metro services. Wen said, "It has an affiliated app, 'Security', where women can mark their locations, report their travel routes and call the police with one click."
"It is not as safe as China, however, since the infrastructure here is less well-equipped," Wen said. "Public opinion nowadays will tell you that any Indian man drawing close to a woman has evil intentions, but I can feel their respect for women. Sometimes men give up their seats for me on the train."
Photographs courtesy of Tiki Wen.