Decade of BRICS Cooperation Fosters New Prospects for Global Governance
Across a decade of cooperation, BRICS countries have explored pragmatic, effective concepts and methods for global governance.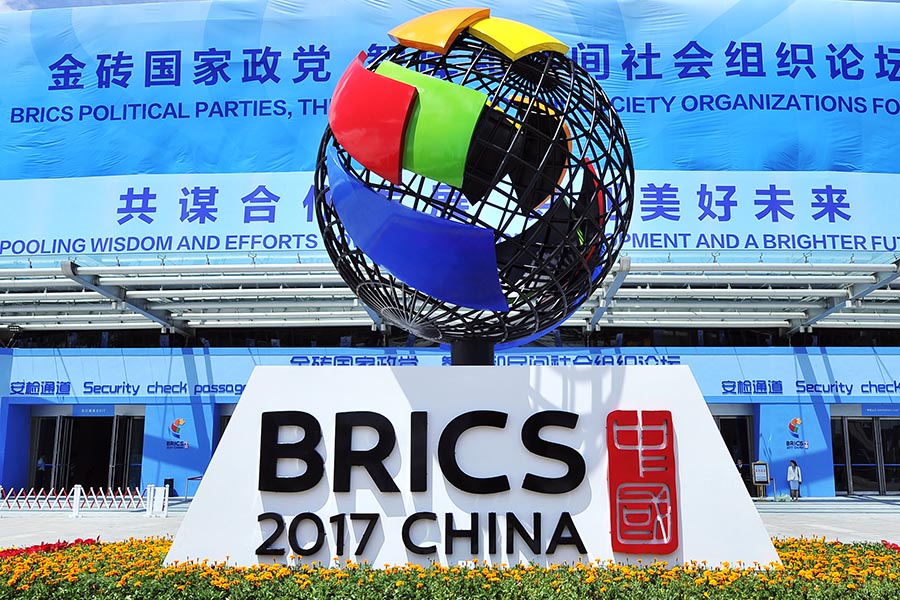 In 2001, Goldman Sachs chief economist Jim O'Neill coined the term "BRIC" to refer to Brazil, Russia, India and China—the four countries most likely to make a profound impact on the global economy. The concept was largely inspired by China's significant role in addressing the 1997 Asian Financial Crisis, which deeply impressed him. Back in 1990, when O'Neill visited China for the first time, the trip allowed him to witness the tremendous achievements in the country and reinforced his confidence that everyone can participate in global trade alongside the development of information technology. For this reason, he became confident in the prospects of BRIC and declared that the "world economy needs BRIC."
Sixteen years have passed since the concept of BRIC was introduced, which became BRICS after the addition of South Africa. During this period, dramatic changes have happened around the world. But just as O'Neill predicted, the BRICS cooperative mechanism has played a crucial role in the decade since its inception. BRICS has become a key force in promoting global economic growth, pushing reform of global order and safeguarding international peace and stability. Consequently, its position and role in global governance have been constantly raised. After a decade of development, the BRICS cooperative mechanism offers a new roadmap for global governance.
The theory of global governance was first introduced by Willy Brandt, then chairman of the Independent Commission on International Development Issues, in Germany in 1990. Although the theory has yet to mature completely, its fundamental ideas of promoting the common development of mankind and safeguarding normal order of the international community are gaining popularity. Along with deepening globalization, problems in realms such as politics, economics, security and ecology are becoming increasingly global and can only be solved through joint efforts of the international community. In this context, global governance has drawn attention from the international community for its importance in practice.
These days, the practice of global governance happens against a backdrop of globalization. Free flow of capital and technologies and extensive openness of markets and competitions enhance efficiency and prosperity. This is the positive impact of globalization. However, improper and unbalanced global governance results in wealth inequality, ecological deterioration, financial crises, recession of developed economies and rampant populism. Some blame those problems on globalization, evoking the rise of anti-globalization trends such as trade protectionism. Amid sluggish recovery of the world economy, slowed economic globalization, gloomy trade and investment and increased uncertainty in the global economy, vigorously accelerating reform and innovation of global economic governance is urgently needed.
BRICS countries account for 42 percent of the global population, 30 percent of the world's land and 18 percent of the world's GDP. Alongside their huge sizes and great potential, they boast diverse resource advantages and industrial structures that can complement each other. Over the past decade, their proportion in the global economy has surged from 12 percent to 23 percent and contributed more than 50 percent of global economic growth.
The birth of the BRICS mechanism is an inevitable result of changes in world patterns and the rebalance of power. The development of the BRICS mechanism evidences that the position and role of emerging markets and developing countries in global governance are improving. Across a decade of cooperation, BRICS countries have explored pragmatic, effective concepts and methods for global governance. As an important tool for global governance, the BRICS New Development Bank, based on principles of seeking fairness, promoting development and respecting opinions of all parties, has achieved institutional innovation and facilitated the formulation of reform plans of the World Bank and the International Monetary Fund (IMF). BRICS has laid a solid social foundation, placed focus on cultural exchange and enhanced people-to-people understanding and friendship, earning the public support that makes BRICS cooperation more sustainable. Following principles of openness, solidarity, equality, inclusiveness, mutual understanding and win-win cooperation, BRICS has injected positive energy into global multi-polarization, economic globalization and the democratization of international relations. China's successful practice of governance and its reasonable, pragmatic foreign policies provide wisdom and solutions for the effective operation of the BRICS mechanism.
As BRICS cooperation enters its second decade, China is assuming the rotating presidency of BRICS this year. On September 3, the ninth meeting of BRICS leaders is scheduled to begin in Xiamen in China's Fujian Province. Events such as the Dialogue of Emerging Markets and Developing Countries will be held on the sidelines of the meeting. Leaders of BRICS countries as well as those of Egypt, Guinea, Mexico, Tajikistan and Thailand will attend the summit with an aim to build a wider partnership and promote the concept of "BRICS Plus." As Chinese Foreign Minister Wang Yi said at a recent press conference, this concept will "be conducive to injecting vitality into BRICS, accelerating common development of emerging markets and developing countries and promoting open, inclusive and win-win economic globalization." Moreover, cooperation will help expand the space for emerging markets and developing countries to participate in global governance in a wider and deeper manner.
On January 1, 2017, President Xi Jinping sent letters to leaders of the other four BRICS countries as China officially took the reins of the BRICS presidency, in which he declared, "BRICS countries are recognized as models for cooperation among emerging markets and developing countries, bringing benefits to people of all member countries and making important contributions to boosting the world economy, improving global governance and democratizing international relations." After a decade of successful development, BRICS has become an influential international mechanism. While global economic governance lacks effective leadership and coordination, the "three wheels" of the BRICS mechanism—pragmatic economic cooperation, political and security cooperation and people-to-people and cultural cooperation—will roll along towards the new development of global governance in the next decade.
The author is executive editor-in-chief of China Pictorial.