Digitalization Driving Global Services Trade
Leapfrogging digital growth in China has become a key driving force for high-quality development. China's endeavors will also, on a global scale, boost post-pandemic economic recovery.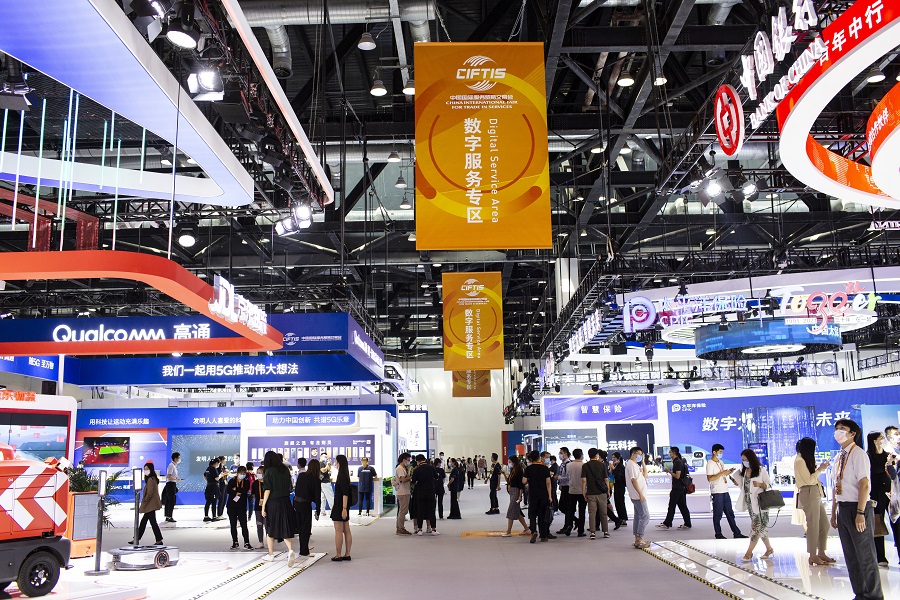 Global business and industry leaders gathered in Beijing on September 2 for the 2021 China International Fair for Trade in Services (CIFTIS). Chinese President Xi Jinping delivered a speech at the event via video.
The CIFTIS is a major exhibition platform for China's opening up alongside the Canton Fair and the China International Import Expo. It provides a first-class platform for international exhibitors to exchange ideas, dock business, and share business opportunities to achieve common development.
Trade in services is the most dynamic piece of contemporary global trade and a key new source of potential economic growth. Currently, services trade accounts for nearly 20 percent of world trade, and even represents nearly half of global trade when considered on a value-added basis.
This year, a total of 4,357 enterprises have registered for virtual exhibitions at the CIFTIS, a 40-percent increase over last year. A record number of international organizations and countries are participating in the CIFTIS this year, with Germany, Serbia, the Philippines, Vietnam, and Cambodia appearing for the first time. The fair's digital platform allows exhibitors to showcase products, hold online meetings, and ink deals without face-to-face meetings.
As the world economy seeks to avoid a possible depression, the CIFTIS, with the theme "Towards Digital Future and Service-Driven Development," further demonstrates China's resolution to open wider and displays the country's higher-level opening up aimed at achieving common development with other countries in the world.
"Digitization" of the global economy emerged as a buzzword at the 2021 CIFTIS. Digital services, one of the main focuses of the six-day fair, are set to expand cooperation through the creation of abundant opportunities.
Digital services have become a new engine of global trade. The 2020 World Trade Report published by the World Trade Organization showed about 115 countries have unveiled policies to promote digital production and innovation from different perspectives.
Digital industrialization is developing steadily in China. Reports show that in 2019, the penetration rate of the digital economy in the service industry, industrial engineering, and agricultural industry reached 37.8 percent, 19.5 percent, and 8.2 percent, respectively, and the value added of digital industrialization in China reached 7.1 trillion yuan (US$1.09 trillion), a year-on-year increase of 11.1 percent.
The proportion of digitalization in software and internet industries continues to grow and data integration is becoming key to promoting industrial digitalization. The thematic exhibition of financial services at the 2021 CIFTIS was highlighted by digital RMB application scenarios, a major step forward in the broader deployment of digital currency.
Leapfrogging digital growth in China in recent years has become a key driving force for the high-quality development the country pursues. China's endeavors will also, on a global scale, boost post-pandemic economic recovery that is seeing some positive signs.
Developing the digital economy has become a clear priority in Chinese society. Accelerating digital development and building a "digital China" are official objectives in the 14th Five-Year Plan (2021-2025) and Long-Range Objectives Through the Year 2035.
Trade in services has made a leap due to China's push for high-level opening up and comprehensive innovation. The country's imports and exports of services totaled 2.37 trillion yuan (US$365.4 billion) in the first half of this year, up 6.7 percent year-on-year.
In 2020, China's digitally deliverable trade in services rose by 8.4 percent year-on-year and accounted for 44.5 percent of the total services trade, according to official data. While livestreaming, e-commerce, unmanned logistics and other forms of digital services are booming, China has also been strengthening its regulation of the digital industry to ensure fertile soil for high-quality development.
China has pledged to stay committed to further opening up and has continued to share development opportunities with the rest of the world, promoting the global services trade as well as the exchange and cooperation between related industries.
Digital services are gradually shifting from an alternative to a necessity as traditional segments of the services sector such as tourism and transportation continue to navigate decimation due to the COVID-19 pandemic. With services trade being a pillar of China's vibrant economic activities, China's economic resilience will provide promising prospects for international cooperation amid the pandemic.
China's endeavors to promote high-quality development reflect its commitment to global common prosperity. Through joint efforts, the global community will emerge victorious from the pandemic and the economic downturn as early as possible and improve people's quality of life for the long term.
The story "towards a digital future and service-driven development" showcases China's continuous practice of opening up. China is constantly deepening cooperation on services trade investment with other countries and regions to promote trade liberalization and investment facilitation. The CIFTIS is the world's largest comprehensive exhibition regarding services trade and an important window for China's service industry.
Thanks in large part to the 2021 CIFTIS, the world is expecting more consensus and practical methods to safeguard the multilateral trading system and promote global trade development. Many agree that China's further opening up will powerfully drive construction of an open global economy and benefit people all over the world.
The author is a Guangzhou-based Indian businessman and CEO of Care International Limited, a lighting manufacturing company. He has lived in China for seven years.