In China Be Friends
We hug and hug, and no one wants to leave. Looking forward to seeing you guys in Beijing again.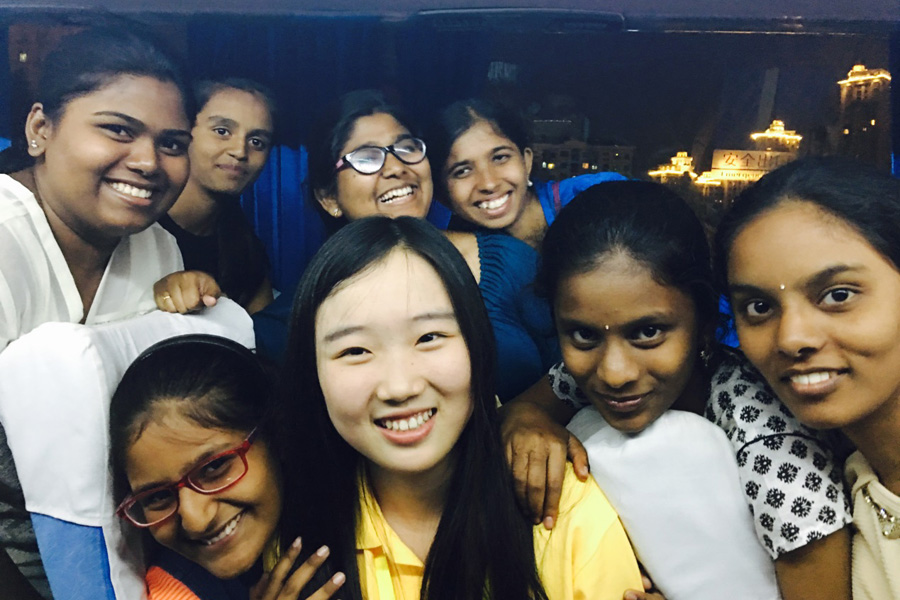 The 7th Soong Ching Ling International Summer Camp (SCLISC) brought 310 teenagers from 22 countries to Beijing on July 25. During the hottest days of summer, the energy from the campers' passion seemed like a force of nature. The 7-day camp, which raised a banner titled "In China, Be Friends", invited global teenagers of different ethnicities and cultures to showcase their uniqueness, make friends and experience everything cultural diversity has to offer.
This year marked the third trip for an Indian delegation to participate in the SCLISC. All ten delegates, who hailed from Southern India's Telangana State, visited China for the first time. The oldest was 22-year-old team captain Tejaswi and the youngest, Ananya, had just turned 12.
National Day of Diverse Cultures
The National Day event, hosted at Castle de Lafitte in Beijing, was scheduled for July 26. The floor plan of the show was designed in the shape of a traditional Chinese quadrangle dwelling in front of a castle, composed of each country's respective booth. After decorating their countries' areas with cultural-rich posters, the campers actively introduced local snacks, handicrafts and souvenirs. They took turns walking from stall to stall to meet and exchange ideas with each other.
The Indian team went all out for the showcase. In small dishes, they served fried potato pieces and chocolates from home, while exhibiting Rupee notes and coins sealed in transparent plastic bags. Campers also gave out rings and bracelets that they constructed themselves using rubber bands.
Among all the displays of the Indian campers, the star was the Mehndi design that attracted a steady stream of campers throughout the day. Young people from various countries endured a long queue to have an exotic image drawn on the back of their hands. Bindi, a traditional Indian facial makeup, was also popular with many girls, who got their red dots from team captain Tejaswi.
The Indian graciously enjoyed gifts from other stalls as well. Siddarth seemed most enthralled when Chinese volunteer Wang Yuanlong wrote a piece of calligraphy exclusively for him. Siddarth gazed at the Chinese characters "和为贵" with a big smile on his face, "This means peace. I will take it home and share it with my family."
The main event of the National Day program was an ethnic talent show featuring the international campers. When it was India's turn, their teens danced to upbeat music – barefoot – in unison, with a natural and lively style. The audience cheered at various points throughout the performance.
"We perform this dance to celebrate the traditional festival Bathukamma in our hometown," Tejaswi explained. "Bathukamma is a festival about flora: We weave fresh flowers into wreaths and make stacks, and then we dance around them."
China, In the Eyes of Indian Teenagers
When asked her impression of China, Vaishno nodded her head, "China is one of the fastest growing countries in the world and Chinese people are hospitable. I am so excited that China could be the first foreign I got an opportunity to visit."
At 17, Samees was the tallest of the Indian campers. He's a freshman in college, majoring in coding. He remarked that China is a lively country."I am the first person in my family to visit China!" Siddarth exclaimed. "I am a big fan of pandas. I bought a panda china doll when I visited a museum in Beijing." Siddarth showed off his porcelain panda proudly.
"I saw Chinese Kung Fu movies in India, but now I've seen the real China," said Ananya, who went abroad for the first time. "I think the Chinese dragon, which symbolizes good luck, is a lot of fun. It reminds me of the elephants ridden by gods in Indian culture. I am also interested in traditional Chinese costumes. And I really want to visit Shanghai because I've heard it's such an international metropolis. But the cost of living there is as high as in Bangalore."
Friendship in Shared Memories
"Unlike kids from Europe, Indian campers were a bit timid when I first met them, but became quite outgoing and active after we got to know each other," noted Wang Fan, a student at Beijing Jiaotong University, who was honored to serve as the guide to the Indian delegation during their trip.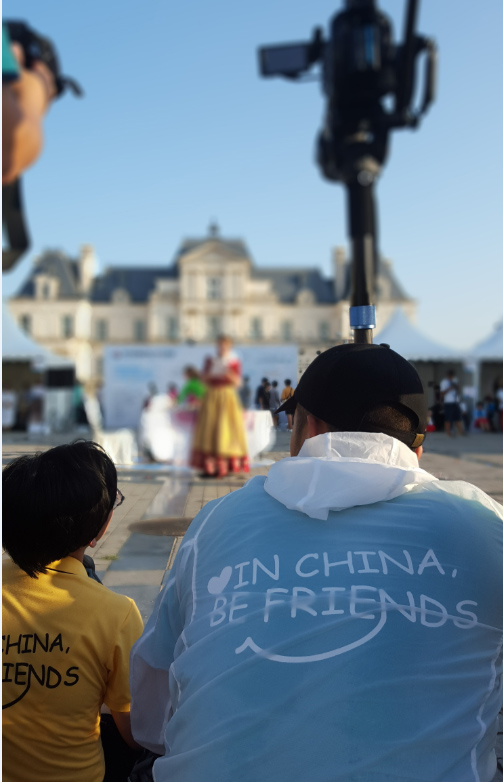 "By the end, we were joking around like old pals." Not only guide, Wang also played roles of interpreter and liaison as she accompanied the Indian delegation throughout the summer camp. From the Great Wall in Bejing to the Oriental Pearl Tower in Shanghai, Wang spent a wonderful week traveling with the Indian campers and became their closest Chinese friend.
Wang's perceptions of India changed a lot during the journey. "The media in China runs more negative reports about India than positive," she sighed. "Therefore, many Chinese people think of India as a dirty, chaotic and impoverished place. Our bullet trains were just like what they have back home, and the big cities of India are well-developed with cutting-edge infrastructure."
Before bidding farewell, the Indian campers presented her a stone sculpture of the Taj Mahal as a gift, and Wang returned the favor with some sweets and stationery.
As the camp came to close, Wang posted on her Wechat: "We hug and hug, and no one wants to leave. My suitcase is packed with precious memories. This is the first time I've ever been around with so many friends. Now, I've started speaking Indian English. I've never been so happily exhausted… It's so painful to say goodbye. A big sense of loss consumes my heart. I can only look forward to seeing you guys come back to Beijing again."
This article is exclusive to China-India Dialogue. Feel free to share this article. To reprint this article, please contact us for permission.