India Aims for a Boom Rooted in Infrastructure
If the goods and services tax is passed by parliament and implemented, it will ease inter-state movement of goods across india.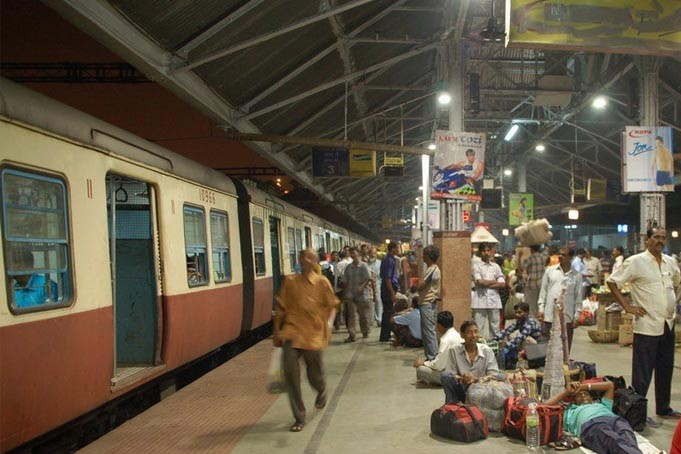 Infrastructure is in focus more than ever before with the national budget bringing it centre-stage as the main thrust of development. India needs about US$1 trillion for new roads, ports and airports over the next few years. According to the Government of India (GoI), building of infrastructure, to propel development, would add two percent to GDP growth. The investment challenge is enormous.
The power sector alone requires an investment of US$ 250 billion over the next 4-5 years, providing immense opportunities in generation, distribution, transmission and equipment. The aviation market is expected to grow as the third largest in the world by 2020 – handling 336 million domestic and 85 million international passengers – according to industry estimates. The projected investment is US$ 120 billion.
The construction equipment industry, a key driver of infrastructure, is reviving after four years and is expected to grow to US$ 5 billion during the financial year 2019-20 from its current size of US$ 2.8 billion, according to a report released by the Indian Construction Equipment Manufacturers' Association (ICEMA). Foreign direct investment (FDI) received in the construction development sector from April 2000 to September 2015 stood at US$ 24.16 billion, according to the Union Commerce Ministry's Department of Industrial Policy and Promotion (DIPP).
GoI has earmarked US$ 7.5 billion to develop 100 smart cities across the country. It has announced highway projects worth US$ 93 billion, which includes the flagship National Highways Development Project (NHDP) with a total outlay of US$ 45 billion over next three years. The International Finance Corporation (IFC) plans to invest at least US$ 700 million in existing transport and logistics infrastructure projects in India.
The logistics sector (transportation, storage, distribution and allied subsectors) is growing at 1.5 to 2 times that of GDP growth. The advent of the 'Make in India' campaign and rise of e-commerce delivery platforms has given a push to the logistics sector.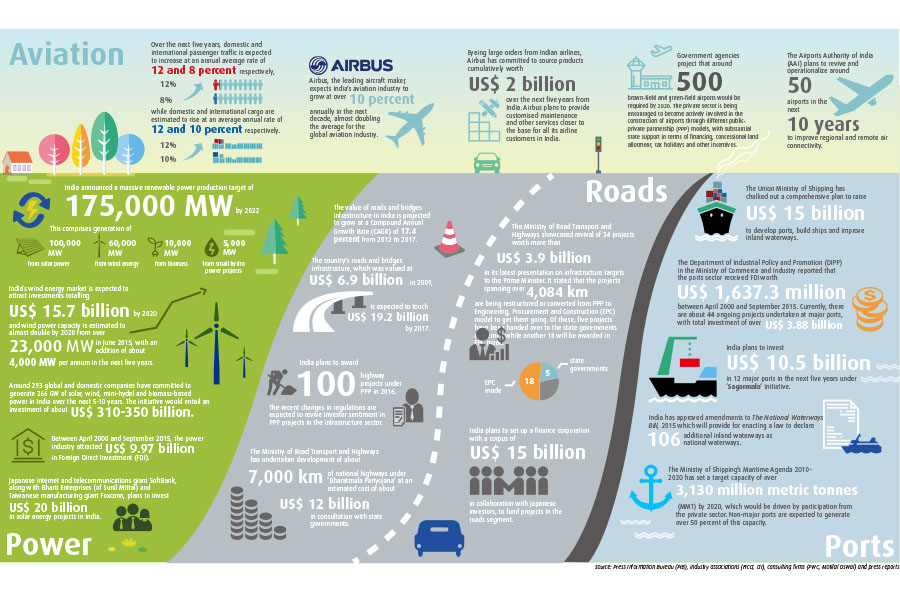 However, the infrastructure sector as a whole is constrained by the underperformance of the railways which, despite being a more economical mode of transport, has lost market-share of freight movement to road transport. To tackle this, GoI plans to invest US$ 137 billion in its rail network over the next five years.
Ports, the import-export lifeline, too have been identified as a focus area. India is the sixteenth largest maritime country in the world, with a coastline of about 7,517 kilometres. GoI has allowed FDI of up to 100 percent under the automatic route for port and harbour construction, and maintenance projects. It has also facilitated a 10-year tax holiday to enterprises that develop, maintain and operate ports, inland waterways and inland ports. Plans are being drawn up to develop 10 coastal economic zones as part of the Sagarmala (string of ports) project. The zones would be turned into manufacturing hubs, supported by port modernisation projects, and could span 300-500 kilometres of the coastline.
But, amidst the positive policy push, the lack of coordination in infrastructure development threatens to cause delays and unreliability in services, which increases cost, reduces competitiveness, and discourages investments, according to a recent study of the logistics sector by Motilal Oswal (a top financial services company). Low penetration of new technology in supply-chain process is resulting in damage to goods. India has the least warehouse capacity with modern facilities, and given the fragmented state of industry (large share with unorganized players), investment in information technology (IT) infrastructure is almost absent at the required scale, the Oswal study pointed out.
The failure to legislate the Goods and Services Tax (GST) is another stumbling block to infrastructure growth. If GST is passed by the Parliament and implemented, it will ease inter-state movement of goods across India. Further, it would amalgamate a large number of Central and state taxes into a single tax; mitigate cascading or double taxation in a major way; and, pave the way for a common national market.
A PwC study on global infrastructure funding said that the rather difficult business environment in the country was a handicap. India has moved a few notches up in the global ease of doing business report, but has a lot of catching up to do to make foreign investors rush in. Among other things, investors complain about unpredictable regulations; bureaucratic delays in approving projects; endless struggle to secure land rights; and, GoI's stalled attempts at reform, the PwC report added.
On the positive side, the government's aggressive approach to building the infrastructure needed for rapid economic growth could mean that hindrances would not be allowed to come in the way of development.
The author works with Network 18 Media as Editor, and Special Projects and General Manager-News Operations. He has worked at senior levels with The Economic Times,CNN IBN, IBN 7, Zee News, BBC World Service, Sahara TV, and Deccan Chronicle.