India on the Digital Highway
Digital India has struck a chord because it promises universal 24x7 connectivity and accompanying economic spin offs.
With about 990 million mobile phone users, 354 million internet connections (six million internet users increasing each day), and 213 million accessing web through mobile devices, the world's largest democracy is aiming for the sky. Much of this mobility is actually self-driven. The digital highway is as much an outcome of an enabling policy framework as it is of an irrepressible urge of a young India to get and stay connected globally. Connectivity is the buzz word whether you are at an information technology (IT) seminar in a five-star hotel or a low-income cluster of flats in a noisy neighbourhood.
Hence, it comes as no surprise that Prime Minister Narendra Modi's 'Digital India' vision statement has been welcomed with optimism and hope. India Inc has committed an investment of US$70 billion and promised to create about 1.8 million jobs as part of the initiative.
Digital India has struck a chord because it promises universal 24x7 connectivity and accompanying economic spin offs. If Rajiv Gandhi's telecom policy saw a million public call offices bloom and revolutionized the way India connected itself during 1980s, Digital India promises a new transformation.
"A vast #DigitalIndia is the new revolution. Will break all barriers to equality opportunity n growth. End feudalism," acclaimed film director and producer Shekhar Kapur in a tweet. "15 percent of teenagers in the world live in India. Connect them 2 world thru #DigitalIndia and they will change the world. With freedom of expression n youngest population in the world, a wholly connected #DigitalIndia, we can become world's greatest influencer," he said on Twitter.
Digital India rings hope
On the face of it, the Digital India policy has the potential to change beyond recognition the lives of 1.2 billion people. Doubtless, it is a long haul from promise to delivery. Modi's vision statement has inspired business and industry leaders, and investors await the promised avenues of opportunity. Votaries of the Digital India initiative have been most vocal in their support, and this reflects their great expectations. The policy has been well scripted after much deliberation and attention to detail, including the deficiencies that require to be dealt with. The policy envisions nine pillars of growth areas, on which rest the future of an initiative that the Prime Minister cherishes as his pet project.
Arvind Gupta, who heads the Information Technology (IT) Cell of the ruling Bharatiya Janata Party (BJP) and is seen as the brain behind the Digital India policy draft, is optimistic that the government in partnership with industry would be able to follow the roadmap.
Shiv Putcha, Associate Director, Asia Pacific, of International Data Corporation (IDC) said: "This (Digital India) was necessary to bring together disparate ideas on one platform. The lesson learned from China is that only when you draw the big picture through a vision statement would you be able to fill up the overlooked spaces. The vision statement is perfect."
Right now big bucks are being committed to the vision. The $70-billion Reliance Industries, India's diversified business conglomerate invested in sectors from oil, gas and power to telecom and textiles and retail chain, has pledged an investment of over US$39 billion in the digital space. This investment would include rolling out of wireless broadband infrastructure and manufacturing of mobile handsets. Reliance Industries has said it is committed to making the necessary investments and partnering the central and state governments in the area of e-governance, digital education, digital healthcare, smart cities and rural digital services.
The Nine Pillars
The defining feature of Digital India – the vision and mission – is the Nine Pillars, or the growth areas. These are: Broadband Highways; Universal Access to Phones; Public internet Access, e-Governance – Reforming Government through Technology; e-Kranti (e-Revolution) – Electronic Delivery of Services, Information for All; Electronics Manufacturing, IT for Jobs and Early Harvest Programmes. Each of these areas is a complex hub of multiple programs and cuts across various ministries and departments.
Putcha of IDC feels India could have pressed ahead with its advantages in mobile. "I see a bit of disconnect between the government pushing broadband and mobile at the same time. India has headway in mobile and must push for mobile." He, however, is wholly supportive of the initiative's overall framework and cites its alignment with two other ambitious projects Skill India and Make in India – launched by the present government.
Skill India aims to train over 40 million in diverse skills by 2022. On board for this effort, among other departments, are the National Skill Development Mission, National Policy for Skill Development and Entrepre­neurship 2015, Pradhan Mantri Kaushal Vikas Yojana (PMKVY) scheme and the Skill Loan scheme. The Make in India campaign's objective is job creation and skill enhancement in 25 sectors of the economy. The campaign, which aims at high quality standards and minimising adverse environmental impact, hopes to attract capital and technological investment to India.
Putcha has a point because India's broadband push – with about 15 million wire life users – needs to go beyond the modest success achieved till now. Although the country is far ahead when it comes to mobile, despite phenomenal spread and reach, last-mile connectivity remains a big concern. Universal phone access has to complete this last lap so that the 45,000 villages which still remain beyond the mobile network are integrated as the Digital India initiative goes forward.
Under the public internet access, the objective is to increase the 140,000 facilities to 250,000, or one in nearly every village. Plans are also afoot to convert 150,000 post offices into multi-service centres. The goal is that the longest distance a villager or tribesperson needs to travel to "get connected" should be to the nearest Common Service Centre (CSC).
The e-governance projects that figure in the Digital India policy have, in large measure, been implemented across India, but are still in the pilot stage. The opportunity and the challenge are to get these e-governance projects up and running without too long a pause after the pilot phase. The policy would provide immediately visible gains for individuals, too, in many ways. One such is the digital locker – where documents may be kept safe, secure, and accessible. This unique scheme would make life easy for urban India. However, at this stage, the scheme may not touch the lives of the majority in the countryside.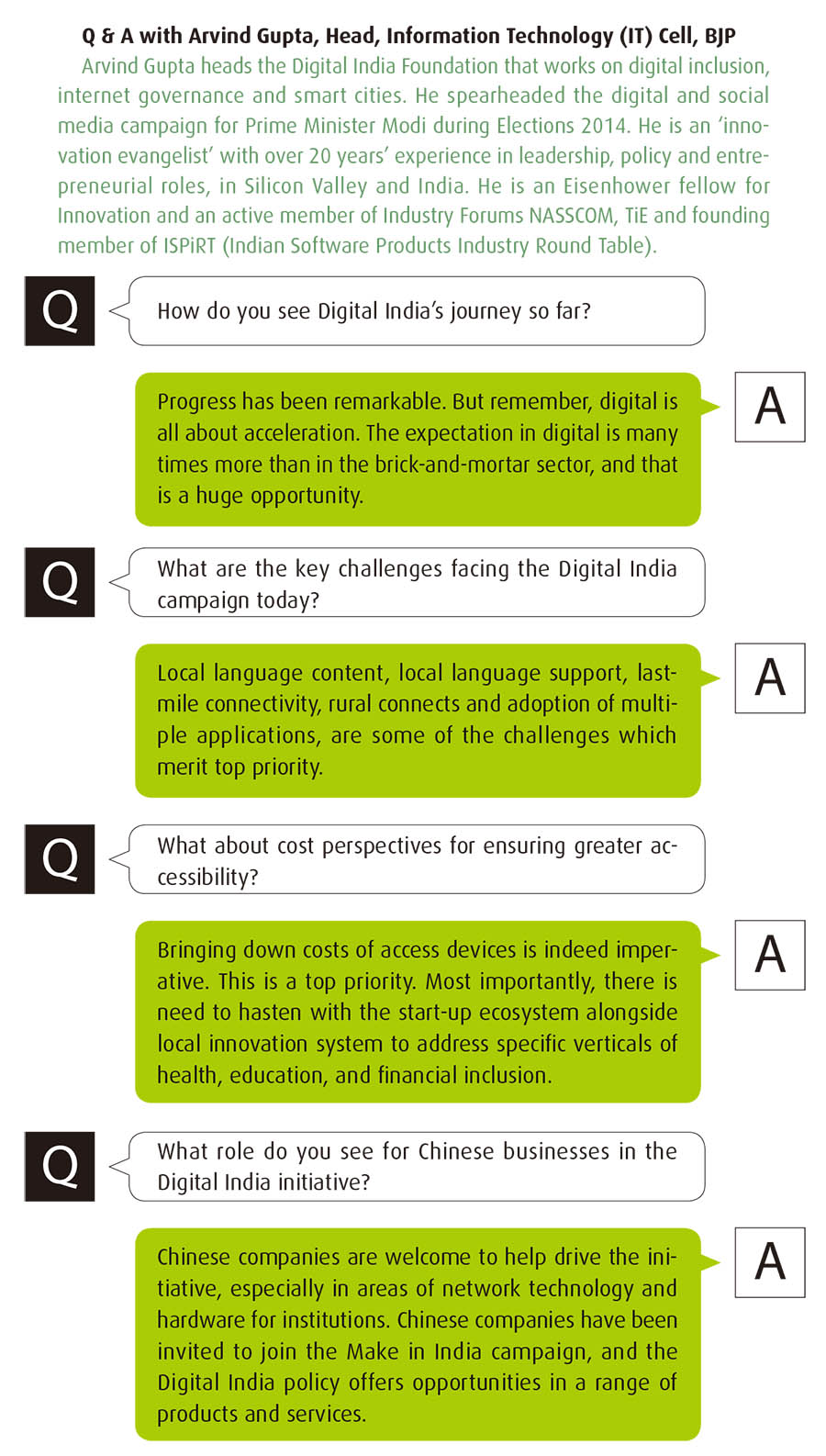 China Connect
China has a place in India's "Digital Dream". Prime Minister Modi's visit to China in May 2015 and meeting with top CEOs, including Jack Ma of Alibaba and Lin Min of Xiaomi, has created the right sentiment for businesses in the two countries to collaborate.
"I want to tell you to make in India," was one of Modi's opening lines to the businessmen. He observed that as China is the world's manufacturing base and India runs the back-offices, it would be best if the two collaborated on digital commerce.
"We are very excited about India, 'Make in India' and 'Digital India'," said Ma, the owner of the world's biggest online commerce company which processed transactions of $248 billion last year. Ma, who visited India twice recently, is finalising plans to set up operations there.
Representatives of China-based companies evinced keen interest in participating in Digital India, setting up industrial parks, infrastructure and urban transport projects in the state of Andhra Pradesh during the visit of Chief Minister Chandrababu Naidu to China in 2015.
Both Putcha at IDC and Gupta of BJP are confident of drawing on the expertise of Chinese companies in network and IT infrastructure domain to help build last mile connectivity in India.
Silicon Valley Push
India's go-digital push has attracted the attention of Silicon Valley in the U.S. like never before. India is set to replace the US as the capital of social media platform, Facebook, in 2016. With the Digital India campaign going forward, big boys like Google, Facebook and Microsoft, are eager for a piece of the action. Modi's recent visit to Silicon Valley and his back-to-back meetings with head honchos there have improved the prospects of large investments flowing into India.
Many technology majors made public announcements to signal their intent. Google offered to provide 500 railway stations with free WiFi, and Microsoft pledged to connect 500,000 Indian villages with cheap broadband access. Google's India-born boss, Sundar Pichai, during his mid-December visit to India, expressed optimism over the Digital India initiative. He launched a slew of projects – from free WiFi at railway stations to Rural Net. Under Rural Net, 300,000 villages – would be getting internet bikes (specially designed bicycles equipped with internet devices for remote villages). At present there are only 1,000 internet bikes.
The author works with Network 18 Media as Editor, Special Projects and General Manager-News Operations. He has worked at senior levels with The Economic Times, CNN IBN, IBN 7, Zee News, BBC World Service, Sahara TV, and Deccan Chronicle.
Published in the INAUGURAL ISSUE of CHINA-INDIA DIALOGUE