India Rockets Past Record Books
The country achieved a milestone by launching 104 satellites with a single rocket in February. A journalist provides a first-hand account of the historic moment.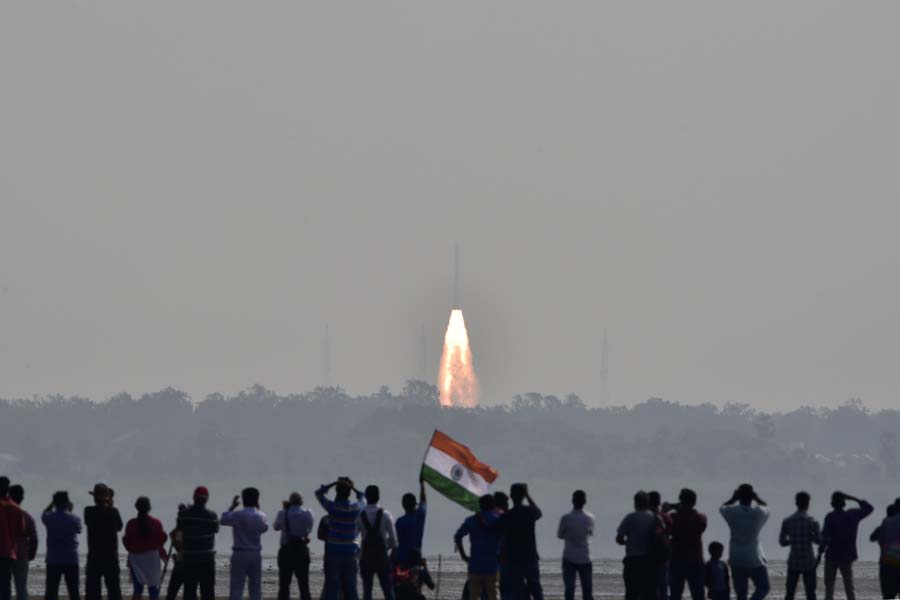 It's the final countdown, but the band Europe is nowhere to be found—this is the real deal. The speakers mechanically relay numbers rather than 80s synth rock.
10… 9… 8… a surreal cloud cover hangs low, heightening the anticipation.
6… 5… 4… Hundreds of eyes squint at the sky, fighting the southern sun.
3… 2… 1… A few seconds of silence. Bated breath. Finally… BOOM! As zero sets in, a fiery stream shoots through the clouds, steadily ascending, almost slow motion. The crowd erupts into cheers, and eyes glisten throughout the crowd.
On February 15, Polar Satellite Launch Vehicle-C37 (PSLV-C37) lifted off, remarkably carrying 104 satellites. With it, the Indian Space Research Organisation (ISRO) smashed the previous record with unthinkable authority. Russia had previously topped all attempts by launching 37 satellites at once.
A few minutes after the rocket made its dramatic exit, the sun continued beating down on the enraptured crowd as the people willed the rocket to make an encore appearance, which it did as it continued through the clouds. It all happened at the terrace above MR Kurup Auditorium at the Satish Dhawan Space Centre SHAR in Sriharikota, a high-security, walled-in compound fringed with trees. Spectators were allowed onto the terrace at 9:15 a.m., only minutes before the historic 9:28 a.m. launch and after thorough security checks. Much of the crowd was made up of friends and families of the scientists who worked on the PSLV-C37 launch because only team members were authorized to hand out passes to watch the launch live.
However, many still traveled from across the country to witness history, and found a contact at ISRO to vouch for them, and others were admitted for educational or professional purposes. My husband, brother and I made the trek from Mumbai—a two-day trip for a two-minute event—and we would do it again in a heartbeat. My husband always wanted to be an astronaut, and watching a rocket launch live always topped a list of things he wanted to do before he turns 30, which will happen this July. We reached out to an ISRO scientist on Twitter who was kind enough to arrange passes for us after a background check and ID verification. Like a cherry on top, a couple of young scientists were assigned to welcome us to ISRO. They took us on a fascinating tour of the on-campus space museum, and answered hundreds of our questions patiently.
Of the 104 satellites launched into orbit, three were built indigenously. The Cartosat 2D comprised the major payload of the PSLV-C37. It is a high-resolution Earth-observation satellite that will help to map water resources, road networks and land usage. Two other nano-satellites were Indian. The bulk of the mission's passengers came from the U.S., the origin of 88 satellites. The Netherlands, Kazakhstan and Switzerland represented the other customers, and the UAE and Israel contributed a satellite each—a significant step in the Arab world and Israel working together.
ISRO's commercial arm, Antrix Corporation Limited, covered half of the mission's expenses by selling tickets for foreign satellites to stowaway. India has now put more foreign satellites in space than any other single country, with PSLV-C37 bringing its total to 180.
All 104 satellites were housed in the top, conical section of the rocket, a structure measuring about 60 feet long. The rest of the vehicle carried fuel and other technical detailing. To fit every satellite into the available space was a major challenge for the scientists, not unlike a high-tech version of Tetris.
The crowd was moved back to the downstairs auditorium afterwards. Before the launch, we were shown the bustling mission control room on a big screen. In its wake, we were sitting with refreshments for the next phase.
In about 15 minutes, the rocket cut through the atmosphere and reached its planned orbit. Then, the satellites began to separate. A few technical announcements broke the air, and we were informed that all 104 satellites had begun orbiting. A string of cheers rippled through the auditorium, leaving a trail of glowing pride.
"India is 104 not out," said an ISRO official in a congratulatory speech, followed by more cheers. The crowd beamed knowingly at the cricket terminology—most of our global achievements seem to be related to the sport. Over the last few years, we've had poor showings at the Olympics, slipped several significant spots in world university rankings and ranked consistently near the bottom of livability indices. Amid rainy weather, in just two years ISRO, like the PSLV-C37's cloud-clearing encore, emerged like a ray of hope. After the Mangalyaan Mars Orbiter Mission of 2013, which was the world's most frugal Mars rover, was an indigenous cryogenic engine. And now, this.
Decimating the world record wasn't entirely the point. According to a July 2016 government release, Antrix earned revenues of approximately Rs 230 crore in 2016 through commercial launch services, about 0.6 percent of the global launch services market. While official figures have not been released yet, with 104 satellites in a single launch, Antrix is likely to eclipse that figure exponentially with a single event.
Antrix offers space launches at such a reasonable price: US$3 million per satellite from 2013 to 2015, versus US$60 million from U.S.-based SpaceX. For this reason, many foreign customers remain interested, according to data from MoneyControl. Other launch vehicles such as Ukraine's Proton rocket, Japan's HII-A, China's Long March and United Launch Alliance's Atlas V—all cost considerably more than a PSLV launch from India.
While SpaceX is working on reusable spacecraft, which could significantly bring costs down, ISRO is focused on offering competitive services, as well as technology development. The PSLV-C37 achievement cements India's position in the global space chase and is likely to inspire future innovation. ISRO has offered support to Team Indus, an ambitious private Indian project to plant the Indian flag on the moon. Team Indus is the only Indian team yet to secure a contract with Google's space program, Google Lunar XPrize, to launch a moon mission. The firm will use ISRO's PSLV as the launch vehicle for the mission scheduled for December 2017. A crowdfunding campaign is set to be launched in the next few days as dreams start following into the sky.
Perhaps most importantly, ISRO's record validates India's progress for many citizens.
"We achieved what even NASA couldn't," says Malvika Kommineni, 29, a homemaker who has been tracking ISRO's activities for the past two years. Her husband surprised her with passes to the launch. The whole family, including their four-year-old daughter, drove 2.5 hours from Tirupati to Sriharikota to attend the event. "The world is watching, and they know that India is now on the map."
Her daughter clutches a model rocket. "While other girls play with dolls, she prefers rockets," laughs Kommineni. "She wants to be an astronaut."
Prudhvi Nethi, an engineer based in California, made sure to mark the launch into his trip back to India. "Now, I can go back to the U.S. and brag," he shrugs. "Not only did we break the world record, but so many American satellites are in space thanks to our scientists."
The author is a Mumbai-based journalist focused on culture, education and social development.