India's Role to Play as a New SCO Member
To increase prosperity and security in South Asia, India needs to find a way to align with the Belt and Road Initiative, the main driver behind the enlargement of the Shanghai Cooperation Organization.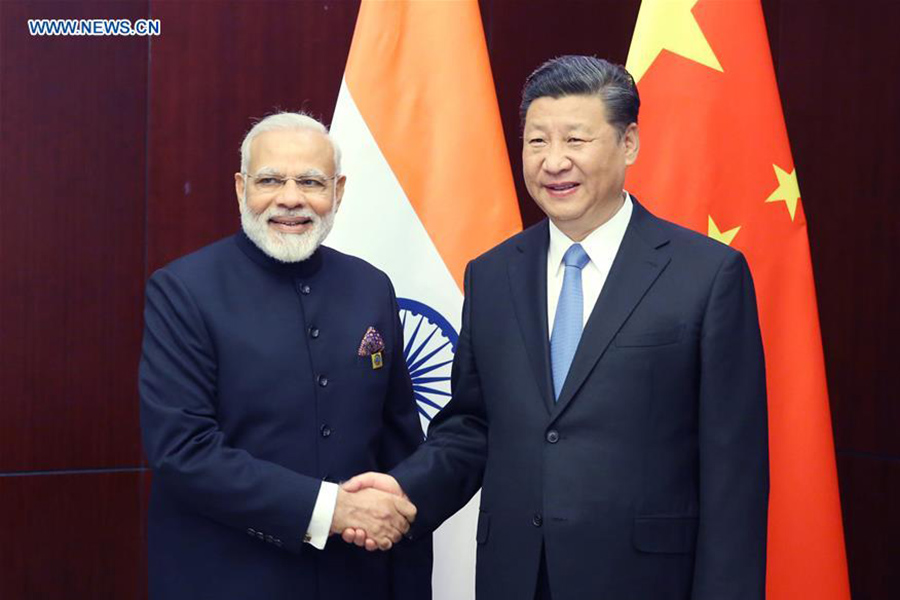 Before leaving for Astana to attend the summit of the Shanghai Cooperation Organization (SCO), Prime Minister Narendra Modi tweeted: "I look forward to deepening India's association with the SCO, which will help us in economics, connectivity and counter-terrorism cooperation."
Modi met President Xi Jinping in Astana and thanked him for his support in making India a full member of the SCO. Xi reportedly called for mutual efforts to build political trust and align development strategies.
With the inclusion of India and Pakistan as members, and the increase in total population and combined GDP that they bring, the SCO's heft has increased substantially. But will an enlarged SCO increase prosperity and security in South Asia?
For this to happen, India would need to find a way to cooperate with China's Belt and Road Initiative (BRI), which it has rejected on the grounds of sovereignty infringements. Incidentally, Japan, which also has territorial disputes with China, has agreed to cooperate with the BRI.
The BRI is the main driver behind the enlarged SCO, which now covers most of the Eurasian landmass. Multilateral connectivity corridors also cross the Western Pacific and Indian Ocean regions.
Without aligning with the BRI, India will remain, figuratively speaking, outside of the SCO tent, since all other member states have endorsed the BRI. It will also find the results of its bilateral engagements, especially with the energy-rich Central Asian member states, to be sub-optimal. This is not all. India's relations with Afghanistan and Iran—where it has strategic interests at stake—will also yield unsatisfactory results, since these nations (which already hold SCO observer status) are likely to be upgraded to full members in the next round of SCO enlargement.
Since China will have assets, people and interests in all nations that join the BRI, more safeguarding is required. Thus, new security architecture for the SCO, with China and Russia as the main drivers, will soon be visible. This will not be an Asian NATO, as many analysts believe. For one, unlike NATO, it will not have a combined military. For another, it will not have an identified enemy. It will instead focus on counter-terrorism and non-traditional threats like drug trafficking. For India to be considered a valuable member of the SCO's Regional Anti-Terrorism Structure, which will include Pakistan, it would be expected, like other SCO members, to support the BRI.
If India aligns with the BRI by finding common ground with its own "Act East" and "Think West" policies, regional security in South Asia under the SCO framework will improve drastically. The possibility of productive talks between India and Pakistan will increase; China and India could move a few notches towards border resolution, and the misplaced mistrust between India and Russia, with growing Russia-Pakistan ties, will diminish.
Talks of India counter-balancing China's clout in the enlarged SCO are misplaced. China is politically, economically and technologically much stronger than India and this will remain so for the foreseeable future. However, good relations between India and China will help India's rise by giving it more geo-strategic options.
The author is an editor with Force news magazine in India, and co-author, with Ghazala Wahab, of the book Dragon on Our Doorstep.