Liu Deyou:People-to-People Diplomacy in China-Japan Relations
"Not only has people-to-people communication helped normalize China-Japan relations, but friendship between peoples of the two countries has grown and flourished during its everlasting role in deepening China-Japan relations."
The People's Republic of China, a country with a key role in the international community, was founded seven decades ago, on October 1, 1949.
Despite its tremendous significance in world history, the founding of the People's Republic of China was marginalized in Western and Japanese media due to the Cold War at that time. Suganuma Fujio was my colleague at People's China in 1953, when the Beijing-based magazine was founded. He wrote:
"The day after the People's Republic of China was founded, Japanese newspapers either ignored the important news or buried a tiny story deep in their pages. This says a lot. Japan was then still occupied by Allied troops, mostly American. It would have caused problems for the Japanese media to print substantial coverage of a nearby major event that the United States opposed. It was also possible that the Japanese media at that time failed to recognize the historical importance of the event."
Since the founding of the People's Republic of China, the country has continued to adhere to a policy of independent diplomacy. Today, it has become the second largest economy in the world. Due to the influence of the strategic arrangement of the United States after World War II, diplomatic relations between China and Japan weren't normalized until 1972 when then-Japanese Prime Minister Tanaka Kakuei visited China. During the suspension of diplomatic relations, China promoted people-to-people exchange to improve overall relations, an extremely rare strategy around the world. But it worked very well.
I witnessed several times that the first-generation Chinese leaders including Chairman Mao Zedong and Premier Zhou Enlai invested genuine efforts to promote China-Japan relations. In 1955, I interpreted for Chairman Mao when he welcomed a delegation of members of the Japanese Parliament. "I want to visit Japan and send them the friendship of the Chinese people," Chairman Mao declared. He also urged people in both countries to "help each other, maintain peace and friendship, carry out cultural exchanges and establish a formal diplomatic relationship." I really felt his desire to visit Japan. His words left a deep impression on me.
Premier Zhou Enlai studied in Japan when he was young. He also hoped to visit Japan again. In October 1962, Zhou hosted a banquet for Japanese entrepreneur Tatsunosuke Takasaki, who visited China to discuss trade. "Please visit Japan someday," requested Tatsunosuke. Zhou expressed gratitude for the invitation but replied with a sigh: "Diplomatic relations between our two countries have not yet been normalized, so this isn't possible. However, I'm quite eager to visit Japan. There is a legal term called 'conditional release.' If I could temporarily resign as Premier, I could go to Japan."
After the founding of the People's Republic of China, Zhou made relentless efforts to normalize China-Japan relations through long-term people-to-people exchanges. Thanks to continuous people-to-people communication, China-Japan relations were eventually normalized and friendship between peoples of the two countries has flourished and played an everlasting role in China-Japan relations.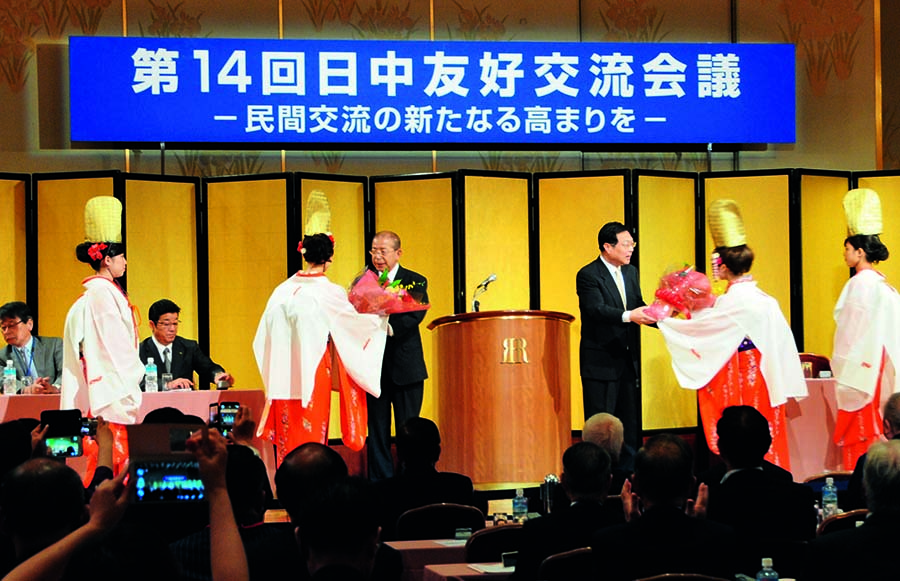 Some have postulated that because China-Japan relations have entered a new era, the mission of people-to-people exchange is complete, but I disagree. In fact, people-to-people exchange has become more vigorous and wide-ranging. It has played a crucial role in eliminating instability and problems as well as in promoting mutual understanding and friendship between people of the two countries across generations.
Exchange between the youth of the two countries has become a priority among priorities. Fostering more exchanges among young people is now considered an urgent task that will inject fresh energy into the friendship between the two countries and be conducive to sound development of long-term relations. In other words, we should ensure that the next generation can enhance friendship and cultural exchanges and overcome the difficulties like the last generation. We need farsighted youth to ensure a future of friendship between the two countries.
Chinese President Xi Jinping has high expectations for the youth of Japan. He wrote a reply to Daichi Nakashima, a prize-winner of the Panda Cup Japan Youth Essay Contest, who wrote to the Chinese leader ahead of Xi's trip to Japan for the G20 summit in Osaka. "China and Japan are close neighbors separated by only a narrow strip of water," Xi declared in the letter. "The friendship between the two countries is rooted in the people, and the future of the friendship between the two peoples is already in the hands of the young people. I hope that the youth of China and Japan strengthen exchanges and mutual learning, enhance mutual understanding, develop long-lasting friendship, and contribute to the creation of an even brighter future for bilateral relations. I also hope you continue to promote China-Japan friendship."
Liu Deyou, born in 1931, is an expert on Japanese culture, former vice minister of China's Ministry of Culture and a renowned translator. He was an interpreter for late Chinese leaders Mao Zedong, Zhou Enlai and Liu Shaoqi. He worked as a correspondent for Guangming Daily and Xinhua News Agency in Japan for 15 years from 1964 to 1978. He served as vice minister of China's Ministry of Culture from 1986 to 1996. He penned the book China-Japan Relations That I Witnessed: A Journey and translated the books Pray and Sweet Potato Porridge.