New Path to Cultivate IT Talents
Qingdao University in China's Shandong Province has joined hands with NIIT to cultivate software outsourcing talent with both theoretical knowledge and professional skills.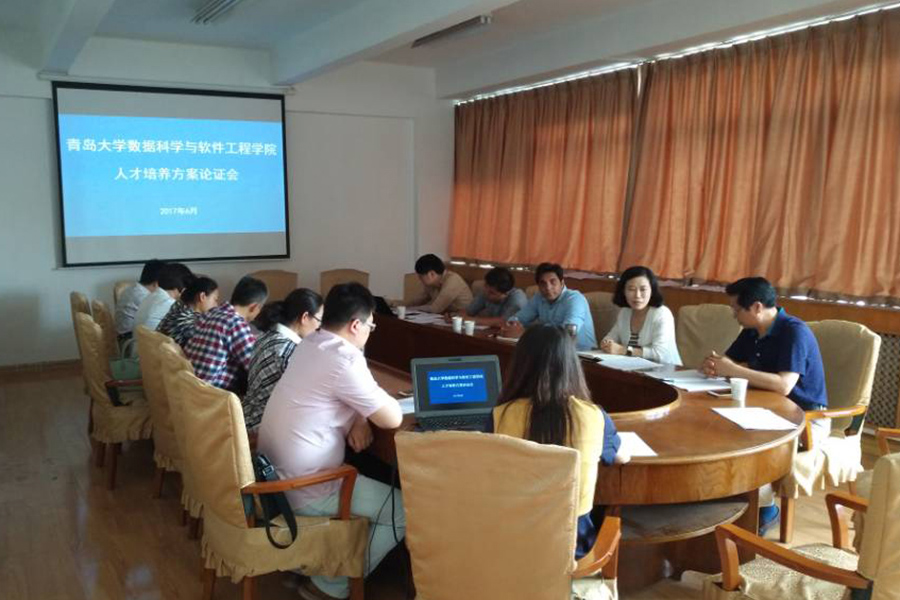 It's hard to keep up with the increasingly frequent tech breakthroughs, but it's even harder to stay current as an IT educator. Which realm of tech education pays off most in the workforce? Qingdao University in Shandong Province decided to get ahead of the game through university-enterprise cooperation.
"We were troubled by the fact that our IT graduates were requiring further training after their four-year degrees were proving insufficient for modern enterprises' needs," revealed Bi Xiaofen, vice dean of the School of Data Science and Software Engineering in Qingdao University. "Graduate performance is a key metric to evaluate a university's educational system. Something is wrong if education does not meet the labor demands of industry." For her, constantly overhauling IT education is an existential necessity.
In 2013, Qingdao University joined hands with India's National Institute of Information Technology (NIIT) Group to improve the quality of the former's graduates. NIIT Group, a multinational software research and talent firm headquartered in New Delhi, has cooperated with over 150 universities and colleges since it arrived in China in 1997, but a joint undergraduate program with Qingdao University marked a first.
The software engineering (outsourcing) program at Qingdao University has been designed based on input from both sides with the university focusing on theoretical courses and NIIT on practical ability. Kamal Dhuper, head of NIIT China, noted that the company has a professional course development team that updates its curricula every 18 to 24 months to ensure students learn cutting-edge software development skills.
The university-enterprise cooperation sets out to coordinate between teaching staff and employment personnel. Qingdao University requires strict credential in teaching staff while NIIT has adopted more flexible standards focused on teachers' practical abilities in software development.
"To ensure teaching quality, the university looks at the educational background and work experience of NIIT lecturers," Bi stressed. "Emerging problems are also discussed at regular meetings between the two sides."
More than 20 faculty members from NIIT now work in two specially-arranged offices on the campus of Qingdao University. Song Yuanyuan, a teaching management staffer with the university, makes daily contact with the NIIT team to arrange courses and exams and allocate educational resources.
"Teachers from NIIT care a lot about the students," Song said. "They give frequent reports on their progress. Their student affairs administrators are also dedicated."
For NIIT's part of the program, English training happens the first year, after which students are tested on language proficiency. The students with the strongest English have foreign teachers the next year, and others are taught by Chinese staff.
Dhuper recalled only about a fifth of the 400-plus students enrolled the first year being comfortable with English instruction and only expected 20 to 30 percent of them to choose it as the teaching language. The numbers, however, tell a different story: It was about half and half between English and Chinese.
"The students were not good at English when they first arrived, but now they speak confidently," Dhuper remarked. "This is a strength valued by multinational companies when recruiting new staff."
Recent graduate Bi Fenglin said of NIIT teachers, "They are really dedicated to helping us understand. They always take time to help us comprehend and practice, even basic tasks."
As planned, students will travel to NIIT's training bases in their seventh semester of the program, where they will get the chance to improve their practical software development abilities in a real working environment.
"IT companies tend to center their employment interviews on the latest technology they're using and test perception of software architecture and databases, which is generally formed during coding," Bi Fenglin explained. "Lack of practice will make it tough to comprehend these subjects."
According to Dhuper, alongside the graduates recruited by NIIT Group this year are students headed to work for tech companies like India's Tech Mahindra and Chinese tech giants Baidu, Alibaba and Tencent.
Bi Xiaofen was even caught off guard by the successful entrepreneurship demonstrated by graduates. "They are active thinkers, strong actors and business builders," she declared. "Some of them have launched their own companies."
Some parents have expressed concern that the professional skills development facet of the undergraduate program could prevent graduates from pursuing a master's degree. Bi Xiaofen thinks the numbers show such fears are unfounded: Over 30 graduates this year scored above the acceptance threshold of their prospective graduate programs, and another nine students were even recommended for post-graduate programs at prestigious universities without an exam.
"The theoretical courses provided by the university provide the knowledge required to pass postgraduate entrance exams," said Bi. "Students preparing for China's postgraduate entrance exam during the seventh term can earn credits for practical training during the eighth term."
Bi Xiaofen believes that producing top IT talent requires a subtle fusion of theoretical knowledge and professional skill. "We want to improve students' practical capabilities to bridge universities and enterprises," she added. "We put a lot of focus on theoretical studies because working in the software industry requires learning throughout one's entire life, and graduates will not go far without a solid foundation of theoretical knowledge."
More than 2,500 students have enrolled in the joint program between Qingdao University and NIIT, the largest one of all NIIT's cooperation with Chinese academic institutions. In the next few years, however, enrollment will drop to 200 to 300 students per year.
"We cut enrollment for two reasons: to prevent a surplus in the labor market and to keep consistent with other undergraduate programs as the university aims at more balanced development," Bi continues. "Software engineering programs have far more registered students than other majors."
In 2016, the two sides expanded their cooperation, and Bi Xiaofen is hopeful for even more intense cooperation. "With better utilization of NIIT's strengths, we hope to recruit foreign students from along the Belt and Road routes and conduct more scientific research with NIIT," she said. "We also want to offer usage of NIIT's cloud teaching platform to other schools in our university."
China's software industry has seen rapid growth in the past dozen years, and for cities like Qingdao, it has played a critical role in local economic development. Software companies in Qingdao now number more than a thousand, and revenues from the software and IT services industry surpassed 160 billion yuan in 2016.
Bi concluded, "It's time for 'mass entrepreneurship and innovation' as the 'Internet Plus' has created many new businesses. The innovation of IT human resources is important. Development never happens without talent. It is our duty to reform education to keep up with the development of information technology."