Beijing's Gravitational Pull
Mithila is a young Indian journalist who focues on urban and social development. Although her father has been working in China for over ten years, she only found time last spring to visit him. During her trip in China, Beijing left her a deep impression and even reminded her of Mumbai, her home city. She hopes that young people from China and India will interact more often in the future and contribute to constructive relationships between the two countries.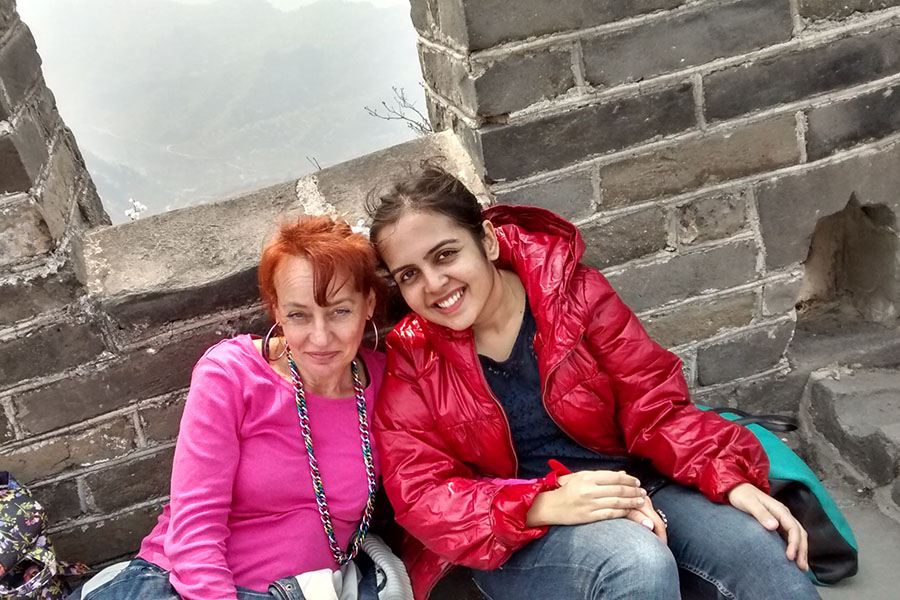 I wasn't supposed to return to Beijing.
The day I landed at China's Ningbo Lishe airport – the city where my father has been living as an expat for a decade now – my itinerary had been pretty set. I'd stay with dad for a few days, then set off on a solo backpacking trip across the country: Beijing for a week, followed by Chengdu, Guilin, and then some days of trekking at Huangshan. After three weeks, I'd be on my way back to Ningbo, and my flight home to Mumbai.
But there's a reason why unplanned trips are often said to be the best ones. A week of Beijing –living at a backpackers' hostel in the vibrant Dongcheng district, eating until I thought I'd burst, ambling down its hutongs, taking the subway to explore far-flung neighbourhoods, chugging Yanjing beer on the pavement at midnight with friends I had made in the city – just had not been enough.
The second I boarded my flight to Chengdu, I missed Beijing. And I couldn't figure out why. Chengdu was so much greener, after all, with wider roads and cleaner air. It was sunnier, less crowded, and the locals seemed so much more relaxed than Beijingers had been. But still, all through my Chengdu trip, and then again while I was trekking up the Yellow Mountain, I found myself itching to go back, just for a few more days.
And then it struck me: Beijing reminded me of home. With its large expat and tourist population, it was, like Mumbai, a melting-pot of cuisines and cultures from across the world. I could eat my fill of zhájiàngmiàn one afternoon, and then the same evening, pop into a Tex-Mex place or have a shawarma from a Middle Eastern joint if I wanted to. Walking down a street meant eavesdropping on conversations in a string of languages. It had an energy that was palpable, and was remarkable in how safe it was for women. I never thought I'd take a cab to my hostel at 3.30 am in a foreign city, all by myself, but I did so in Beijing, without a single worry.
It also made perfect sense that it'd be in the capital of a country, built on the 'We're All In This Together' philosophy, that I'd find some of the most generous, helpful people.
There was the staff at my favourite breakfast place who'd patiently, and amusedly, help me select the usual random assortment of Whatever Looks Most Interesting that I'd pile on my plate each day, helped only by me pointing and going "zhège" (this) and "nàge" (that one) like a blithering idiot; that lady who sent her sweet little daughter with me to the counter to point out the delicious-looking, giant dumpling that I had spotted on the kid's plate and immediately wanted to try. There was Kathy from my hostel's staff who actually gave me their phone charger when mine broke and insisted I keep it, and Chang Fung who helped me find the restaurant I was looking for by leading me right to it, going far out of her way. It's the people that make a place special, and I was fortunate to meet those who made me feel perfectly at home.
Beijing is the kind of city that takes you in, and helps you make some lovely memories. It has its modern, fast-growing side, and then there are the parts that recall its long, complex place in history. Trying tarantulas and fried snake at the Wangfujing night stalls, haggling for curios at the Panjiayuan antique market, spending my birthday on the Great Wall at Mutianyu, marvelling at the sheer gorgeousness of the Summer Place, learning to make dumplings from the sweet old Mrs He – Beijing brought me adventure, and a tall heap of unforgettable stories. My fortnight in the capital still feels too short though, and hopefully, it won't be too long before I get to say "Ni hao" to it again.
This article is exclusive to China-India Dialogue. Feel free to share this article. To reprint this article, please contact us for permission.