NIIT: Teaching IT in China
Kamal Dhuper, NIIT China Chief, describes how the firm has worked with universities and local governments to foster over half a million skilled IT professionals in China since 1997. He also shares insight on the challenges and opportunities facing China and India in a future shaped by artificial intelligence and big data.
India has left a big mark on the Information Technology (IT) landscape as the world's top outsourcing destination, which is building a strong, skilled workforce. A major contributor to this development is India's National Institute of Information Technology (NIIT), a talent and skills development firm, which taught one out of every three IT professionals now working in India.
NIIT was also one of the first Indian tech institutions to arrive in China. Since its China operations first began in 1997, NIIT China has worked closely with provincial governments, universities and enterprises to foster over half a million skilled IT professionals to meet the growing demand in the country.
China-India Dialogue (CID) talked to Kamal Dhuper, head of NIIT China, who has spent the last 12 of his 23 years with NIIT in China, in the hope to better understand how the firm bridges learners, educational institutions, industry and government in China.
CID: NIIT China has cooperated with over 150 universities and colleges over the past two decades. What do you think of NIIT's role in IT education cooperation?
DHUPER: In China, NIIT works with universities and colleges using a variety of models. The most popular one is the "NIIT Inside" model wherein the company embeds its GNIIT program into the curricula of institutions and performs the entirety of education delivery management for IT courses across four years of the program. This gives graduates both a degree from the university and the GNIIT title from NIIT.
Because multinational companies expect graduates to speak conversational English, all students undergo English training the first year before choosing whether the remained of the GNIIT program will be taught in English or Chinese. The university system continues to provide non-IT subjects for credit towards a bachelor's degree, and the IT portion mainly falls on NIIT. Along with IT courses, students intern in a real-world work environment in their last year of the program before leaving to find a job.
NIIT has a strong relationship with many Chinese universities. One reason why the institutions choose NIIT is its lengthy experience in building skills needed by Chinese companies. Across 36 years, NIIT has continuously innovated in both teaching techniques and the technologies being taught. Not only does it use tested education methodologies, NIIT updates its courses every 18 to 24 months. Universities are insured against changing technologies thanks to regularly updated curricula.
In the curricula-embedding model, NIIT also provides faculty to universities who live on campus and take classes. This relieves pressure on universities, enabling them to focus on other academic issues.
In another model, senior IT majors enroll in short-term courses at NIIT training centers. These courses give them skills the IT industry needs, expose them to live projects and provide soft skills training. Following this training, graduates become a lot more attractive to potential employers.
CID: Along with educational institutions, NIIT China also works with local governments to provide IT training service. What are the latest developments in this sector?
DHUPER: NIIT works closely with some provincial governments as their talent development partner. This win-win collaboration between NIIT and the government is reflected in the company's engagement with Guizhou Province in southwestern China. The provincial leaders hope to make the province the largest big data hub in China and the world. Thanks to that vision, the government invited NIIT to become its talent partner and train students in IT software development and big data.
Over the past year and a half, NIIT founded three training centers there through a public-private partnership model in which the government provides infrastructure and funding while NIIT leverages its capabilities, resources and education methodologies to create a multi-layered workforce for the local digital economy. NIIT's flagship high-tech center in the provincial capital Guiyang provides cutting-edge programs in big data, cloud computing, cyber security, blockchain and more, in addition to software development for web and mobile devices.
We were recently invited to work with the government of the Ningxia Hui Autonomous Region, and we are already working with governments in Chongqing Municipality, and Jiangsu, Shandong and Hainan provinces.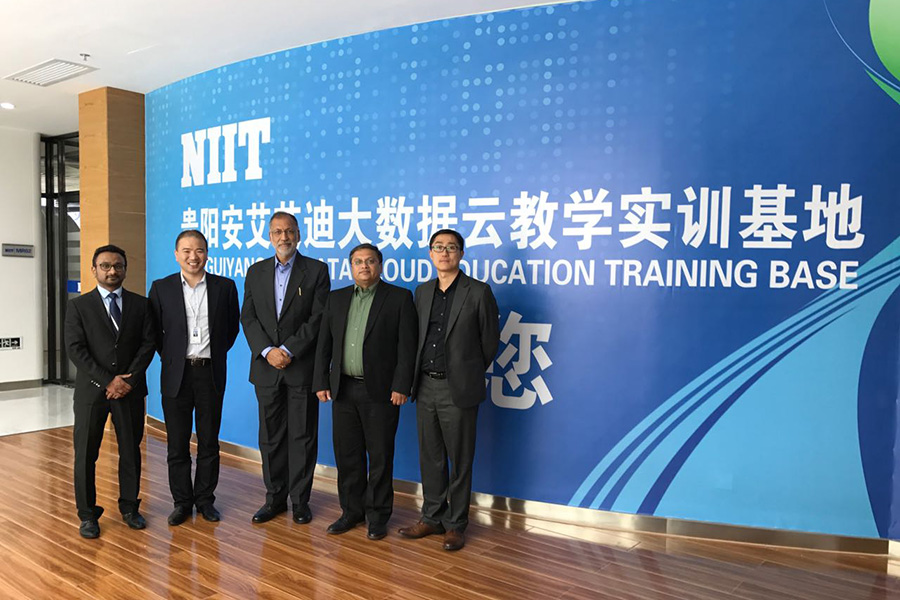 CID: The IT sector has seen enormous changes through the years. The mobile internet is now everywhere, and 'big data' and 'artificial intelligence' are buzzing. Where is IT going from here?
DHUPER: We're seeing digital transformation all around us today. The world is moving towards an intelligent big data economy wherein existing economic models get disrupted by the power of real-time massively connected big data intelligence. The previous value of productive output of the economy is in the form of a product or service, but in the digital economy the core value is found in big data intelligence embedded in the product or service.
Big data is the new "crude oil." The big data Intelligence, like a "fractional distillation refinery," will produce a stream of valuable data-enabled products and services. A vast multi-layered downstream intelligent big data industry will evolve over time.
We are already seeing the impact of these trends. The internet of things is becoming a reality now in the products and services we consume. Advances in artificial intelligence and machine learning will further redefine the way we live, work, play and learn. These trends will have a major impact on education, learning and development across all levels of society. We will see education and learning become more and more personalized with the use of all these technologies.
CID: For China and India, the world's two largest developing economies, what are the opportunities ahead in the IT sector?
DHUPER: By leveraging abundant labor and focusing on the export-oriented manufacturing sector, China became the manufacturing hub of the world. These lifted millions of citizens into an upwardly mobile, aspirational middle class and the country into a middle-income economy, which spurred the creation of services and an e-commerce economy to cater to the rapidly growing consumption capacity of the new middle class.
However, a past recipe for success doesn't necessarily work for the future. While the service sector and e-commerce sector continue to drive GDP growth as the manufacturing sector is rapidly modernizing, there is a critical need for a new substantive source of economic growth.
India, on the other hand, has focused on IT and service industry for growth. It is home to some of the world's leading IT services outsourcing companies including TCS, Infosys, Wipro, NIIT Technologies, Tech Mahindra and many more. India has the youngest workforce and an abundant pool of IT talent, which has fueled its IT industry over the last three decades. Now, however, the industry is facing headwinds due to the speed of technology development and the massive volume of re-skilling required to stay competitive.
Therefore, it is imperative that China and India focus on growing the digital economy using new IT technologies. This will ensure that China and India eventually grow to their full potentials and become the economic and tech hubs of the world.
The key building blocks of the digital economy are high-performing data workers and talent in sophisticated artificial intelligence and machine learning. The competitive advantage of a country lies in the speed at which it can develop the right range, quality and quantity of a skilled workforce. The critical factor for success is a nationwide skills development strategy that addresses the entire population with a multi-layered, multi-dimensional and multi-generational agenda.
CID: You have been building a career in China since you moved to Shanghai in 2005. Do you like living and working here?
DHUPER: Working and living in China is exciting and challenging at the same time. While China remains a top nation in terms of business opportunities, foreign organizations need to break cultural and language barriers to succeed in this vast landscape.
The difficulties of course melt over time with experience. While companies and individuals must deal with different challenges, China remains an interesting environment where learning happens every day.
Furthermore, the country is quite similar to India in family and Asian values such as respect for teachers and elders and the necessity of hard work. It's my opinion that Chinese students work harder in general than their peers from other nations. It's no surprise that many Indian tech companies are already in China attempting to leverage its robust talent pool, provide jobs and growth opportunities to individuals and contribute to the overall industrial ecosystem.