No Internet Giant in IT Superpower India - Why?
The development of India's Internet industry is still at its primary stage. There is a huge blue ocean market to be exploited.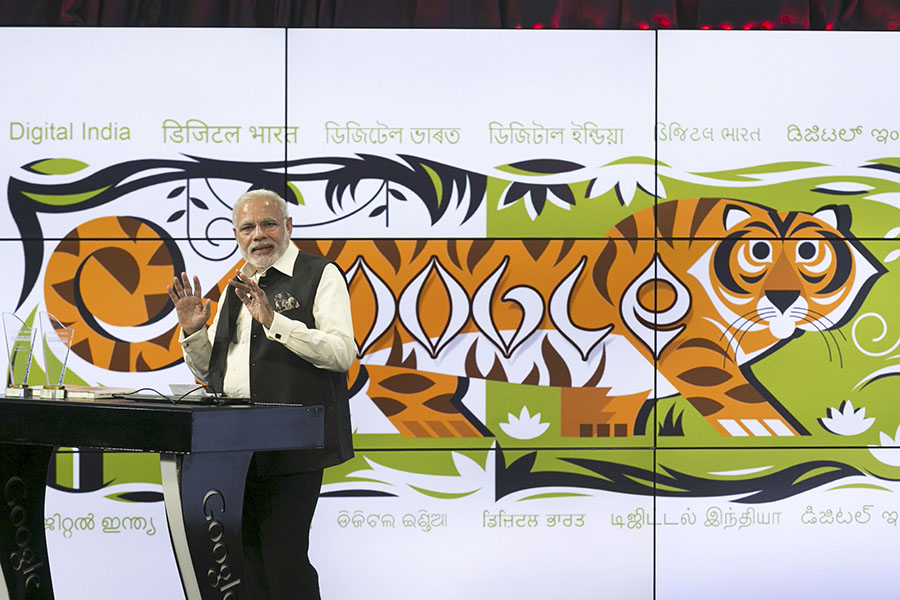 It is interesting that although India is far more developed than China in software development, its internet industry lags behind. Compared with China's experience in this field, India faces long-term challenges as well as significant opportunities in the development of its internet industry. It is best to begin with a consideration of the hurdles on the path.
Four obstacles
In terms of international competition, the globalization of India's internet industry makes it difficult for Indian companies to thrive. In India, the internet industry is open to foreign competition, and students learn English in schools, either as medium of instruction or language. These two conditions facilitate the domination of the Indian market by U.S. internet companies including Facebook and Google. The Matthew Effect is quite obvious in the internet industry, where the strong get stronger and the big get bigger. For example, Facebook, the biggest U.S. social networking site, could easily capture hundreds of millions of users on entering the Indian market. Obviously, it is difficult for homegrown startups to compete with Facebook.
In terms of national development, India lacks quality infrastructure. The development of the internet industry depends on construction of telecommunications infrastructure, which demands stable power supply. However, for a long time now, power supply to offices, enterprises, factories and workshops in India has been unstable and erratic. Consequently, internet connection has been intermittent. The construction of power plants and telecommunications infrastructure calls for long-term and massive investment by the government and stakeholders in the private sector. And, this is the biggest challenge.
Among the internet industry's four major areas – search, social networking, game and e-commerce – the rapid development of e-commerce requires support from a low-cost and highly-efficient logistics system. But, like in power and telecom sectors, investment in transportation infrastructure in India is also grossly inadequate, which increases logistics cost of online shopping, thus limiting the scale of e-commerce.
As to the industrial pattern, the great success of India's IT industry actually hampers the growth and prosperity of its internet industry. The software industry of China has never come into its own, and, as a result, many software companies and talented people moved to the internet area for development. In contrast, India accounts for over half of the world's software outsourcing market with an income over US$100 billion. The huge success meant freedom to choose the path. It also means that any choice exercised now would be determined by the previous choice. Changing from this path would cost so much that it may not be feasible or desirable. Therefore, it's much harder (than China) for India to shift focus from the software industry to the internet industry.
From an entrepreneurial viewpoint, the prevalent culture of hierarchy and brain drain in India make it difficult for an enterprise-driven boom to emerge in the internet industry. Traditional Chinese culture advocates the striving to become a man of importance, which is borne out by old sayings such as "Do those gentry certainly have blue blood?" and "Better be the head of a dog than the tail of a lion". Hence, China's transformation from planned economy to market economy was followed by the entrepreneurial boom that has lasted for decades. However, Hinduism advocates "bowing to fate and accepting destiny". Thus, software talents in India tend to be content with their lot, accepting low salaries and working overnight. Their desire to quit their salaried jobs and start something of their own is not as strong as that of their Chinese or American counterparts who value individualism. Besides, for the industry elites born in India and working as top engineers and senior managers in Silicon Valley, their willingness to return home for starting a business is far less than that of the Chinese techno-elite. This has to do with the unfavorable entrepreneurial environment for internet industry in India, where angel investment, venture investment and incubators are absent.
Fertile ground for Internet giants
Despite all the difficulties mentioned above, there are excellent opportunities for the development of local internet companies in India. The rapid growth of Indian netizens provides a fertile ground for internet giants.
In terms of social economy, India will gradually reap the benefit of its demographic dividend in future. The economy of European countries is highly developed but they don't have any internet giant, because the populations of countries like Germany, Britain and France are all below 100 million. The first reason why internet giants emerged in China and America is their large population, ranking 1st and 3rd respectively in the world, and a common language within both countries. With good products to offer, these start-up internet companies can easily gain millions of users. The population of India is large enough to support the rise of internet giants. But, due to the prevalence of a high-level of poverty and illiteracy, and lack of a common language, the demographic dividend hasn't been fully realized. With a growing number of people gaining access to English language education and continuous improvement in per capita income, India's demographic dividend would come into full play, which is the biggest advantage for local internet companies.
In terms of technology, cheap smartphones can enable India to directly enter the era of mobile internet, which would further increase the number of netizens. The growth and expansion of PC internet would be restricted by the backward and inadequate power infrastructure, but the mobile internet can sidestep this problem—smartphones don't need to be plugged in all the time, and a Charge Pal can be used in case of a power failure. As smartphones have made hundreds of millions of farmers and urban low-income groups in China become netizens, similarly, with the popularization of smartphones in India, internet users have grown rapidly and number 250 million. As more and more Indian and Chinese mobile phone producers strive to sell cheap smartphones in the Indian market, the increase of smartphone penetration in India will accelerate, thus advancing the penetration of mobile internet, which would be another important benefit.
Differentiation is a feasible strategy
As mentioned above, India's internet industry is globalized, which means the rapid growth of Indian netizens is an opportunity for both smaller local companies as well as U.S. mega corporations. That means India's internet industry is under huge pressure. Based on the experience of China's internet industry, one suggestion to entrepreneurs in India would be: adopt the differentiation strategy – developing local products which are different from those provided by U.S. giants.
On Double Eleven Day (Novem­ber 11, 2015), the sales volume of Chinese e-commerce giant, Taobao, was a staggering RMB 91.2 billion. Taobao could achieve such success because it defeated the "invasion" of U.S. internet companies by adopting the differentiation strategy, which India's internet industry would do well to learn.
Taobao was established in May of 2003, when the largest U.S. auction and shopping website, eBay, had entered the Chinese market and occupied two thirds of the marketshare in the online shopping sector. To beat this giant internet company, Taobao introduced a series of innovations under the leadership of Jack Ma.
Sellers need to pay insertion fee for uploading products on eBay. Taobao didn't charge sellers, thereby attracting large numbers to open their stores on Taobao. The increasing number of stores generated the need for promotion, and Taobao made a profit from the bidding and advertising fees for premium ad space.
EBay China adhered to the tradition of its parent firm and mainly focused on C2C transactions and the auction model, but China doesn't have the U.S. tradition of second-hand business. Taobao enabled a lot of companies to open stores and launch a wide range of new products, which made it more welcome among the Chinese.
In the promotion sweepstakes, eBay bought up the advertisement space of all major Chinese portal sites to force out Taobao. Unfazed by this, Tabao promoted itself on many medium and small websites and TV stations, and inserted advertisements in movies, through which it managed to net much more users.
Online shopping websites need to properly address trust issues between customers and sellers. To this end, Taobao launched an online chat tool to facilitate instant communication between the two sides. And, the chat history could serve as evidence in the event of a dispute. But eBay worried that the two sides might bypass the website and take to direct dealing, which would deprive it of commissions; and, therefore, eBay did its best to prevent buyer-seller communications. Naturally, Chinese consumers prefer the Taobao model to the eBay way of doing business.
To further reinforce buyer-seller trust, Taobao launched 'Alipay'. This payment arrangement was a winner. Once a customer agrees on the price, money is sent to Alipay, which informs the seller of the payment, and the seller then sends out the goods. After the customer takes delivery and is satisfied with product, he/she agrees to release the money; or, after a certain time period, Alipay transfers the amount received to the seller's account. This innovative procedure was more advanced, and it dispelled misgivings of both parties about the risks involved. Inevitably, Taobao's popularity soared over that of eBay.
Besides coming up with various such original practices, Taobao also innovated on the basis of imitating its competitors. For example, Taobao changed the centesimal rating used by eBay into a three-step one of red heart, blue diamond and crown. This stepped rating mechanism could better motivate the sellers to improve their business because the higher the shop's grade, the more trusted it became and, therefore, greater the business it gained.
In short, eBay China stuck to the practices of its parent company, but those didn't necessarily suit China. EBay's failure to adapt to the Chinese market created opportunities for Taobao. The latter showed a better understanding of China's conditions and consumer psychology, which it used for bold innovations and grew to become the world's No. 1 e-commerce company.
Similarly, Indian internet companies shouldn't simply imitate the U.S. giants. They should carry out in-depth research on consumers in different parts of India, and, as Taobao did, choose a path of localization and differentiation suited to the people in their respective conditions.
The development of India's internet industry is still at its primary stage. There is a huge blue ocean market to be exploited. I believe that, guided by the differentiated development strategy, a clutch of internet giants, like Taobao, will also emerge in India.
The author, chairman of Shanghai Run Mi Management Consulting Co. Ltd., is former strategic cooperation director of Microsoft, global traveler and best-selling author.
Published in the INAUGURAL ISSUE of CHINA-INDIA DIALOGUE