Playing Holi - India's Festival of Colors
The myriad colors, as well as laughter of people celebrating the festival, remained fresh in my memory long after i returned to china.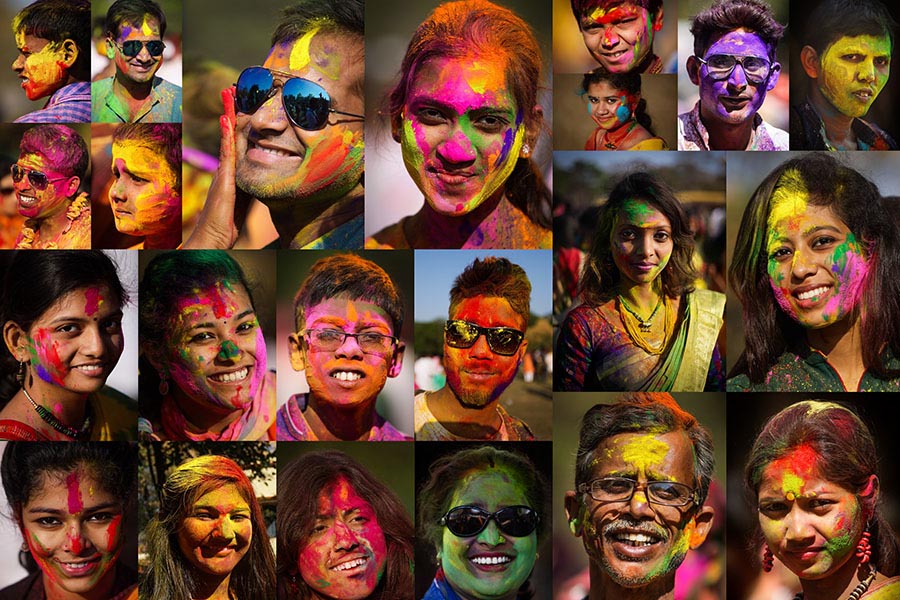 An iconic Hindu festival, Holi is also known as the festival of colors in India. Typically, the festival is celebrated around the nation in March, and the celebration may last for several days. For Indians, the Holi festival marks the beginning of spring and their joyful expectations for the coming year. The festival embodies the nation's rich history and culture. During Holi celebrations, everyone – rich and poor, young and old – enjoys the festival of colors. During the two years that I worked in India, I was lucky to photograph and experience three Holi festivals. The myriad colors, as well as laughter of people celebrating the festival, remained fresh in my memory long after I returned to China.
In March 2013, I set foot on Indian soil for the first time as a photojournalist. Holi was my first photography project in the South Asian country. On the advice of a colleague who had been there for years, we chose Mathura, a town in northern India's Uttar Pradesh, to photograph the festival. For Hindus, Mathura is the birthplace of Lord Krishna, a deity commonly worshipped in India. For this reason, Mathura is considered a sacred city by Hindus. There, visitors can witness the most traditional Holi celebrations.
The festive atmosphere was palpable as our vehicle approached the old district of Mathura. The staff at a toll station we passed had their faces painted red with colors, and they looked as though they were drunk. We saw children chasing and squirting colored water at each other with water pistols in villages on our way to Mathura. When we arrived in Mathura, we found the streets crowded with people and vehicles. Almost all people – motorcycle riders, peddlers, and pedestrians, as well as cattle on the streets, had their bodies and faces painted in myriad colors.
Because the street to the central part of the town was open only to pedestrians, we got off our vehicle and photographed while walking. Though a stranger to the country, I was soon submerged in bright colors, thanks to the enthusiasm of those celebrating Holi. People rubbed dry, powdered color on one another. As an outsider, I was "besieged" by locals spraying pigments and colored water on me. Surprised at their enthusiasm, I shouted, "It's all right to color me, but be careful about my camera." Although worried about my camera, I couldn't help but keep pressing the shutter all the way.
I spent two hours shooting Holi celebrations along a street that's only several hundred meters long. That day, in the South Asian town, I took hundreds of photos of people playing Holi in full flow with joy amidst much laughter and cheering with smiles on everyone's face. My own face was so thickly colored that it had turned black. This was my first experience of Holi, which I found intriguing and exciting.
After one year in India, I had a better understanding of its society. I was more experienced when it came to my second Holi photography project. Apart from making my camera dust-proof and waterproof, I photographed by choosing a theme.
I still chose Mathura as the place to photograph Holi. On March 12, 2014, I arrived in the town, several days before that year's festival. This time, I focused my lens on Lathmar Holi, in which women, wearing colorful clothes and headscarves, hit men with sticks while the latter "fought" back with petals and color powders as "weapons." Legend has it that Lord Krishna visited his beloved Radha's village on this day and playfully teased her and her friends. Taking offence at this, local women chased him away with sticks. This is how Lathmar Holi originated.
In Lathmar Holi, women showed no mercy when beating men. It was as if they were taking revenge for the unfair treatment they received in everyday life. Regardless of identity, social status and class, however, all participants – men being beaten with sticks or women being "attacked" by colored powders – enjoyed the festival, with their laughter reverberating in the air. The color splashing was followed by a grand dance. That day, though merely a witness as a male photographer to record the occasion, I received a blow on my back. I snapped a picture of the woman who hit me with a stick. Every time I saw the picture, I missed the Lathmar Holi I had experienced. It was the blow that made me better understand the local culture.
Time flies quickly. My third Holi was my last project before I left India. To experience a Holi festival different from the two that I had photographed before, I came to Santinikentan, a town of cultural and historical importance in eastern India's West Bengal. The town is known the world over as the home of the famous poet Rabindranath Tagore and the Visva-Bharati University that he founded.
Perhaps, due to the academic ambience of Santinikentan, Holi celebrations here appeared more "gentlemanly" and "civilized." People merely colored each other with dry powders in a gentle, polite manner, and participants did not need to worry about their clothes getting stained with colored water. On the playground of Visva-Bharati University, I saw people from all over the country dancing in a swirl of colors, students playing with each other, and children enjoying the festival under the watchful eyes of their parents. Everything looked peaceful, civilized, and natural. Compared to the carnival-style Holi in Mathura, the comparatively peaceful Holi in Santinikentan was heart-warming.
During my two years in India, I developed a strong liking for Holi. Through my camera lens, I recorded many lovely, smiling faces of revelers. Holi celebrations made me feel warm and happy especially when taking photos of some of the revelers, including beautiful women, distinctive-looking men, and adorable children. I wondered whether I would have any more chance to experience the festival of colors after leaving India.
Today, the old jacket which I wore during the three Holi festivals adorns my wardrobe. The indelible colors on it never fail to stir fond memories.
The author joined Xinhua News Agency's Photo Department in 2008, and served as its photojournalist in India from March 2013 to April 2015.
Published in the ISSUE 3 of CHINA-INDIA DIALOGUE