Progress Through Stability
After the Central Economic Work Conference called for an overall improvement in economic operations in 2023, confidence in the rapid recovery of the Chinese economy has grown, and hope for a robust GDP growth rate in the coming year has been kindled.
The recent Central Economic Work Conference announced that China aims to focus on restoring and expanding consumption and strive for "progress through stability." After the conference called for an overall improvement in economic operations in 2023, confidence in the rapid recovery of the Chinese economy has grown, and hope for a robust GDP growth rate in the coming year has been kindled.
The conference admitted that China's economy faced difficulties in 2022 due to a contraction in demand, supply shocks, and a volatile environment in the aftermath of COVID-19. The decline in demand reflects a decrease in purchasing power, which in turn calls for financial support during a crisis. The supply shock occurred as a result of closed factories and resulted in the restructuring of the global supply chain and an outflow of international orders.
Key Takeaways
Despite pandemic disruptions, China's economic output is likely to exceed US$17.2 trillion in 2022. Over the past three years, China's GDP annual growth rate averaged 4.5 percent, higher than the global average. The Chinese economy advanced 3.9 percent year-on-year (YoY) in the third quarter of 2022, exceeding the market consensus of 3.4 percent and picking up from a 0.4-percent growth in the second quarter in response to significant measures by the government. But, according to the National Bureau of Statistics (NBS), China's November retail sales sank by 5.9 percent YoY, showing a declining trend in domestic demand. So, the creation of a resilient domestic market is critical.
Against this backdrop, this year's Central Economic Work Conference was held. The conference is an annual meeting held by the Chinese government to review the country's economic performance in the passing year and set economic policy for the next year. This year's conference announced that in 2023 China will focus on expanding domestic demand, rewarding investment, and increasing exports to "boost confidence in development, prioritize the restoration and expansion of consumption, increase the income of urban and rural residents through various channels, and encourage more private capital to participate in the construction of key national projects."
The conference also emphasized "robustly promoting rural revitalization and resolutely preventing large-scale regression into poverty." In addition to expanding domestic demand, the five main tasks for the next year include accelerating construction of a modern industrial system, implementing the "two unwavering" principles, more actively attracting foreign investment, and effectively resolving major economic and financial risks. The two unwavering principles are "to deepen reform of state-owned enterprises and improve the competitiveness of state-owned enterprises." In addition, the conference stressed that "private enterprises' property rights and entrepreneurs' rights and interests must be protected by law."
Resilient Industrial Chain
In response to Western technological sanctions, the conference emphasized the importance of a resilient industrial chain. With the announcement of sweeping fresh controls on sales of semiconductors to China in October 2022, the U.S. approach has been a regression to the Cold War playbook. A growing pile of U.S. measures now aims to slow China's development as a high-tech economy.
Over the past six years, China's technology sector has faced multiple challenges due to sanctions imposed by the U.S. The increase in tech sanctions by the U.S. coincided with the rise of China's Digital Silk Road (DSR) under the Belt and Road Initiative (BRI). The U.S. blacklisted Hikvision, a Chinese security equipment maker involved in DSR, in 2021. Alongside Hikvision, companies like Huawei, Alibaba, Tencent, Baidu, and ZTE are the main drivers of the DSR.
The DSR not only facilitates the export of Chinese technology to previously untapped markets but also allows private Chinese firms to expand extensively. This enables China to expand its influence in the global tech sector, which has been dominated by the West since its inception. Chinese tech companies have already taken major business away from Western companies like IBM and Cisco.
After Trump took office, several measures targeting Chinese science and technology policies were taken. In May 2019, Huawei was added to the U.S. Commerce Department's Entity List, leading to stricter export controls. It was left unable to do business with any U.S. firm.
U.S. sanctions also emerged in the context of Chinese policies like "Made in China 2025," emphasizing technological self-reliance. Incepted in 2015, "Made in China 2025" aims to help China skip the middle-income trap by installing technology-powered production as opposed to labor-intensive production. China's 14th Five-Year Plan (2021-2025) also emphasizes the strategic importance of the development of science and technology and will further drive the implementation of policies such as the "Internet+" and the New-Generation Artificial Intelligence Development Plan.
Distressed by China's technical prowess, Biden signed an order in June 2021 prohibiting U.S. investment in Chinese tech companies, adding 59 entities to its so-called "Chinese Military-Industrial Complex Companies List." But, U.S. chip sales to China surged as demand for China-made laptop computers, video games, and other home technology soared during the COVID-19 pandemic. In 2022, U.S. sales began to plummet, with chip sales to China dropping by 25 percent and semiconductor equipment sales falling by 15 percent. Boston Consulting Group estimated that a complete ban on U.S. chip sales to China would cost U.S. semiconductor firms 18 percent of their global market share and 37 percent of their revenues.
The U.S. strategy is to contain China's ability to make or acquire logic chips below the 14-nanometer node, well above the current leading-edge capabilities of 5 nanometers or less. The smaller the node, the more advanced the chip. But Semiconductor Manufacturing International Corporation (SMIC), China's largest chipmaker, announced in August 2022 that it had started shipping 7-nanometer semiconductors, just one generation behind the most advanced chips. It has done so, using production techniques less efficient than the current standard since U.S. controls have blocked SMIC from acquiring the most advanced lithography equipment.
Thus, China has proved that it can circumvent U.S. sanctions. The Central Economic Work Conference assures that the Western sanctions will remain futile because China is extensively integrated into the global economy and supply chain. China has been gradually showcasing domestic alternatives.
Chinese technology has a far-reaching impact on the developing world because the BRI exports domestic technology globally. Since the Chinese tech ecosystem has extensive footprints globally, U.S. sanctions will not achieve the goal of isolating China technologically. The impact of any sanctions will be minimal. The conference mentioned that China's science and technology industry should be self-reliant and "must effectively coordinate education, science and technology, and talent work to improve the quality and ability of independent talent cultivation." This means China's high-tech industrial chain cannot be decoupled from the global economy.
Many sectors will benefit from next year's policies, as the conference hinted. New-energy cars and elderly services will enjoy preferential policies. At the same time, policies will better support research and development of technology services and products in line with the conference's emphasis on protecting private enterprises' legal rights. Overlap of the two policies implies that platform companies may get a boost in China in 2023.
The platform economy is reshaping global trade. Global platforms such as Alibaba empower countless smaller enterprises to participate in global trade without the need to invest in supply chains. In a world dominated by platform companies that offer ways for customers and businesses to connect, countries that want to act as global trade hubs must think like a platform nation.
In China, an example of a traditional corporation transforming its business model is Ping An Insurance based in Shenzhen. It has created a portfolio of platform businesses directly related to insurance: in healthcare, connecting patients with doctors; in automotive retail, facilitating car purchase and sale; and it even dabbles in entertainment. Ping An is now one of the most valuable insurance companies in the world. Platform technology is showing that sanctions are absurd and China will march forward.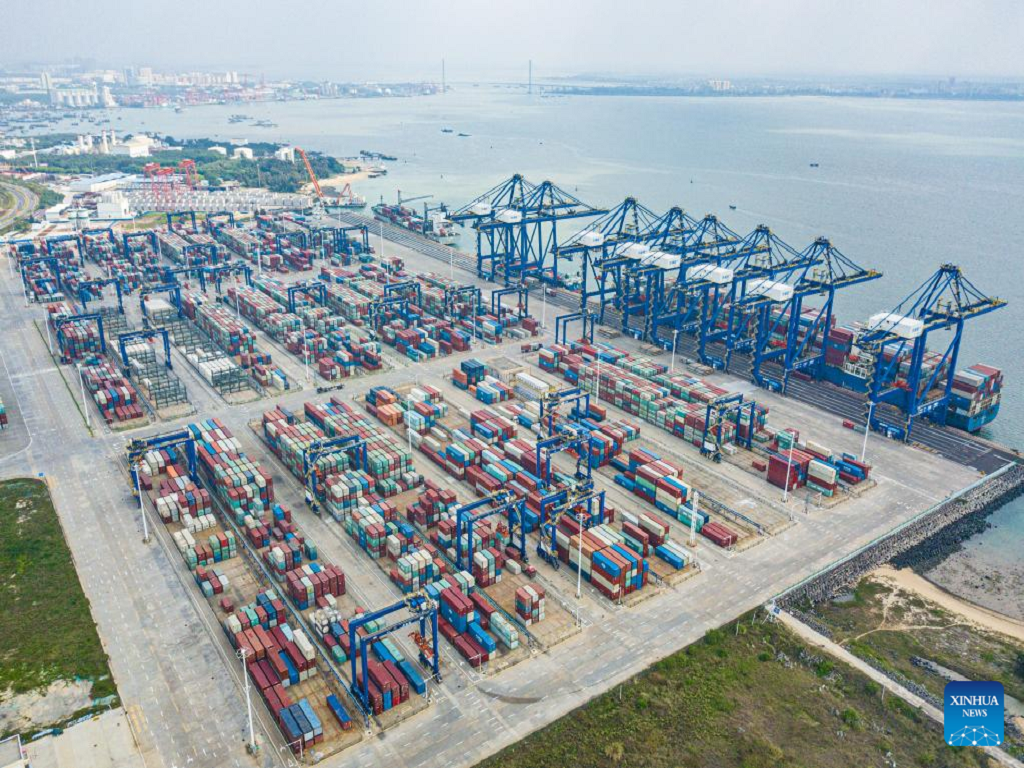 Recovery Ahead
Amid multiple domestic and external headwinds, China's GDP growth rate is estimated to slow sharply to 3.3 percent in 2022, according to the International Monetary Fund.
According to CEIC data, Chinese households are limiting their spending on non-essential items, and industries such as catering, accommodations, and aviation are suffering most as a result. Industrial production has so far enjoyed a stronger trend than retail sales. NBS's latest data showed that measured by the added value of industries above the designated size, industrial production increased by 3.8 percent YoY in the first 11 months of 2022. The slow recovery of industrial production was broad-based among state-owned enterprises and private sectors. Retail sales of consumer goods decreased by 0.1 percent YoY in the same period.
In response to critical headwinds, China has increased macroeconomic policy easing with higher public infrastructure spending, tax rebates, policy interest rate cuts, and relaxing local purchase restrictions in the real property sector. However, resurgent COVID-19 outbreaks and associated measures have limited the push of the policy stimulus. To address these challenges, macroeconomic policies need to be carefully calibrated not to exacerbate financial risks. Structural reforms are needed to reinvigorate the shift to more balanced high-quality growth.
CEIC's China Ports Data shows that the government measures are paying off. China's trade turnover improved in November 2022 after three months of sluggish growth in both exports and imports. Real-time port statistics provided by Elane Inc. show that China's top 20 ports saw a steady increase in volume of arriving and departing ships in November 2022. The total number of arrived ships that month reached 147,054 while the departures stood at 163,182, both all-time highs. Not only absolute numbers, the YoY growth rate for both arriving and departing ships also jumped in November, expanding by 29 percent and 44 percent respectively, levels that have not been seen in more than a year and a half. The rise in terms of volume, measured in deadweight tonnage, is even more pronounced.
The conference assured everyone that China will further increase policy support for economic growth in 2023. Proactive fiscal policy and prudent monetary policy will continue to be implemented next year. Meanwhile, efforts will be made to intensify macro-control and coordinate various policies to form the synergy for high-quality development. Vigorous support is expected to boost consumption and other areas that have been hit hard. When the recovery of regular life and production gains steam, it should release pent-up vitality into the economy. China is poised for an accelerated economic recovery in the first half of 2023.
The author is a business writer at KrASIA and former chief editor of the Indian daily Janmabhumi.