Sino-Indian Cooperation as a Global Stabilizer
The rapid economic growth of China and India depends on a rational global trade order, and the two countries should cooperate more deeply in the maintenance and formulation of global trade rules.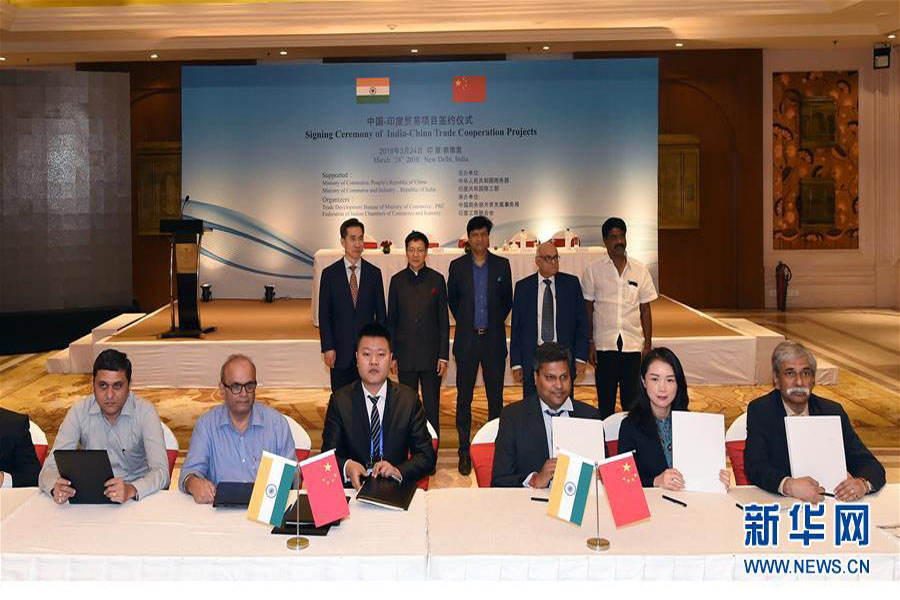 The Boao Forum for Asia (BFA) Annual Conference 2018 is held from April 8 to 11, wherein the economic prospects of India as well as cooperation and exchange between China and India have become important topics of discussion at the forum.
Bilateral Economic and Trade Cooperation on the Rise
In March, an international trade promotion group of the Ministry of Commerce of China, including more than 30 representatives from Chinese enterprises covering industries such as textiles, pharmaceuticals, agriculture, petrochemicals, trade and commerce, visited India., The two sides signed 101 trade deals worth US$2.37 billion in New Delhi, an amount equal to 14.5 percent of China's total imports from India in 2017. At the same time, the 11th meeting of China-India Joint Group on Economic Relations, Trade, Science and Technology was also held in New Delhi. Chinese Commerce Minister Zhong Shan and Indian Commerce and Industry Minister Suresh Prabhu both expressed willingness to deepen practical cooperation, which is tremendously significant considering the global shadow of depression.
In recent years, relations between China and India have experienced ups and downs. The Dong Lang (Doklam) standoff last year brought relations between the two countries to the lowest level in nearly 20 years. Despite India launching anti-dumping investigations on China and a movement to "boycott Chinese products," bilateral trade between China and India reached a new high of 84.4 billion U.S. dollars in 2017, rising 20.3 percent from the previous year. While China continues to be India's largest trade partner, its imports from India have increased by nearly 40 percent, which to some extent alleviated the trade imbalance between the two countries. Investment cooperation between China and India has been increasing. Chinese enterprises have invested more than US$8 billion in India, and Indian investment in China grew by 18.5 percent annually over the past three years.
Mutual Benefits and Common Growth
Closer ties in bilateral trade and investment are not only reflected in macro statistics, but also in the long-term economic development plans of India and the daily lives of hundreds of millions of Indians. Since Narendra Modi became India's prime minister in 2014, the Indian government has launched a number of major initiatives, such as "Make in India," "Digital India," "Skill India" and "Start-up India." At the same time, India has continuously reduced foreign investment thresholds, improved the business environment, absorbed more capital to promote industrial upgrading, and created more jobs. Chinese enterprises grasp the opportunities in the Indian market and continue to expand investment in traditional manufacturing sectors such as automobile, machinery, and electrical equipment and hi-tech fields such as the internet. In recent years, Alibaba, Tencent and other Chinese internet giants have constantly explored the Indian market, and provided China's development experience and huge capital input for local Indian start-ups, promoting "Start-up India" as they expanded their shares of the Indian market and stimulating India's entrepreneurial enthusiasm and innovative potential. India's largest online payment platform Paytm that became popular after Modi's demonetization campaign, as well as e-commerce platform Flipkart, UC Browser and other famous Indian internet brands, is backed by Chinese internet companies. Many start-up projects have been launched thanks to the support of Chinese capital. This assistance has increased the potential for e-commerce in India while improving the lives of hundreds of millions of Indian internet users.
As for hardware, Chinese mobile phone manufacturers, represented by Xiaomi, have invested in factories in India to participate in "Make in India," creating jobs for local people while producing high-quality products. In 2017, Chinese brands accounted for half of the Indian smartphone market and four of the top five brands in terms of shipments. Advertisements for Chinese mobile phone brands can be seen all over the streets of India. Vivo and Oppo are the title sponsors of the Indian Premiere League (IPL) and India's national cricket team, respectively.
Under adverse factors of bilateral political relations, the rising Sino-Indian economic and trade exchange is showing the world that the interdependency in economic growth and social development between the two countries is unstoppable. The vast market created by the huge population of India and the country's strong economic growth potential have made India one of the best investment destinations for Chinese enterprises, and at the same time the two countries' vast territories, large populations and similar development backgrounds give them many common grounds in exploring the paths for development and social governance. As the two largest developing countries in the world, achieving economic growth is a common goal of China and India as they strive to improve the living standards of the people and eliminate poverty. In his report to the 19th National Congress of the Communist Party of China (CPC), Chinese President Xi Jinping, also general secretary of the CPC Central Committee, proposed building China into a great modern socialist country that is prosperous, strong, democratic, culturally advanced, harmonious and beautiful by the middle of the century. The Modi administration also proposed building a "great India" by 2047. Both sides have pledged to rationally control differences during their common rise and to dock the Chinese Dream with the Indian dream through sustainable development and mutual benefits.
Hand in Hand to Face Trade Protectionism
The roles of China and India in maintaining world trade order and promoting globalization have become increasingly prominent in the context of the greater protectionism challenges emerging in the world trade order and the process of globalization.
As beneficiaries of economic globalization, the rapid economic growth of China and India relies on a rational global trade order. However, China and India face many challenges economically due to the gradual introduction of U.S. President Donald Trump's protectionist trade policy. India and China are listed among the ten countries with which the United States has the highest trade deficits. Trump has repeatedly threatened to overhaul H-1B visas since he ran for president, causing serious concern in India's IT outsourcing industry. The measure will affect tens of thousands of Indian IT employees who work in the United States and make a huge impact on Indian IT service export. The high tariffs imposed by the United States on the import of iron and steel products are estimated to disrupt global steel prices and affect related Indian industries. American trade protectionism is bound to impact India's economic growth and industrial development as the country urgently needs to boost the scale and levels of its manufacturing industry, relieve unemployment pressures and tap into the potential of its demographic dividend.
As victims of America's trade policy, China and India can counter not only by expanding bilateral trade by deepening economic exchange, but also by carrying out broader cooperation in the maintenance and formulation of global trade rules. In his speech at the World Economic Forum (WEF) in Davos in 2017, President Xi Jinping called for "developing global free trade and investment, promoting trade and investment liberalization and facilitation through opening-up and saying no to protectionism." At the closing ceremony of the WEF annual meeting in Davos in January this year, Prime Minister Modi also expressed India's support for global free trade and listed trade protectionism, climate change and terrorism as the three major challenges that the world faces today. As the two fastest-growing major economies in the world, China and India should play a leading role in maintaining world trade order and promoting globalization, inject great energy into their own economic development, and foster stable and peaceful global governance.
The author is an assistant researcher at the Institute of South and Southeast Asian and Oceanian Studies under the China Institutes of Contemporary International Relations.