Steadily Upwards: Keys to China's 2018 Economic Work
At the Central Economic Work Conference, steady progress was once again emphasized. It will remain the guiding principle for the country's economic work in 2018.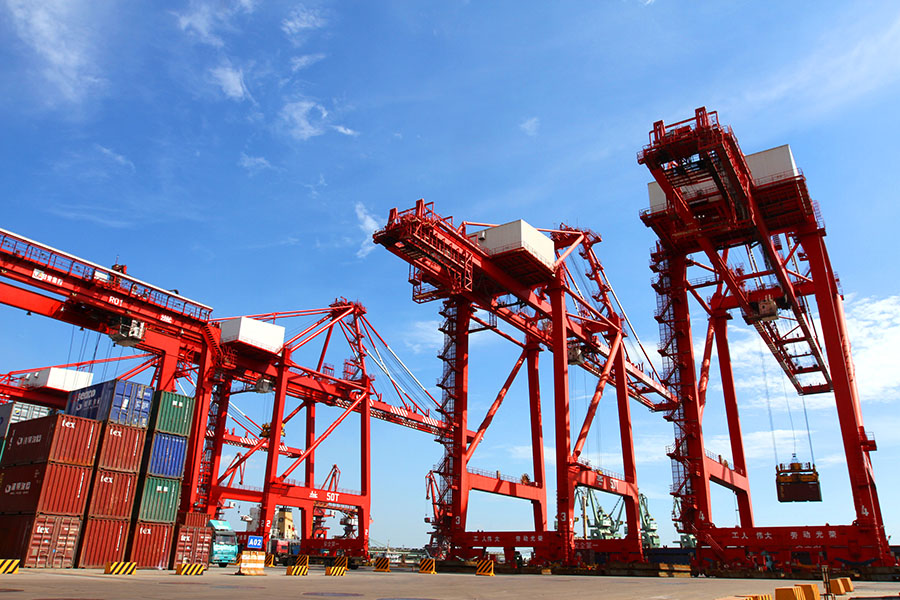 China's 2017 Central Economic Work Conference concluded in late December. This annual meeting summarized the country's economic development in the past year, and set economic plans for the coming year. Considering China's elevated economic status in the world, the meeting has also become important for analysts to project how China's economic plans will influence the world in 2018.
Nowadays, the world economy is at a transitional and rebalancing stage. Monetary policies of Western developed countries need to return to normalcy while developing countries including China face grave challenges on enterprise transformation and industrial upgrading. In today's highly globalized world, international economic development will not necessarily be smooth. At the Central Economic Work Conference, steady progress was once again emphasized. It will remain the guiding principle for the country's economic work in 2018.
The most important realm to ensure "steadiness" is risk control. As China is eliminating its backward production capacity featuring high pollution, high energy consumption and low efficiency, the country's economic growth rate will inevitably be affected. Financial risks previously concealed by high economic growth rates as well as governmental supplementary and complementary polices could possibly emerge. Problems such as a real estate bubble and related bad loans, risks on local government debt default, capital flight, and devaluation pressure on RMB, as well as dislocations in internet finance and shadow banking, will also put enormous pressure on the liquidity of China's financial system. Exacerbation of any above-mentioned risks could jeopardize the overall stability of the country's financial system.
The report to the 19th National Congress of the Communist Party of China (CPC) pointed out that stabilizing housing prices and preventing excessive real estate bubbles are important tasks to avert systematic risks. The Chinese government issued a series of policies in 2017 to curb the precipitous rise of housing prices. However, housing price rises in some regions of China were still big. Consequently, the task of promoting the principle of "houses for living, not speculation" and speeding up housing system reform, as well as the construction of a related long-term mechanism, has become even more urgent. Some regions in China including Beijing and Zhejiang Province have begun testing new housing policies. At the same time, tackling property speculation at its root would require China to improve its taxation system and promote legislation as well as enforcement of real estate taxes.
"Progress" should mainly be reflected in the cultivation of new economic momentum. The Chinese government has deepened supply-side structural reform, accelerated transformation and upgrade of enterprises and made real progress in cultivating new economic momentum. Economic data released by the National Bureau of Statistics of China testify to these points. In the first three quarters of 2017, the total value added of industrial enterprises above designated size rose by 6.7 percent year-on-year after deducting the price factor. High-tech industries and equipment manufacturing rose by 13.4 percent and 11.6 percent year-on-year, respectively. These numbers indicate that China's manufacturing sector is shifting toward middle-to-high-end faster. Moreover, in the same period, exports of mechanical and electrical products rose by 13 percent, accounting for 57.5 percent in China's total exports. China's manufacturing industry is becoming more competitive on the global stage. In the first three quarters of 2017, China's retail sales amounted to about 26.3 trillion yuan (US$4 trillion), up by 10.4 percent year-on-year. Online retail sales totaled about 4.9 trillion yuan (US$747 billion), up by 34.2 percent year-on-year. New businesses such as those involving the sharing economy are emerging in China, and consumption has become the leading force to drive the Chinese economy forward.
The rural economy is another key sector for progress. The rural vitalization strategy, first mentioned in the report to the 19th CPC National Congress, will create new momentum and room for China's economic growth. Imbalanced development between urban and rural areas has been a persisting problem for China. At present, urban-rural ratio in per capita income sits at 2.8:1, which indicates a big income gap. More than 60 million people in the country remain under poverty line, and most of them reside in rural areas. Pacing up the rural vitalization strategy is essential to completing the goal of building a moderately prosperous society in all respects by 2020.
The ultimate goal of accelerating rural reforms is to bring prosperity to the rural population. This requires not only coordinated development of urban-rural areas through bolstering agriculture with industrial development and transferring support from urban to rural areas, but also internal momentum for development in rural areas derived from promotion of deep processing of agricultural products and growth of service industries, which will expand channels to increase income. As Chinese consumers elevate their standards for agricultural products, agricultural technology will also advance rapidly. Huge capital demand for infrastructure in rural areas will create new room for investment. As farmers' livelihood improves, rural areas in China will become promising markets for consumption of electric home appliances, cars and more.
Complex situations at home and abroad have confronted China with both challenges and opportunities. Facing thorny problems in reform, China needs to take innovative measures and make breakthroughs in key sectors. The country needs to build a moderately prosperous society with reduced wealth gap, leaving no one behind, while at the same time leading global economic trends, building a community of a shared future for mankind and making greater contributions to the world. A stable environment for economic growth is critical for the Chinese economy to maintain vitality and competence. With a fine-tuned combination of "steadiness" and "progress," the Chinese economy will enjoy healthy development in 2018.
The author is a researcher with Chongyang Institute for Financial Studies with Renmin University of China.