The Dragon and the Elephant Embrace a Shared and Brighter Future
Fraternity and sincerity should be the basis of China-India friendship. And I have seen hopes from the younger generations in both countries.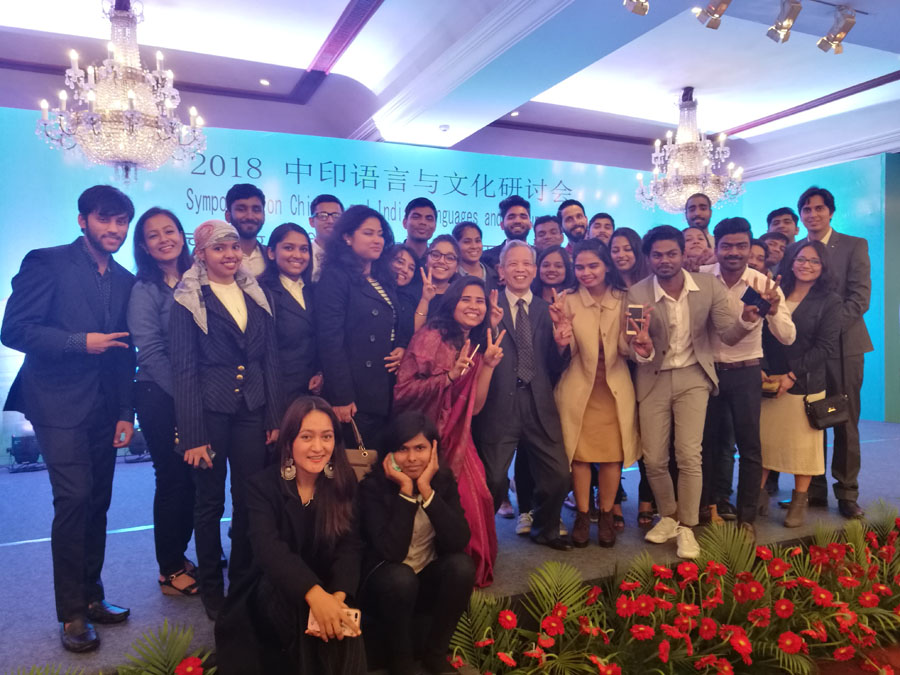 In December 2016, I went to New Delhi to receive the "Distinguished Indologist" award from the then Indian President Pranab Mukherjee. Quite honored and excited, I thought this might be my last trip to India since I was already in my seventies. However, when the Symposium on Chinese and Indian Languages and Cultures 2018 was about to be held in India, the Confucius Institute Headquarters (Hanban) and the Chinese Embassy in India asked me to deliver a keynote speech. Besides, since Shenzhen University, which I have been working for, would sign cooperation memoranda with Jawaharlal Nehru University and Dr. Babasaheb Ambedkar Marathwada University, respectively, the university leaders hoped that I could go to India with them. It was hard for me to turn down such kind offers. Thus, after confirming the air ticket information, I sent my sick wife to a rehabilitation center on December 18, 2018. I bade farewell to her the next day and then boarded the plane to New Delhi.
The symposium progressed smoothly. I was the first to make a speech during its second session. "I wrote a speech for this occasion," I said. "The title is 'Working Together to Enhance Exchanges and Cooperation on Languages and Cultures.' But before I started, I would like to first tell you why I came to the symposium despite of all difficulties. The day before yesterday, I sent my wife who was sick to the hospital. Yesterday I flew to Delhi and today, I am here making my speech. Today – December 20, 2018 – is my wife's 73rd birthday. She supported me in attending the workshop." As I finished the sentence, the audience burst into thunderous applause. "My wife is not well, but why she still supported me although I had to leave her alone at home for participating in this event? The reason is simple. She was my classmate when I studied the Hindi language at Peking University." This time, I received even warmer applause.
"The second reason, which is more important, for me to come to the symposium is to promote China-India friendship," I continued. "The two countries are home to a total of 2.7 billion people. If China and India work together toward the same goal, nothing is impossible. However, some people don't want to see a good relationship between the two countries. These people are Ravana in today's world." Ravana is the primary antagonist in a tale from Hindu mythology. In the tale, Rama and Sita were a happy couple, but Ravana, for selfish and despicable purposes, used magic and tricks to destroy their relationship. Ravana in today's world is the geopolitics advocated by the West. "I'm here today to tell all of you that China and India are a match made in heaven, and there is no way that Ravana will succeed!" My words evoked loud applause.
The symposium attracted more than 120 participants, most of whom were university students from both countries. They came from higher learning institutions such as Jawaharlal Nehru University in India, as well as Guangdong University of Foreign Studies and Yichun University in China. After I finished my speech, many students became my fans, and asked me to take photos with them.
On December 23, 2018, I visited the world-renowned Ellora Caves, a UNESCO World Heritage site. On the way to the complex, I saw streams of tourists, men and women, young and old. They all dressed up and looked happy and energetic. As soon as they learned that I came from China and I could speak Hindi, they were excited and asked to take photos with me. I saw tour groups of students from elementary and middle schools, colleges, junior military academies and art schools. They were enthusiastic, friendly and in high spirits. I took photos with them whenever I was asked, trying my best to present a new pose every time.
This experience reminded me of a story from more than a decade ago. During her doctoral studies in Peking University, one of my students studied in India for a year. In one trip to southern India, she stayed with a local family. Her hostess asked her if she was Japanese or Korean. She replied that she was Chinese. "Oh, our enemy!" The hostess blurted out. Actually, the hostess held no grudge toward China, and was very kind to my student. However, her expression of "our enemy" reflected the psychological barriers of her generation in India. On the contrary, the younger generation of Indians I met is sincere and open-minded, free of the psychological barriers of the older generation. I was treated like a pop star and took photos with many of them upon request. Although the popularity of mobile phones facilitates our contacts, their fraternity and sincerity are even more important.
Such fraternity and sincerity just laid a solid foundation for friendship between Chinese and Indian people. Some people lack confidence in China-India relations and believe that the two peoples lack mutual trust. But I have seen hopes from the younger generations in both countries. Young people are always following the sunlight in the early morning. If they work together toward a common goal, the dragon and the elephant will embrace a shared and brighter future. I believe that the younger generations in the two countries will make China-India friendship stronger, healthier, and more lasting, which will benefit the two peoples and even the whole world.
The author is a professor with the Center for Indian Studies of Shenzhen University, an expert in Indian literature and China-India cultural relations, and president of the Indian Literature Research Society under the China Foreign Literature Association.