The Implications of Modi's Historic Visit to China
China and India should become cooperative partners for growth and jointly promote Asia's prosperity and revitalization; China and India should become global partners for strategic coordination and work for a more just and equitable international order.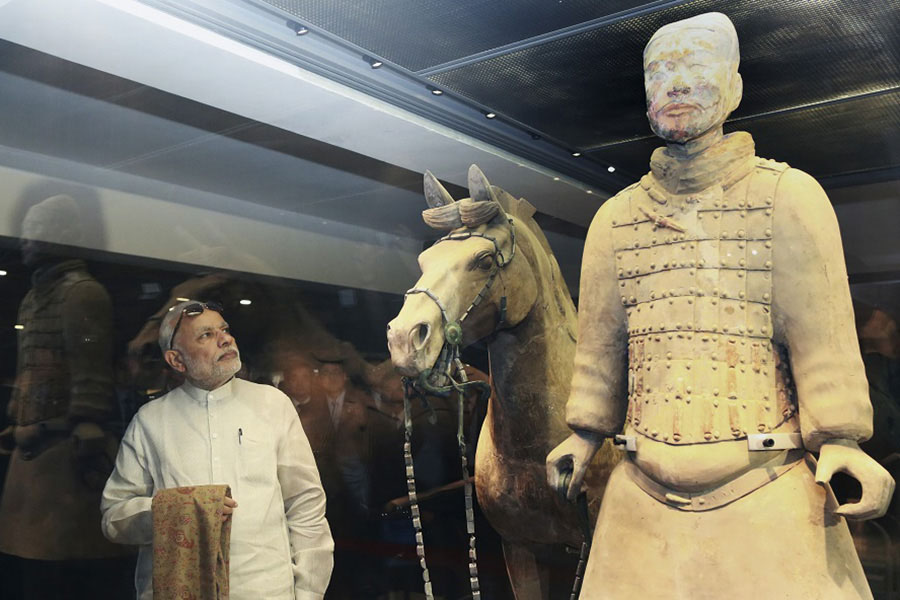 India's Prime Minister Narendra Modi fulfilled his pledge to visit China in the first year after he took office, paying a state visit to China between May 14 and 16, 2015. His visit took place at a delicate moment. From a global perspective, Russia's 2015 "Victory Day" military parade on the Red Square seemed to imply that major powers were forming different "factions"; Russian President Vladimir Putin, for his part, was satisfied with India's stance.
From the perspective of regional geopolitics, South Asia has appeared to draw more attention. At the end of January 2015, U.S. Pre­sident Barack Obama became the first American leader to be honored as chief guest at India's annual Republic Day parade, an obvious sign of warming relations between the two countries. Then, during Chinese President Xi Jin­ping's trip to Pakistan in April, reports in Pakistan said China will invest US$ 46 billion in the China-Pakistan Economic Corridor, which Pakistan's Prime Minister Muhammad Nawaz Sharif described as a "game changer for the Central Asian region".
Expectations on an improvement in China-India relations have been on the rise since the start of this year, when, during her trip in Beijing to attend the Russia-India-China (RIC) foreign ministers' meeting, Indian External Affairs Minister Sushma Swaraj announced Modi's pending visit to China scheduled for May. How­ever, on February 20, Modi visited the disputed state of "Arunachal Pradesh" (which China sees as being established largely in territory belonging to its "southern Tibet") and announced the enactment of the Armed Forces Special Powers Act in Arunachal Pradesh in early April, adding fuel to the territorial dispute between China and India. Furthermore, India's Ministry of Defence ratified a plan to station as many as 8,000 more troops in the border area between the two countries. In such a complex situation, Modi's historic visit to China took place against the backdrop of wide concern.
Modi's diplomacy
When Modi took office as Prime Minister in May 2014, the Chinese media lavishly praised him, calling him India's "Deng Xiaoping and Nixon". In fact, Modi has long been a controversial politician in the eyes of Indian and Western people. His clear-cut personality makes him never hide his likes and dislikes when handling diplomatic affairs. During the previous Man­mo­han Singh administration, India was eager to strengthen its relations with the United States, Japan and Australia and promote its "Look East" policy. However, due to contradictions between the Singh administration and the then ruling party, the Indian National Congress, the former Indian prime minister could only record few accomplishments in terms of diplomacy, although he was seen as being a "nice guy" in the conduct of foreign affairs.
Now that the Bharatiya Janata Party (BJP) has retaken majority in the Indian parliament, Modi is not similarly bound by such constraints. Despite opposition from the state of Tamil Nadu, Modi still went ahead and invited then Sri Lankan President Mahinda Raja­paksa to attend his inaugural ceremony. He also invited Lobsang Sangay, leader of the so-called "Central Tibetan Administration", to attend his inaugural ceremony regardless of China's goodwill towards his election victory.
Last year, Modi showed off his intimate relations with Japanese Prime Minister Shinzo Abe when he visited Japan in early Septem­ber; but only a few days later, Modi and President Xi Jinping appeared like old friends at their first meeting. Soon after he took office, Modi paid a visit to the United States, despite the fact that his visa applications were rejected by the U.S. at several instances during the previous nine years. When he met the visiting Russian President Putin in December 2014, Modi remarked that "even a child in India, if asked to say who India's best friend is, will reply it is Russia."
Problems of history
Despite his strong "nationalist" style, Modi hasn't made India enemies in the international arena. It is more that he dares to express his likes and dislikes in foreign affairs. It seems that India holds a complicated feeling about China. With similar national conditions and history, the two countries have carried out cultural exchanges since antiquity, and shared similar interests when facing the Western world. At the same time, as two major powers in the Third World, they also see each other as rivals.
Problems left over by history are hindering the improvement of China-India relations. In 1988, then Prime Minister Rajiv Gandhi visited China, and the two countries decided to put aside their border disputes, opening a new chapter in bilateral relations. The spring of their bilateral relations arrived after the Cold War ended. In the past two decades, gunshots have never been heard on the border, with the establishment of the Line of Actual Control (LAC) and mechanisms aimed at deepening mutual trust. Moreover, the two countries have witnessed increasingly prosperous trade relations as well as cultural exchanges.
Even so, territorial disputes, the Tibet issue and the Pakistan concern remain major obstacles for China and India to further deepen their bilateral relations. As a result, not only do most Indian people hold a negative attitude towards China, but the Indian media also tends to perceive China's intentions negatively.
Both President Xi and Prime Minister Modi enjoy strong domestic political support in their respective countries. There are high expectations that they will create a new future for bilateral relations. In a speech made during his visit to India in 2014, Xi set the main tone for China-India relations in the next five to ten years. "China and India should become closer partners for development who will jointly pursue their respective national renewal," he said.
"China and India," he added, "should become cooperative partners for growth and jointly promote Asia's prosperity and revitalization; China and India should become global partners for strategic coordination and work for a more just and equitable international order." Such a statement indicates that China-India relations came back onto the normal track from the former "strategic partnership". It does, however, remain unclear what solutions the two leaders will take to solve problems in reality.
The personal friendship between the two leaders will help boost bilateral relations. In September 2014, the first stop that President Xi made during his visit to India was Gujarat, the home state of Modi. During his return visit to China, Modi chose Xi's hometown, Xi'an, as his first stop in China. In this way, Modi not only expressed his gratitude to Xi for making Gujarat his first stop in India, but also reminded people of the long history of China-India cultural exchanges. The message Modi left during his visit to the Daxingshan Temple in Xi'an conveyed his aspiration for peaceful relations between China and India. President Xi made an exception to receive Modi with a traditional Tang Dynasty (618-907) welcome ceremony in Xi'an. Such heartwarming arrangements were in place throughout Modi's trip in China, which laid a solid foundation for personal friendship between the two leaders.
Boundary standoffs
Prior to Modi's visit, many experts on China-India relations were concerned that border standoffs would cast a shadow over Modi's trip to China. Before Chinese Premier Li Keqiang's first visit to India in May 2013, a three-week standoff took place along the disputed Himalayan border between the two countries. Similarly, in September 2014, just before President Xi's visit to India, a larger military standoff broke out along the disputed border, which did not end until Xi finished his trip in India. Yet, despite the ongoing military standoffs, fruitful achievements were still being made in improving China-India relations during the two visits by Chinese leaders.
Fortunately, this didn't happen during Modi's visit. On May 14, the day Modi began his trip in Xi'an, high-ranking officers of Chinese and Indian border troops held a meeting to avoid making any "troubles" for Modi's visit. But why did border standoffs happen during Chinese leaders' visits to India? Some Indian analysts conjectured that Chinese border troops intended to "embarrass and make troubles" for their own leaders. Obviously, such an argument reflects that they know little about China. A more reasonable explanation for such standoffs is the instability in disputed border areas.
In 2003, the two countries established a mechanism called the China-India Special Representa­tives talks on border issues, and agreed to solve their territorial disputes by three steps: first, rea­ching an accord on political parameters and guiding principles for the settlement of border disputes; second, reaching a framework agreement on solving border issues; and third, signing a specific treaty on the settlement of border issues. As early as 2005, the two sides already signed an accord setting out "political parameters and guiding principles" to resolve their decades-old border disputes. They have since begun the second step, namely, reaching a framework agreement on solving border issues, which is the hardest of the three steps.
Slow progress
However, due to the fact that both sides are trying to interpret the accord they reached in their own favor, and lack a consensus on the guiding principles for resolving their border disputes, once high expectations over the accord have turned into disappointments. India complains that China is intentionally delaying the negotiations process in order to urge India to take into consideration China's concerns regarding India-U.S. relations and the Tibet issue.
The two sides are also yet to reach an agreement on clarifying the LAC. Last year, Modi remarked that clarifying the LAC would greatly promote efforts to safeguard peace and tranquility, and requested the Chinese side to resume the process of clarification. More than a decade ago, the two countries already exchanged LAC maps of the central portion of their border, but the map exchange soon fell into stagnation. This was because India attempted to expand the scope of disputed areas.
In fact, there are disputes on the LAC itself. In the early 1960s, the LAC was the core issue in the disputes between China and India. Zhou Enlai, then premier of China, held that the LAC sh­ould be basically the line of actual control as existed between the Chinese and Indian sides on November 7, 1959, and proposed on behalf of the Chinese government that the two sides should retreat their troops 20 kilometers from the border and stop patrolling along the LAC. Later India pushed the border line further towards the Chinese side, and China refused to agree it as the line of actual control.
However, then Indian Prime Minister Jawaharlal Nehru insisted that the LAC should be the line of actual control as existed between the two countries on September 19, 1962. After a border war in 1962, the Indian side continued invading China-controlled territory. In this circumstance, clarifying the LAC was again turned back to the disputes between the two prime ministers years ago.
Border infrastructure
In recent years, border standoffs between China and India have occurred from time to time. This was primarily because the two sides held different understandings of the LAC, as well as on account of their infrastructure construction projects along the border area. In 2013, Kiren Rijiju, India's current Minister of State for Home Affairs, remarked in a speech that the Chinese side had built highways in some areas only five to ten kilometers from the LAC. And, as a result, the two sides increased their patrolling frequencies after each snowing season, thus raising the possibilities of encounters between their border troops in disputed areas.
After China's Qinghai-Tibet Railway was put into operation in 2006, the Indian side has strengthened infrastructure construction in border areas, in an attempt to reinforce its actual control. The border "tent" standoff in May 2013 was actually triggered by India's attempt to build highways in disputed areas, while the standoff in September 2014 occurred due to India's attempt to set up military posts in disputed areas.
During former Indian Prime Minister Singh's visit to China in 2013, the two countries signed the Border Defense Cooperation Agreement, setting up a communication mechanism between their border troops so as to avoid the possibility of military confrontations. However, the agreement didn't urge India to suspend its infrastructure construction in border areas. Soon after he took office, Modi announced plans to enhance highway construction in India's border areas and strengthen infrastructure construction in "Arunachal Pradesh".
Although both sides didn't make major progress in the border issue during Modi's visit to China, they both showed aspiration to resolve their disputes. As the joint statement released by China and India said, "Bearing in mind the overall bilateral relations and the long-term interests of the two peoples, the two sides are determined to actively seek a political settlement of the boundary question." Moreover, the two sides will "resolve outstanding differences, including the boundary question, in a proactive manner. Those differences should not be allowed to come in the way of continued development of bilateral relations. Peace and tranquility on the India-China border was recognized as an important guarantor for the development and continued growth of bilateral relations."
The joint statement emphasized that both countries were "committed to enhancing border defense cooperation" and "will carry out annual visits and exchanges between the two Military Head­quarters and neighboring military commands, endeavor to put into operation the hotline between the two Military Headquarters, expand the exchanges between the border commanders, and establish border personnel meeting points at all sectors of the India-China border areas". All of these are positive signals for China-India bilateral relations.
"Silk Road" concerns
To date, China's initiatives in building the Silk Road Economic Belt and the 21st Century Mari­time Silk Road (the "land and maritime Silk Roads" initiatives) have drawn positive responses from more than 60 countries, including Russia and Indonesia. India is the only one of China's neighbours to have reservations about the "Silk Road" projects.
In mid-February 2014, at the 17th round of the China-India Special Representatives talks on the boundary issue in New Delhi, Chinese State Councilor Yang Jiechi invited India to join the building of the Silk Road Econo­mic Belt. Although Shiv­shankar Menon, then the National Security Advisor to Indian Prime Minister Manmohan Singh, accepted in words China's invitation, the Indian side later said that the Special Representatives talks was designed to discuss the border issue and thus wasn't a suitable occasion to talk about the "Silk Road" initiatives.
In late May 2015, Indian Vice President Mohammad Hamid Ansari visited Beijing to attend an event in commemoration of the Five Principles of Peaceful Coexis­tence. When asked whether India intended to join the "Silk Road" initiatives, he replied that India needed more details so that it can determine whether to join the initiatives. He added that according to the China-India Friendship and Cooperation Framework Agree­ment, the initiatives must be transparent so as to avoid mis­un­der­stan­dings.
At the end of January 2015, when asked why India hadn't joined China's "Silk Road" initiatives during her trip to Beijing to attend the RIC Foreign Ministers' meeting, External Affairs Minister Sushma Swaraj responded that India would not offer a "blank check" for China's initiatives. She added that India will cooperate with China in fields where the two sides have shared interests. The spokesman of India's Ministry of External Affairs expressed on many occasions that neither India's "Project Mausam" nor its "Perfume Road" intends to rival or replace China's "Silk Road" initiatives. Obviously, India still holds a position to wait and watch the "Silk Road" initiatives, but it also hopes that its policies are not interpreted as an opposition to the initiatives.
Meanwhile, India has clearly opposed the China-Pakistan Economic Corridor and hasn't shown much interest to the Bangladesh-China-India-Myan­mar (BCIM) corridor initiative. According to Indian media reports, India has expressed its reservations to China over the China-Pakistan Economic Corridor as it will pass through Pakistan-oc­cupied Kashmir. Although two coordination meetings have been held for establishing the BCIM corridor, little progress has been made. Even a basic roadmap has not yet been released. Analysts have said that India and Myanmar haven't shown as much interest as China and Bangladesh in the corridor. During his visit to Japan, Modi invited Japan to participate in economic development projects in northeastern India. It seems that he has put more enthusiasm to India's connectivity with Thailand and Myanmar.
The Indian government's attitude towards China has aroused many criticisms even in India. Shyam Saran, former chairman of the National Security Advisory Board of India, believes that India should not have a "knee jerk reaction" to China's "Silk Road" initiatives, but rather try and see if there are ways that India could use the initiatives for its own benefit, while dealing with the negative aspects. He adds that merely saying "no" to China is not something that will get India very far. So far, India's initiatives to promote cooperation between countries along the Mekong River and establish the Indian Ocean Rim Association haven't made much progress. Saran termed the Modi administration's "Project Mau­sam" as "a kind of tokenism". "Merely saying we don't like it [China's initiative] and coming up with another slogan is not the way to deal with the challenge. We need to be far more serious and invest far more in the relationship," he said.
Shared interests
In fact, China and India have many shared interests in promoting the "Silk Road" initiatives. For instance, Nepal enjoys great potential in hydropower development, India has a great demand for electricity, and China is strong in power engineering. If the three countries strengthen their cooperation in this regard, all of them will benefit. Modi has proposed to build the Trans-Himalaya Eco­nomic Growth Region together with Bhutan and Nepal. If China is included in the initiative, the Economic Growth Region will generate more cooperative oppor­tunities.
In the joint statement between China and India released during Modi's visit, the Indian side gave no comments on China's "Silk Road" initiatives. This indicates that India still has reservations about the initiatives and about China's role in South Asia. Meanwhile, India has already participated in some projects involved in the "Silk Road" initiatives. For instance, the two countries have agreed to accelerate the high-speed rail project linking Chennai and Bengaluru in southern India. Moreover, China is actively promoting high-speed railway between New Delhi and Chennai. The two countries have also agreed to "expand cooperation within the framework of the South Asian Association for Regional Cooperation". So far, India has attached great importance to China's efforts to promote its "Silk Road" initiatives in South Asia and is willing to carry out limited cooperation with China in promoting the regional integration of South Asia. There are, however, still uncertainties in the future of China-India relations.
1954:
Indian maps show a definite boundary, 4,057 kilometers long from west to east. They encompass Aksai Chin, but so do Chinese maps inherited from the Kuomintang period. Jawaharal Nehru drew an implicit distinction between the eastern and the western border, indicating that he was prepared to be flexible in the west, but firm in the east.
1955 (picture above):
Zhou Enlai (left) talks with Pandit Jawaharlal Nehru (center) during a break at the Asian African Conference. [Fotoe/CFP]
1960:
Premier Zhou Enlai offered a "swap proposal," which would, in effect, take Aksai Chin from India but let it keep North-East Frontier Agency. Nehru was prepared to accept the proposal, but his ministers G.B. Pant and Morarji Desai cried foul.
1962:
India and China went to war. Relations went into deep freeze.
1978 (picture above):
Delegates from the Chinese People's Association for Friendship with Foreign Countries receive a warm welcome as they visit India. [CFB]
1987:
Indian and Chinese armies came face to face at Sumdorong Chu. Soon after, China, then led by Deng Xiaoping, went back to its hardline on Tawang, saying India would have to make concessions on the eastern sector before Beijing considered any concessions in the west.
1988:
Rajiv Gandhi's historic visit to China broke the 26-year chill between the neighbors.
1988 (picture above):
Indian Prime Minister Rajiv Gandhi is greeted by Deng Xiaoping during his visit to Beijing. [AFP/CFP]
1993:
P.V. Narasimha Rao visited China and signed the Peace and Tranquility Agreement. The two sides agree to work on a mutually acceptable Line of Actual Control (LAC) as well as thin their forces in accordance with "mutual and equal security."
2003:
Atal Bihari Vajpayee visited China as Special Representative, and the two sides agreed to delineate the border.
2006 (picture above):
An Indian soldier and a Chinese soldier stand shoulder by shoulder at the Nathu La border. [CFP]
2013:
China and India made positive progress since the two countries had a stand-off incident concerning border areas.
2014:
Chinese President Xi Jinping visited India.
2014 (picture above):
Chinese President Xi Jinping visits Modi's home state of Gujarat. [by Ma Zhancheng]
2015 (picture above):
Modi receives a warm welcome from Xi'an residents. [by Feng Yongbin/China Daily]
The author, Lin Minwang, is Associate Professor at the Institute of International Relations Under China Foreign Affairs University, and has a PhD in law. His research interests include international relations and diplomacy.
Published in the ISSUE 1 of CHINA-INDIA DIALOGUE