The Latest Message from the 'Minister Passage'
Chinese Premier Li Keqiang has urged ministers of the State Council and heads of organizations under the State Council to address public concerns immediately.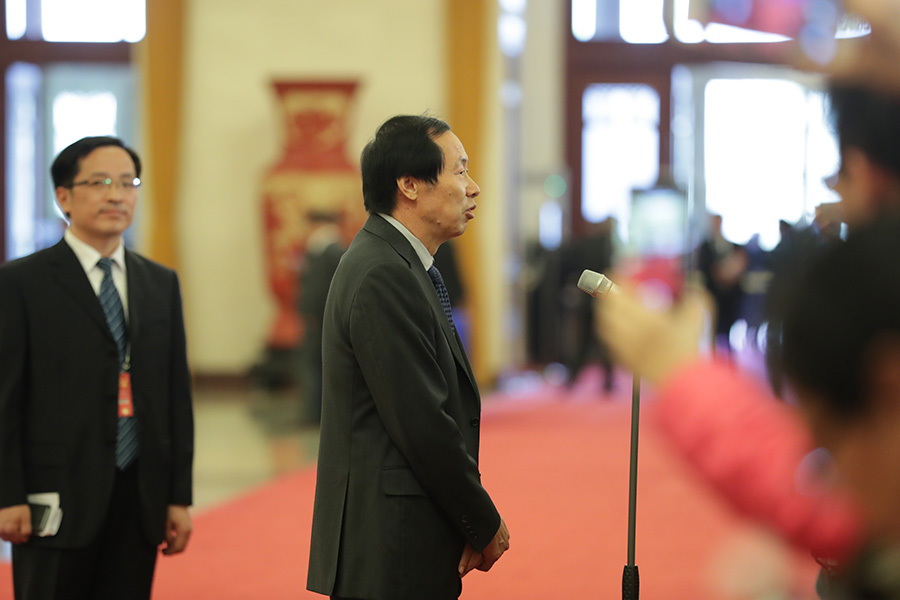 The 'minister passage' at the two sessions—the annual meetings of China's top legislature, the National People's Congress (NPC), and top political advisory body, the National Committee of the Chinese People's Political Consultative Conference (CPPCC)—opened on March 3rd for the media to put questions to ministers and other high-ranking officials of the State Council.
The 'minister passage,' a 100-meter passage near the northern gate of the Great Hall of the People, opened its doors nine times during the two sessions last year, and saw high-ranking officials answer over 70 questions from both Chinese and foreign journalists. This year, more ministers are expected to introduce the work of the government, explain its policies, and answer questions of public concern.
Chinese Premier Li Keqiang has urged ministers of the State Council and heads of organizations under the State Council to address public concerns immediately. Here are some of the latest messages from the 'minister passage.'
Liu Yuzhu, head of the State Administration of Cultural Heritage
Bringing heritage back to life is an important task for the State Administration of Cultural Heritage in the 13th Five-Year Plan period. First, many of our cultural relics should be available for the public to view. Second, bringing heritage back to life calls for upgrades to and full usage of existing platforms. Third, we must inject vitality into a well-regulated cultural relics market. Fourth, we should take full advantage of the internet in the utilization of heritage resources, welcome social forces into this realm, and encourage and support legal private collections.
Chen Baosheng, Chinese Minister of Education
Equalization of education is the only way for everyone to enjoy quality resources. We have taken measures to achieve balanced education by dividing high-quality education resources between different regions, but this is only a temporary solution. A permanent cure calls for balanced development. One measure is regional integration of high-quality educational resources, and another is managing middle schools and primary schools by district so as to balance the allocation of resources.
Feng Zhenglin (left), head of the Civil Aviation Administration of China
The construction of the new Beijing international airport is a major decision made by the central government to improve Beijing's function as an international metropolis. More importantly, it will help promote the process of Beijing-Tianjin-Hebei Integrated Development. A world-class airport cluster will be established in Beijing and its two neighbors—Tianjin Municipality and Hebei Province—to promote regional integrated development.
Zhong Shan (left), Chinese Minister of Commerce
The old foreign trade development model is unfit for the current situation, and needs improvement in terms of both quantity and quality, which will be an important task for the Ministry of Commerce in the future. We will consolidate China's current status in international trade and facilitate its progress towards becoming a world-leading trading power, making great contributions to the country's economic and social development.
Wang Guoqiang, head of the State Administration of Traditional Chinese Medicine
Encouraging the training of traditional Chinese medicine (TCM) professionals has actually become a bottleneck for our work, as well as a key problem hindering the development of TCM. We have attached great importance to professional cultivation over the past years. While special attention has been paid to cultivating top-level and national-level TCM professionals, we also value training for TCM doctors at community levels. At present, we have come to a new era for the further development of TCM.
Qiu Yuanping, head of the Overseas Chinese Affairs Office of the State Council
The construction of the Belt and Road calls not only for international cooperation, but also the active participation of Chinese people at home and abroad. At present, there are 40-million-plus Chinese people, and people with Chinese origins, living and working in other countries along the Belt and Road. I believe that through them, we can find strong economic resources, transnational business opportunities, rich connections, and abundant professionals.