The Water Watchers of Peizhai Village
The lives of Zhang Guixian and Jia Dan, who work painstakingly as the water watchers of Peizhai Village.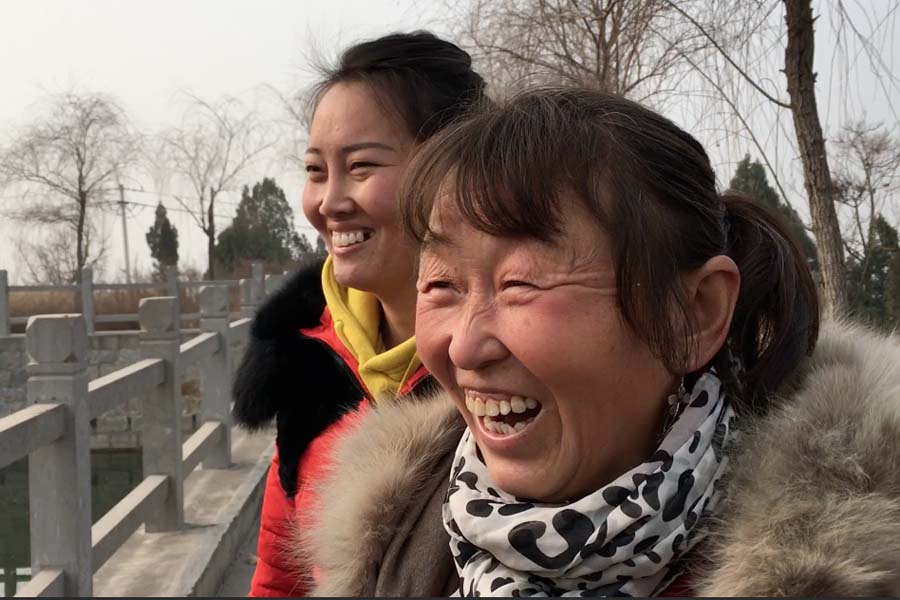 At the entrance of Peizhai Village, next to a Chinese national flag, is a wide road extending to the other end of the village. The left side of the road is lined with two-story townhouses, and on the right is a square bigger than a soccer field, featuring an exhibition center, a cultural performance area and basketball courts. A decade ago, over 100 families living in the village still inhabited ramshackle mud-brick houses and drank water from a hand-cranked well.
When strolling around the village during the day, you will only see seniors sunbathing and children playing in small groups because working-age people are busy tending greenhouse vegetables and flowers, running shops on the village's commercial street, or working at Chunjiang Group, in which every villager holds a stake.
The Good Life
At 8:00 a.m., Zhang Guixian, a member of the village committee, picks up her mop in gloved hands as usual to begin cleaning the five public washrooms in the village. She visits each of them twice a day to ensure they stay tidy. Even more importantly, Zhang monitors the water supply. After cleaning, Zhang drives an electric motorcycle to a 530-meter-deep well where she pumps water into two storage tanks on the back of a hill. From there, the water flows to the townhouses and the commercial street through underground pipes. When the automatic water pump malfunctions, as it has done periodically, Zhang spends hours at the well pumping the water manually.
The water monitor also handles pipe maintenance. When a leak sprouted behind a sweet potato noodle shop, Zhang received an urgent call from her colleague Jia Dan. That day, the village was holding a sweet potato noodle festival, which had attracted merchants from near and far. A leaky pipe and limited access to water would surely put a damper on the village's sweet potato noodle business. Zhang immediately phoned a plumber and rushed to the site.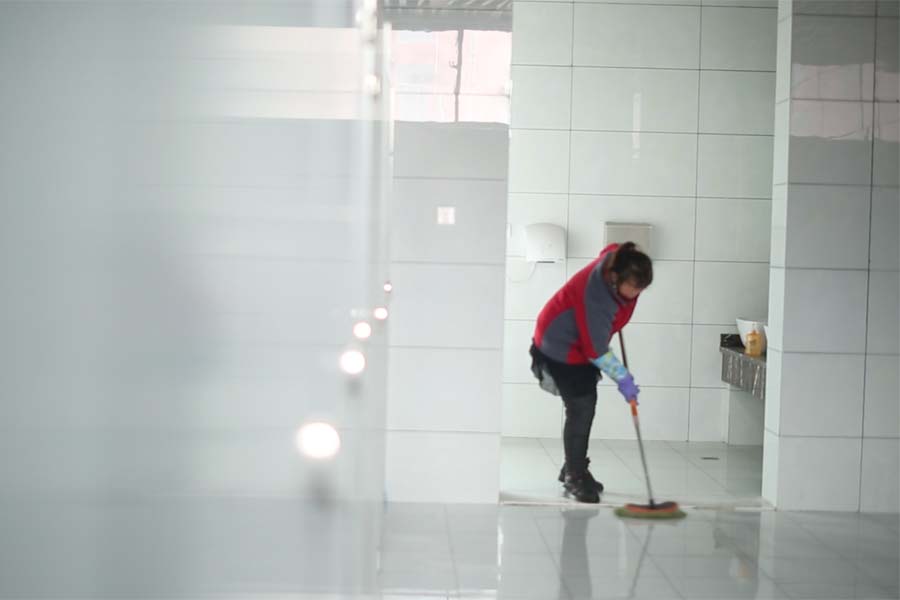 It was already dark when the pipe was finally repaired. After seeing off the plumber, Zhang began to prepare dinner for her two granddaughters. On her way home, Zhang bought some hot porridge, steamed stuffed buns and milk tea, favorites of her granddaughters. As she set the food down in the kitchen, she reminisced about cooking over a fire in the old days. "I used to burn coal and choke on the smoke," she recalled. "But now natural gas has replaced it. Cooking has become more convenient and affordable." A couple of minutes after Zhang started cooking, the inviting smell of fried carrots and green peppers filled the air throughout the house.
Zhang's two granddaughters sat at a tea table in the living room, the elder watching a cartoon on TV while playing with stickers and the younger swiping at a smartphone game and sipping milk tea.
Zhang enjoys the girls' company, even more so because her husband passed away over a decade ago and her two daughters married into nearby villages. Her son and daughter-in-law seem to be perpetually working.
In the evening, Zhang sometimes listens to the news on a radio on a shelf above her bed. Further down on the shelf are several green papayas that emit a mild fragrance. Because she always leads a frugal life, some brand-new cotton-padded jackets and a pair of silver earrings that Zhang wears at times are particularly eye-catching. "My daughter bought them for me when we went shopping downtown," Zhang explains with a wrinkled grin.
Nowadays, her salary from the village committee and rent from a shop on the commercial street add up to more than 10,000 yuan a year, and the dividends from Chunjiang Group further enhance her earnings. "A good life is a job and ample income, isn't it?" she asks rhetorically.
Building a Happy Family
Alongside 60-year-old Zhang Guixian, 30-year-old Jia Dan also monitors Peizhai's water supply. During the summer months, Jia rises at six o'clock in the morning to go jogging and pump the water. Jia's job in the village committee also includes cleaning an office building and the exhibition center and processing formalities such as medical insurance reimbursement for villagers. "Most villagers are not familiar with the government offices in the town, so the village committee helps them with things," notes Jia.
In recent days, Jia and Zhang have been busy shopping for tableware for Peizhai Xishihui, a village-run dining hall that caters to villagers' wedding and funeral banquet needs—hugely important events in rural Chinese tradition. "In the past, the villagers usually rented tents to host banquets, which were cold in winter and hot in summer," Jia reveals. Since the dining hall opened in 2010, the villagers have been able to rent the spacious and well-equipped hall for only a few hundred yuan.
Jia decided to work in the village so she could better take care of her kids. She has a 3-year-old son and a 5-year-old daughter with her husband Pei Zhuanshan, who works as a salesman at Chunjiang Cement Plant. Every morning, Jia sends the kids to kindergarten before heading to work. "Sometimes I feel sorry for my kids," Jia admits. "I don't have very much time with them, especially my son. The villagers' urgent problems didn't stop just because I gave birth, so I have never had much time with him."
Jia once dreamed of becoming a police officer or soldier when she was young, but serving as a capable village committee member or a family supporter is just as noble a position. In their spare time, Jia and her husband take their kids to the village playground or watch animation with them at home. Occasionally, the whole family drives to downtown Xinxiang for a fancy meal in a restaurant. On their parents' birthdays, the couple will prepare a grand meal as well as a birthday cake.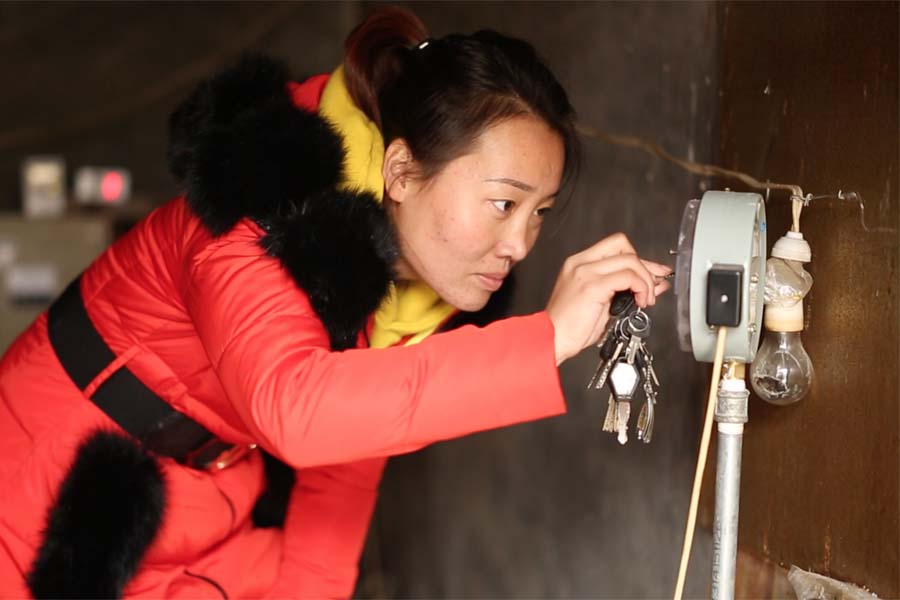 Mother-Daughter Dynamic
In winter, the village's water pipes tend to freeze and the pump breaks down too often. Zhang Guixian and Jia Dan always tackle emerging problems together. "A pump malfunction once kept us there until 11 o'clock at night," Jia says of her worst experience on the job. "It would have been terrifying if I was alone. Fortunately, Auntie Zhang was right there with me."
Jia and Zhang are the only two female members of the village committee. Jia is from Xuchang, a city in central Henan Province, and Zhang hails from Shandong, a province bordering Henan. Chinese tradition holds that a married woman should visit the family on her side on the second day of the lunar year. However, Jia and Zhang take turns visiting their respective families so one can stay in the village to look after the water supply.
"Auntie Zhang never slacks in work and always does the toughest jobs," says Jia of Zhang's dedication. Years of backbreaking work have taken a toll on her body. Every day, she takes a total of eight painkillers to fight a bone spur and other aches. The pain is worthwhile to Zhang: "It is hard work, but everyone in my village now has stable access to drinking water."
Jia first joined the village committee to oversee birth control, and immediately regretted her lack of work experience, considering the wide range of tasks that demanded her attention. Zhang comforted her with good advice such as, "Don't rush. Haste makes waste."
Many in the village liken the relationship between the two women to that between mother and daughter. "Jia is really a great friend," Zhang remarks. "She was the first person to buy me a hamburger." Although the pair has become close, they still disagree on some issues related to work. But, as Jia says, they "never quarrel." Rather, each one "just speaks out her respective idea and they discuss which is more feasible."
"Walking on the right path is even more important for young people," Jia adds. "A good life is earned with hard work and a calm mind."