The Way Forward: China's Economic Prospects in 2023
People will move around more easily as China's anti-COVID measures improve, and all economic and social activities will hasten their recovery pace in the new year.
The year 2022 was unique and extraordinarily difficult for China's economy, but the nation ultimately overcame huge challenges. The Chinese economy demonstrated strong resilience and potential by surviving shocks even more severe than anticipated.
The Central Economic Work Conference recently concluded in China. The conference, often considered the nation's high-level discourse on economics, policy initiatives, and government priorities, examined state affairs in 2022 and charted China's course for 2023. The conference stressed strengthening coordination and cooperation of various policies to create a joint force to promote the country's high-quality development in 2023.
The conference ordered the organization of policies in the five major sectors of finance, currency, industry, science and technology, and society. It called for increased macro-policy regulatory oversight, strengthened coordination and cooperation of various policies, and creation of a joint force to boost high-quality development. Coordination and integration of monetary and fiscal policies are deemed essential to ensure that the economy operates within a reasonable range. A number of 2023 budget funds were recently released by the central government, covering employment, senior care, rural revitalization, and agriculture.
It also stressed better coordination between epidemic response and economic and social development, between qualitative and quantitative growth, between supply-side structural reform and domestic demand expansion, as well as between economic policies and other policies. To foster a new development paradigm, the endogenous dynamics and reliability of domestic circulation should be strengthened, while the quality of international circulation should be elevated. The conference also identified the need to handle current work well and at the same time take future development into consideration.
Regarding science and technology policies, China planned to implement a variety of large-scale national research and development projects, emphasizing the crucial role of businesses in technological innovation while fully recognizing the significance of the government in directing work on technological breakthroughs at central and critical points.
Significant growth in the Chinese economy is anticipated in 2023, and many are looking for a swift recovery just around the corner. China will start a fresh phase of real economic growth. Numerous opportunities for the nation to actively develop the greener future have emerged, including addition of renewable energy generation capacity, increased environmentally-friendly and cost-effective coal usage, accelerated growth of new-energy vehicles, and increased issuance of green bonds and policies. People will move around more easily as China's anti-COVID measures improve, and all economic and social activities will hasten their recovery pace in the new year. Movement of individuals and goods will become easier, and the rebound of all facets of social and commercial activities will accelerate with the enhancement of China's anti-COVID measures, which together will effectively boost the economy.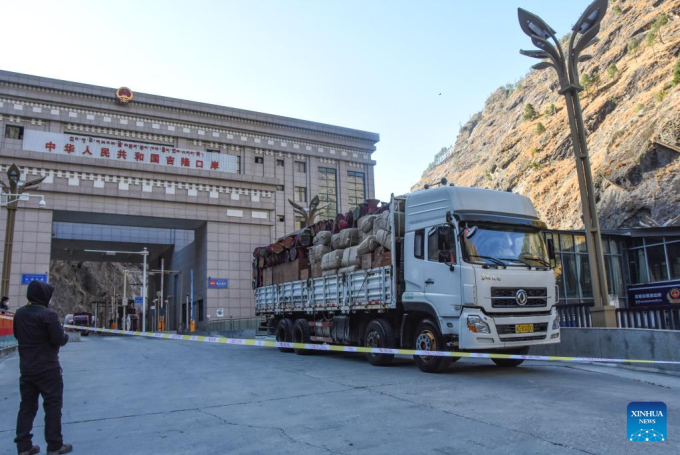 The Gyirong port in southwestern China's Tibet Autonomous Region bordering Nepal has seen rising traffic since the government optimized epidemic response. The first batch of imported goods from Nepal was delivered to China via the Gyirong port on December 28, 2022, the first time since it closed on March 23, 2020. The port's exports were restored in July 2020, providing much-needed goods to the Nepali market, but imports didn't resume until December. According to Lhasa Customs, the Gyirong port has imported 38.7 tons of goods from Nepal with a value of 825,800 yuan (US$119,824) since its full resumption, and exported 42,400 tons of Chinese goods with a value of nearly 1.63 billion yuan (US$240 million) from January to November 2022.
China's economic growth has picked up as a result of continually improved measures for pandemic prevention and control and progressive release of outcomes of various practices to stabilize the economy. China has already increased efforts to enact policies and follow-up measures to stabilize the economy, with solid progress made in designing policy-oriented financial instruments, issuing unique loans for updating equipment, offering subsidized loans, and expanding medium- and long-term loans for the manufacturing sector. Policies to expand effective demand and promote structural optimization have been introduced and implemented. According to real emerging needs, new initiatives and policies will be introduced over the course of 2023 to actively foster economic growth and recovery.
The international community is also optimistic about China's prospects for economic growth. China needs to increase foreign trade and investment cooperation in 2023 to stimulate growth. The nation plans to work harder to use foreign capital, facilitate market access, encourage opening up of modern service industries, and expand domestic treatment to foreign-funded businesses.
Overall, the Chinese economy has demonstrated strong resilience and potential by withstanding the impact of shocks beyond expectations. Development quality has steadily improved while employment and pricing trends have largely remained stable. China's economy has been a force for maintaining global stability in an unsettling international environment. It has progressed while maintaining stability and upholding sound long-term fundamentals, ushering in a new stage of high-quality development and creating chances for the global economy to emerge from the mire to a new day of better development.
The author is chairman of the Nepal China Friendship Forum, a visiting scholar at Kathmandu University, managing director of Nepal AOE Tourism Company, and a member of the board of directors of Vidhyut Utpadan Company Limited.