Trending Topics at the "Two Sessions"
As the most important event since the turn of the Lunar New Year, every tiny change to come from the Two Sessions could exert far-reaching influence on Chinese people's lives and attract worldwide attention.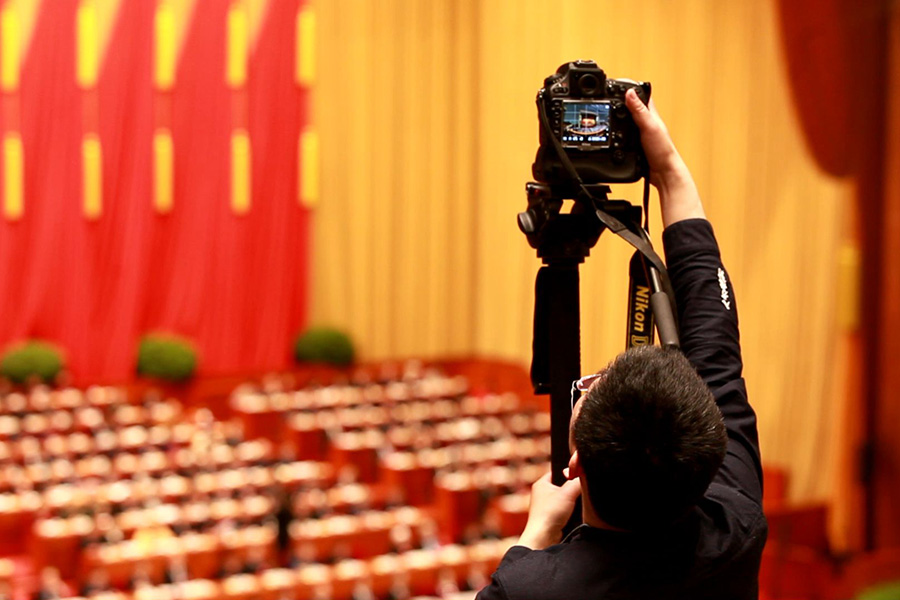 In March 2017, the annual sessions of the National People's Congress (NPC) and the National Committee of the Chinese People's Political Consultative Conference (CPPCC), popularly called the "Two Sessions," will take place in Beijing. As the most important event since the turn of the Lunar New Year, every tiny change to come from the Two Sessions could exert far-reaching influence on Chinese people's lives and attract worldwide attention. What topics will be most discussed at the Two Sessions and catch the attention of people from home and abroad? We'd like to share a few of our predictions.
13th Five-Year Plan: Embodiment of the Chinese Dream
China has set the goal to complete construction of a moderately prosperous society in all respects by 2020. The 13th Five-Year Plan Period (2016-2020) is leg on the mission. The second year of the 13th Five-Year Plan Period, 2017 will see more pragmatic action taken by the country and its people. Solutions for issues such as how to promote the Four-pronged Comprehensive Strategy and actualize the concept of "innovation-driven, coordinated, green, open and shared development" require insightful advice from NPC deputies and CPPCC members.
Professor Wang Yukai from Chinese Academy of Governance points out that building an all-around moderately prosperous society is an embodiment of the Chinese Dream. Development is the key to solving China's most pressing problems. To comprehensively deepen reforms and accelerate innovation-driven development, China must focus on balanced and sustainable development while maintaining a certain growth rate. Increasing ordinary people's standards of living is a crucial piece of the process.
Economic Development: Maintaining Steady Economic Growth
In 2016, China's economy grew by 6.7 percent, a figure much higher than that of the United States, Japan or the European Union (EU). China remains one of the world's fastest-growing economies. The same year, China's GDP surpassed US$10 trillion. China's GDP will add another US$100 billion with every one percent of growth, equal to the amount of every 1.8-percent in GDP growth in 2010. China achieved startling economic growth in 2016 considering the gloomy global economy. In this context, what will serve as the main engines for China's economic development in 2017, and will China's economy maintain such impressive growth? The Two Sessions may provide answers to such questions.
Supply-side Structural Reform: Driving Economic Restructuring
This year is an important year for the implementation of the 13th Five-Year Plan, during which time China's supply-side structural reform will be further promoted. In December 2016, the Central Economic Work Conference confirmed that the government would make substantive progress in cutting overcapacity, destocking, deleveraging, reducing corporate costs and shoring up weak links in the economy. The government will take market-oriented, law-based measures to cut excessive production capacity in industries including steel, coal mining, thermal power, building materials, cement, and flat glass.
Many are speculating about what specific measures the Chinese government will take to integrate its real estate destocking and urbanization efforts, how it will prioritize lowering corporate leverage ratios while controlling overall financial leverage, how it will reduce taxes and fees and cut factor costs, and how it will shore up weak links in both the economy and the institutional system. According to Yang Weimin, vice minister of the Office of the Central Leading Group on Finance and Economic Affairs, it is now time for China to achieve the goal of cutting overcapacity, destocking and deleveraging considering the increasing uncertainties of the world economy, so the first two or three years of the 13th Five-Year Plan Period is a particularly crucial stretch.
Targeted Poverty Alleviation: Promoting Inclusive Development
No one should be left behind along the road to a moderately prosperous society. The 5th Plenary Session of the 18th Central Committee of the Communist Party of China (CPC) set the goal to lift all of the country's 70 million impoverished people out of poverty by 2020. What challenges is the targeted poverty alleviation campaign facing? What policies need to be improved? Grass-roots NPC deputies and CPPCC members may provide answers to those questions.
Liu Yongfu, head of the State Council Leading Group Office of Poverty Alleviation and Development, stresses that although problems such as improper use of poverty relief funds have been alleviated, they have yet to be fundamentally solved. Moreover, some new challenges have emerged, of which the most urgent are the practice of going through the motions and the lack of endogenous dynamics among poverty-stricken people. If such problems are not solved, the government's poverty alleviation policies cannot be fully implemented, and the goal to eliminate poverty will not be fulfilled as scheduled.
Drafting General Principles of Civil Law: A Step Closer to Universal Civil Code
This year's NPC session will discuss and review the General Principle of the Civil Law of the People's Republic of China (draft). A civil code is a systematic collection of laws covering every aspect of daily life including food, clothing, accommodations, transport, and even funerals and weddings. The draft version of General Principles of the Civil Law has many notable highlights. For instance, it lowers the minimum age of a person with limited capacity for civil conduct from 10 to six, recognizes the legal civil rights of the embryo and fetus, provides clear provisions on issues concerning online virtual assets, data and information, and prolongs the general limitation on action from two years to three years.
Chinese people expect the campaign to comprehensively advance the "rule of law," which should produce universal norms from which every citizen can benefit and facilitate justice and fairness that everyone can feel.
Regional Integration: Chinese Solution with Great Potential
Three and an half years have passed since China first launched the Belt and Road Initiative, which has profoundly impacted the internal affairs and diplomatic policies of China and other involved countries and regions. The initiative has been progressing smoothly through cooperation between all countries and regions along the Belt and Road routes. How will the initiative expand cooperation and create more opportunities for as many countries as possible? Questions like this are expected to become hot topics that draw worldwide attention during the Two Sessions.
Along with the initiative, other regional integration plans such as the Beijing-Tianjin-Hebei Integrated Development and the Yangtze River Economic Belt will continue advancing this year. A roadmap for higher-level opening up will become clear at the Two Sessions. Shao Feng, a research fellow at the International Strategy Research Division under the Chinese Academy of Social Sciences, believes that in the current international context, China will adopt a comprehensive, active opening-up policy to achieve higher-level development.
Innovation: A New Engine for China's Development
Innovation is a primary driving force of development. China's 500-meter-aperture spherical radio telescope, nicknamed the Heaven's Eye, has begun operation. Its never-before-seen space-based dark-matter detector, Wukong, has now been orbiting Earth for a year. Quantum communications satellite Micius was also launched into space. China completed a manned space mission on the Shenzhou-11 spacecraft to the Tiangong-2 spacelab. Numerous entrepreneurial hotbeds and business incubators have popped up across the country, stirring a wave of mass innovation. Undoubtedly, China's economy and society are undergoing tremendous changes. How to create a better business environment that promotes scientific innovation will be a key concern at the Two Sessions.
Xu Qikun, academician with the Chinese Academy of Sciences, believes that as China's economy enters the "new normal," technological innovation will bolster the country's economic development by adding new momentum during the 13th Five-Year Plan Period. He notes that the need to boost innovation becomes more urgent as its role in economic development becomes larger.
Environmental Protection: Curbing the Smog
For Chinese people, dispelling smog has become an environmental issue of top concern in recent years. People from all walks of life want a "beautiful China" with clean air. Achieving this goal will be a hot topic at the Two Sessions.
Zhang Xiaode, vice chair of the Economics Teaching and Research Division at the China Academy of Governance, stresses that green development requires joint efforts from all of society alongside pragmatic measures and roadmaps for various sectors. The government needs to formulate clearer restrictions and make supervision more effective. The key is to strengthen law enforcement capacity and increase supervision.
People's Well-being: Sharing Benefits of Development
Since the 18th CPC National Congress, China has been committed to ensuring that no one is left behind along its road to an all-around moderately prosperous society, pursuant to the principles of "everyone participates, everyone contributes, and everyone enjoys." Shoring up weak spots in standards of living, improving public services and meeting public expectations on housing, healthcare, education, and senior care will all inspire spirited debate at the Two Sessions. Wu Xiaolin, dean of the Department of Public Administration at Central China University, suggests the government make more effective institutional arrangement to enhance the "sense of gain" in people from all walks of life.
Anti-Corruption: The Next Page
Since the 18th CPC National Congress, China has unwaveringly insisted on cracking down on both "tigers" and "flies"—high-level officials and local civil servants—to construct a law-based, innovative, honest and service-oriented government. The anti-corruption campaign has helped build a just and fair market environment, enhanced the public's trust in the government and bolstered reform and opening up. Which turn will the anti-graft campaign take this year? How will the government strengthen its corruption-fighting efforts? Such questions will undoubtedly produce lively discussion at the meetings.
Professor Xu Xing from the Zhou Enlai School of Government at Nankai University points out that the governmental work reports in recent years have all contained information on the requirements for self-discipline of the government. The public wants to define the government's power boundaries more clearly and further streamline administration and decentralize power, which will eliminate room for kickbacks and corruption.