Xi Jinping Thought on Diplomacy: Transcending Realpolitik of Hegemony and Alliances
Xi's vision of building a community with a shared future for humanity seeks to debunk false notions of peace being nothing but a prisoner of gunpowder.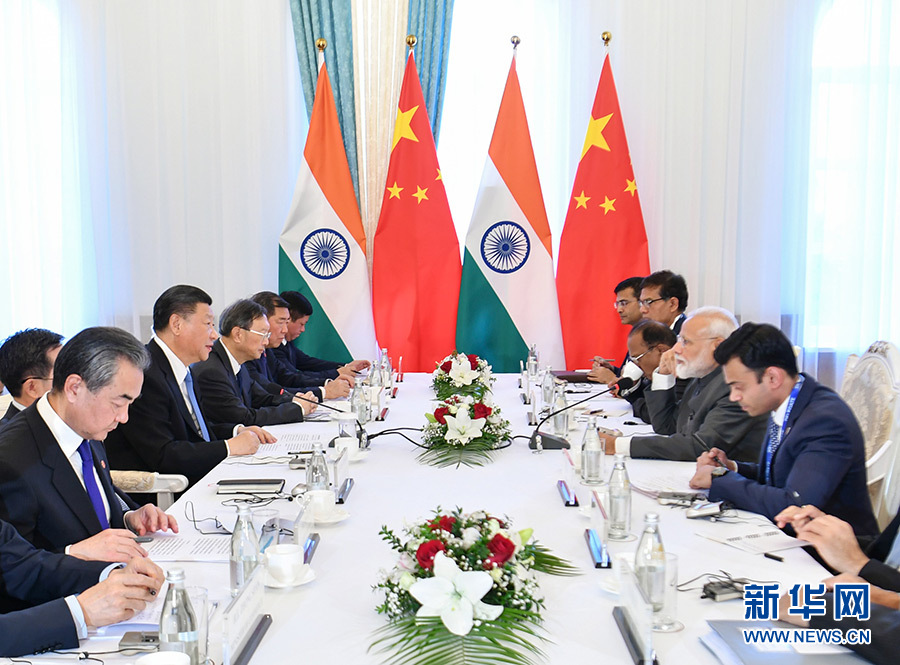 Chinese President Xi Jinping's second informal summit with Indian Prime Minister Narendra Modi showed relaxed body language, long walks together and five-hour-long one-on-one talks, setting new trends for summit diplomacy amongst major countries. The fact that President Xi Jinping described this as his "memorable experience" of having "heart-to-heart" and "candid discussions like friends" has reignited debates on Xi's thought on diplomacy especially in terms of its likely implications for his ambitious vision of building a community with a shared future for humanity.
Debates on Xi Jinping's thought on diplomacy have been running since early 2016 and the Central Conference on Work Relating to Foreign Affairs last year formally announced the guiding status of Xi Jinping Thought on Diplomacy in setting the fundamentals for China's diplomatic work. Given that Xi has been the central figure in China's domestic politics and that China has moved to the center stage of global decision-making, Xi's thought on diplomacy has surely become the key for understanding China's future trajectories as well as its regional and global contributions. For this, President Xi has already set various benchmarks including the Two Centenary Goals of national rejuvenation. These will see China celebrating the elimination of poverty and becoming a "moderately prosperous society in all respects" next year and then begin working towards a "prosperous strong, democratic, culturally advanced, harmonious and beautiful" China by 2049.
The unprecedented rise of China and its step-by-step overtaking of the U.S. in various parameters of global leadership have come to be widely recognized. This is what keeps both practitioners and experts of international relations (IR) preoccupied with deciphering what's unique about Xi's thought on diplomacy and fathoming its implications and trajectories.
Different from Western Paradigms
The most direct hit of the rise of China remains on the prestige of mainstream Western IR theories that have dominated IR scholarship since the 1648 Treaty of Westphalia. These theories have been both the cause and the consequence of global dominance by Western powers. China's unprecedented rise in last four decades has now catapulted President Xi's civilizational wisdom into global IR paradigms. This has seen him promoting a new type of economic globalization and democratization of international relations while launching several alternative ideas and institutions. As outlined in his successive speeches, President Xi stands firmly in opposing power politics of military alliances and unilateralism, and professes that China will never aim to topple existing Western hegemony just to replace it with a Chinese one. This surely looks "utopian" to Western observers as it defies deeply entrenched power-driven IR theories that continue to be propagated by their universities and think tanks.
Xi's thought on diplomacy emphasizes building networks of developmental partnerships instead of military alliances. This has seen Xi prioritizing the Belt and Road Initiative over military modernization which has also benefited from China's economic success. A deeper challenge that this recalibration puts forward is that it seeks to transcend notions of the international system as nothing but anarchy; ordained to take refuge in self-help resulting in zero-sum equations and pursuit of relative gains. Paradigms like "security dilemma" and "stability-instability" paradox that once unleashed arms races stand challenged by Xi's propositions for building win-win possibilities of equal and mutual security through shared development. Xi's vision of building a community with a shared future for humanity seeks to debunk false notions of peace being nothing but a prisoner of gunpowder.
Xi's successful building of various global economic engagements, independent initiatives, and expanded Chinese participation in global forums embodies Xi's thought on diplomacy. China's central role in climate change mitigation is a case in point where U.S. leadership has clearly vacated space for Beijing. Chinese Vice President Wang Qishan (who managed the anti-graft campaign), Vice Premier Liu He (main interlocutor with the U.S.), Central Bank Governor Yi Gang (supervising economy), Yang Jiechi and Wang Yi's diplomatic efforts under Xi's leadership have resulted in China's US$375 billion trade balance and US$1.2 trillion investments in U.S. treasury bills. Since 2017, China has become the world's largest trading nation, making it the largest trading partner for most countries including some U.S. friends and allies. China is now emerging as the world's fastest growing donor and investor, which again defies Western models of diplomacy. Under the framework of the Belt and Road Initiative, China has established infrastructure building partnerships with over 75 nations and counting.
"Globalist" Leader
China's economic engagements have been both the cause and the consequence of Xi emerging as a China's "globalist" leader. Next to New York—which hosts UN Headquarters—Beijing now hosts the largest gathering of world leaders with the Belt and Road Forum for International Cooperation becoming the flagship of China's mega-style summitry. Given China's initial decades of nation building, most Chinese leaders in the past had traditionally tended to assign lower priority to international relations. But Xi has since recast this delineation by integrating rule-based global governance with China's domestic aspirations. Xi's buzzwords like the "Great rejuvenation of the Chinese nation" and the "Chinese Dream" had already emerged as two focal issues at the 18th Congress of the Communist Party of China that had elected Xi as the core of Party leadership.
Xi's thought on diplomacy nevertheless remains deeply grounded in tradition. This makes it incumbent upon China to ensure, for example, free and fair global trade which makes it publicize norm-based multilateralism and democratization of international relations and even combat Western protectionist policies. For this China lately has focused on developing closer links with medium-sized countries and especially with rapidly emerging economies which largely share Xi's global vision and strategies.
Recasting Major-Country Relationship
Major-country diplomacy with Chinese characteristics has been the core of Xi's thought on diplomacy. This implies focusing especially on China's relations with powers like the U.S. or Russia, and identifying China as a major power that plays a leadership role in international affairs. China's dealings with major powers have seen Xi promote economic interdependence with one and all. Last year, Italy became to first G7 nation to sign up for the Belt and Road Initiative. Others are inching toward varying levels of engagement, as well. China has helped forge new middle-power partnerships like BRICS, BASIC, RIC, SCO and launch new international finance institutions such as the New Development Bank, SCO Development Bank, Asian Infrastructure Investment Bank and Silk Road Fund. It is from these platforms that Xi's major-country diplomacy theory defines China's self-identification with world affairs taking it to the very center stage of global decision-making structures and processes.
Global structural changes have also catapulted Xi to this leadership role. Starting from the East Asian financial crisis of 1997 that came as a great opportunity for Beijing to strengthen cooperation with Southeast Asian economies, major external episodes have further accelerated to this tectonic shift under Xi's watch. The September 11 terror attacks had forced the U.S. to forge strategic partnership with Beijing and then the global economic slowdown since 2007 has encouraged China to use its economic leverage in redirecting the global economy. The slow growth and deceleration of Russia has brought it closer to China. All this has seen Xi move beyond the traditional "tao guang yang hui" (literally "keeping a low profile") diplomatic policy and assert China's core national interests and territorial sovereignty.
Connectivity as the Buzzword
President Xi's diplomatic narratives remain premised on building physical, digital, cultural connectivity to underline the community of shared future for mankind. The power of his vision lies in his vision being a constant work-in-progress accommodating geopolitical changes.
Xi's discourses have been built around the axis of ancient China's "Silk Road" network which has deeper connotations underlining China's historic resurgence. It was in a late September 2013 speech during his visit to Kazakhstan that Xi had first underlined his idea of "five connectivities" (namely, policy coordination, facilities connectivity, unimpeded trade, financial integration, and closer people-to-people ties) under his vision of Silk Road Economic Belt. This was further expanded during his October 2013 speech in Jakarta, Indonesia where Xi talked of the 21st-Century Maritime Silk Road. In late October 2013, China held a seminar on diplomacy with neighboring countries that had begun delineating contours of regional economic integration through the Silk Road Economic Belt and the 21st-Century Maritime Silk Road (collectively known as the Belt and Road Initiative).
Last six years have seen the Belt and Road Initiative come full circle and emerge as a major engine of Xi's thought on diplomacy. Experts now measure its potential by categorizing Xi's connectivity vision as one of building physical, digital, and cultural connectivity at scale never before seen. This is making Xi's thought on diplomacy gain increasing traction in global discourses on IR which alludes to its potentially becoming the world's most powerful driver of change in the conduct of international relations. The fact that Xi continues to enrich the content and style of China's diplomatic vision and footwork holds great promise for making Xi's thought on diplomacy increasingly acceptable to ever growing number of China's partner countries.
The author is a professor with the School of International Studies, Jawaharlal Nehru University, New Delhi.