Zhangjiajie: Out-of-this-World Mountains
Zhangjiajie Sandstone Peak Forest Geopark, the name referring to the area's scenic spots collectively, is a geologist's dream.
The region around the city of Zhangjiajie in southern China's Hunan Province is famous for its mountains. Designated a UNESCO World Heritage site in 1992, the rugged, otherworldly landscape became even more famous after Avatar designer Steven Messing revealed that he visited China and used photographs of Zhangjiajie as inspiration for Pandora's floating mountains in the film. Since Avatar's release, Zhangjiajie's tourism has boomed. I visited in 2014, and was profoundly impressed by the dramatic peaks, steep cliffs and lush vegetation. Memories of my trip now spring to mind every time I hear about new tourist attractions popping up in Zhangjiajie and its mountains.
Zhangjiajie Sandstone Peak Forest Geopark, the name referring to the area's scenic spots collectively, is a geologist's dream. Quartz-sandstone pillars left after millennia of erosion rise majestically from the ground far below. The densely concentrated pillars resemble clusters of trees, which inspired the "Peak Forest" name. A network of paths leads visitors around the myriad sights. Many choose to remain on relatively flat ground, where trails weave through the peaks, providing breathtaking views of cliffs and waterfalls. Others take a more adventurous route upwards into the clouds. Helpful signage throughout the park reveals a plethora of information about the various rock formations, nearby tree species and local wildlife.
One local attraction that needs no introduction is the resident rhesus monkeys. Due to increased contact with people, the Zhangjiajie: Out-of-this-World Mountains Text and photographs by Nick Lanigan monkeys have become relatively tame and learned that areas frequented by humans are most likely to have food—in exchange for posing for a few pictures. The higher I climbed from the busy areas, the fewer monkeys could be found. The park's gentle streams and abundant trees are worlds away from the concrete jungles of Beijing and Shanghai, but since packed busloads of camera-wielding tourists began arriving daily, the classic hallmarks of a major tourist attraction have started to appear.
During my visit, a huge glass elevator was already ferrying tourists up and down a cliff, enabling them to comfortably enjoy spectacular views from the top. Some people waited in line for hours just to experience a ride that lasts only a few minutes. Food and souvenir vendors lined the busiest paths, many of them using megaphones to advertise their products. There was even a bustling McDonald's. Since my visit, a 430-meter-long glass bridge connecting two peaks has opened, allowing see through passage above a 300-meter-deep gorge. To call the new addition popular may be an understatement: just 13 days after opening, the six-meter-wide bridge had to be closed temporarily for reinforcements because so many people wanted to use it. A second, even more extreme bridge is currently being developed: this one will use reflective materials to create the illusion that the entire bridge is invisible, even while you walk across it.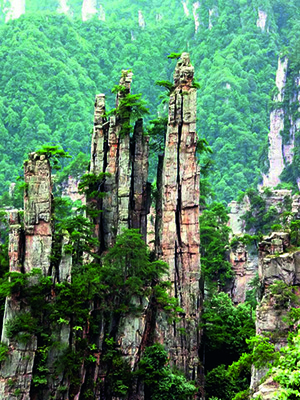 If the goal is to attract more tourists, these developments make perfect sense. The elevator and the bridges are creative ways to fully harness the beauty of the local area in a way that inspires conversation and facilitates a wealth of stunning pictures circulating around the world on social media. The food and drink vendors are simply seizing an opportunity to make some money, and the locals of Zhangjiajie are all benefitting greatly from the funds injected by tourists. But considering that the resource attracting those tourists is uniquely beautiful scenery, development must be carefully balanced with preservation—especially as China's tourism industry continues to expand at an unprecedented rate.
The Chinese authorities are well aware of the need to closely monitor popular tourist destinations. At the end of 2016, the China National Tourism Administration released a comprehensive plan to upgrade the industry. Administrators of Zhangjiajie had already marked trails where visitors are allowed to walk, hoping to prevent damage to comparatively vulnerable areas. Trash collection facilities have been installed everywhere that people tend to eat and drink. The "invisible" glass bridge would be a breathtaking attraction on its own, but placing such a structure in this particular location is also meant to stress the importance of blending into the surroundings.
China is not the only nation struggling to keep its tourism resources sustainable. Countries around the world have experienced similar problems, so much so that the World Tourism Organization has designated 2017 the "International Year of Sustainable Tourism for Development." The concept of sustainable tourism has grown in both relevance and popularity in recent years, as people realize the importance of protecting and preserving indigenous cultures and the natural environment alike. In Zhangjiajie, as in many other areas of natural beauty, the preservation of the pristine scenery is of paramount significance. The unique landscape is worth protecting for its own sake, but its health is also a crucial indicator of the future of the tourism industry in the region and the country.
As China's domestic and international tourism sectors grow, so does the need to protect the country's natural beauty. Just as engineers met the challenge of linking two mountains, now Zhangjiajie's administrators must achieve an even more delicate balance between development and preservation.